IT: Chapter Two New Trailer Is Terrifying - What Can We Expect From The Film?
Published Fri Jul 19 2019 By Travis
Are you ready for the terrifying trailer of IT: Chapter 2?
'Pennywise' made its way into the theatre when 'IT: Chapter 1' was released in theatres scaring droves of people who took the trip to the movies. It scared adults and kids (well if you showed the film to a kid then someone needs to call the social services on you) alike and the movie is coming back for seconds.
Watch: The terrifying trailer for IT: Chapter 2
San Diego comic con was the venue for the release of the first trailer of IT: Chapter 2 and a few minutes later the trailer made its way to YouTube, and it terrified people all over with some people talking about the trailer giving the people chills all over.
The new trailer finds our original cast of characters 27 years from the events of the first movie. The original cast could not age 27 years in two years, so they were replaced by adult actors. James McAvoy, Jessica Chastain, Bill Hader, Jay Ryan, James Ransone, Isaiah Mustafa, and Andy Bean are playing 'The Losers,' as they are seen running and terrified of the return of Pennywise.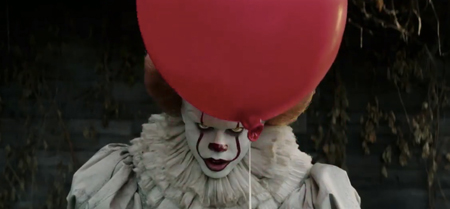 The trailer shows us the club getting back and talking about the promise they made 27 years ago when they said they would come together and kill Pennywise if he ever returned. As they hold hands, you can see the fear inside their eyes and not wanting Pennywise to be back again.
Well, if you wish something not to happen, it is precisely what is going to happen, as Pennywise returns to the town and says some really creepy shit, "For 27 years, I've dreamt of you. I craved you. I've missed you!" Just imagine someone saying that to you on the street; now imagine that person is wearing horrifying clown makeup. It is scary, isn't it? That is how we felt as really heavy trailer music started building up to a scene inside a mirror house where we see Pennywise sticking his tongue out as James tries to save a kid.
The first film director Andy Muschietti is returning as the director of the second chapter as the movie is not much of a sequel, but a continuation of the story started in the first movie.
IT is an adaptation of the massive 1000 page book from the scary mind of Stephen King as he distinguished the book into two chapters separated by 27 years. The writer of the book said he saw the movie and stated the fans were in for a treat. After the release of the trailer, the brilliant writer said, "It's really cool."
If the trailer wasn't scary for you, then you should hear what James McAvoy was saying about how terrified he was while filming the movie. When the whole cast appeared at this year's comic con James said;
I had nightmares about Pennywise quite a lot. The only one I can really remember is I'm lying on my side in the bed, and he was in bed with me. And he's stroking my back gently and saying, 'Wake up James, wake up.' And I was just terrified, pretending to be asleep. I just thought, 'I've got to pretend to be asleep, I've got to pretend to be asleep.' I had lots of nightmares about Pennywise, but that's the one specific one I can remember.
Talk about a scary nightmare. (Phew!)
There aren't just scares in the new movie though, as Jessica Chastain said they used 4,500 gallons of fake blood while filming. Now, that is a lot as the whole of Game of Thrones used only 4,000 gallons of blood for the entirety of the final season.
Jessica was also present at comic con, and she said, "I'm a glutton for punishment. Everyone else was comfortable between takes, while I sat in a baby pool of blood." Blood in King's book and movies are found in abundance as Jessica said, "Let's make Carrie on steroids."
The new movie, as we said, takes place 27 years after the events of the first chapter so expect a pissed off Pennywise, a lot of blood and some scary amount of fun.
IT: Chapter 2 hits theatres all over on 6 September 2019.
-->