Who Is Patrick Mahomes' Brother, Jackson Mahomes? His Net Worth Revealed
Published Mon Aug 15 2022 By binda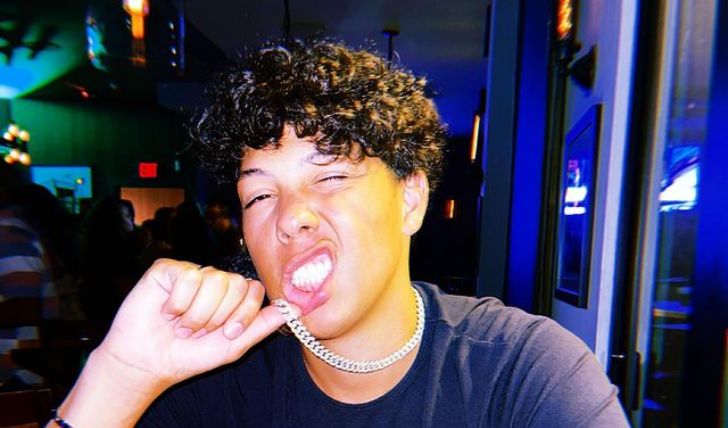 Who is Jackson Mahomes, Brother of Patrick Mahomes? What is his net worth?
Jackson Mahomes is an American YouTuber, social media celebrity, and sports player. He was born on 15 May 2000 in Texas, United States. He may be onto building an imposing career as an influencer, but Jackson is better known as the brother of Patrick Lavon Mahomes, the Kansas City Chiefs' former NFL MVP-winning quarterback.
Jackson is a popular social media celebrity, best-known among the youth as the creator of viral Tik Toks and a basketball player. However, he is yet to make his mark in the sport. Jackson's celebrity power can be gauged by his massive following on various social media platforms. He boasts a striking 251k followers on Instagram.
Jackson Mahomes' early life!
Now a recognized social media star, Jackson was born to Pat Mahomes, former baseball pitcher and Randi Martin Mahomes. He has two siblings: his elder brother, Patrick Lavon Mahomes and a younger sister, Mia Bliss Mahomes.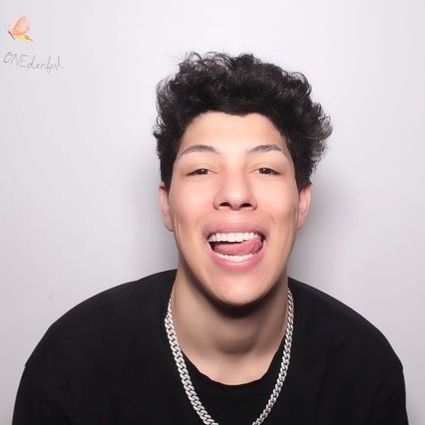 Jackson Mahomes is a social media celebrity and a basketball player.
Photo Source: Instagram
Jackson was brought up and raised in Texas, United States. It appears he had his plans sorted at a young age as Jackson quit his studies after completing his schooling at White House High School in Texas. Jackson has since been carving a career in basketball and social media.
Don't miss- Inside Rod Stewart's Massive Net Worth: All Details Here.
Jackson Mahomes' relationship!
Jackson Mahomes, 22, is not in an official relationship, but the influencer's love life has often been a subject of interest among his fans. For a star whose life revolves around views and likes, Jackson keeps a weird pining for a secretive personal life. He was last linked with his high school friend, Amanda Johansen.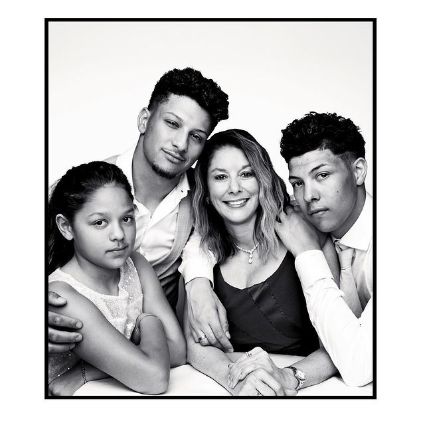 Jackson Mahomes is from a well-known family, so he has been in the social media spotlight since he was born.
Photo Source: Instagram
Jackson's hush-hush love life, in contrast to his very open and public, professional life, has often led fans to suspect that the influencer is a closeted gay. The budding influencer was most recently linked with Instagram model Dayna Marie.
The social media stars posted a video where they are jamming to Kevin Gates' Thinkin with My D***, and even shared a kiss. While Jackson's love life remains an ambiguous matter, his older brother, Patrick, tied the knots with his longtime girlfriend Brittany Matthews earlier this year.
Jackson Mahomes' career
Coming from an influential background has provided Jackson with an upper hand in the social media game. Jackson built his massive following via his viral Tik Tok dances, his swanky lifestyle on social media, and obviously, by just flaunting his life as the younger brother of the Kansas star.
He came into the limelight after he started making his dance, lip-syncing, and voice-over videos. He has amassed a staggering fan following on TIk Tok, where he has over one million followers on his Tiktok account.
Don't miss- What does Lottie Moss do for a Living? What is her Net Worth?
The Kansas quarterback's brother also runs his own Youtube channel, where he has over 24.8k subscribers. Jackson's reach on the various platforms has also helped him launch entrepreneurial ventures. His recent endeavor was clothing merch in collaboration with FANJOY.
Jackson Mahomes is a famous Youtuber who uploads funny vlogs, pranks, and challenging videos.
Source: Youtube
Another aspect that adds to Jackson's growing popularity, aside from his trendy clips, is his tendency to create controversy. Most believe that Jackson thrives on scandals. Jackson's most recent head-turning moment was at Justin Beiber's concert in LA, where he got mobbed by the crowd.
Jackson Mahomes' net worth!
Jackson's estimated net worth might lure you into abandoning your regular 9 to 5 and jump-start a random venture in social media. Jackson earns a hefty sum from TikTok and Youtube careers. His various entrepreneurial and endorsements ventures also endow him with an extra income.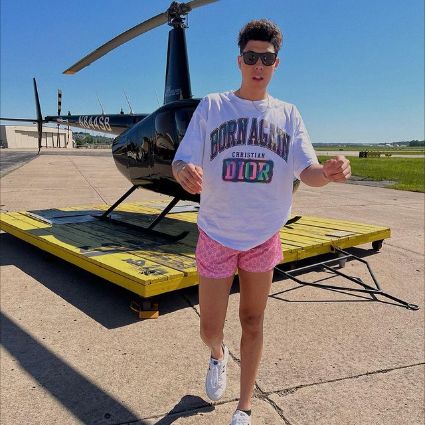 Jackson Mahomes earns a sufficient amount from his social media profiles.
Photo Source: Instagram
Jackson's net worth is estimated at $800,000, and the amount is surely soaring at high speed, given his unceasing passion for hustling. The social media star has a long way to go and certainly a huge yardstick to cross as his brother Patrick has amassed a staggering $40 million net worth as of 2022.
Jackson Mahomes' controversial moments
The younger Mahomes carries a controversial rap due to his perpetual involvement in questionable actions. He was entailed in an argument with some Baltimore Ravens fans after the chiefs conquered 36-35 in Sep 2021. Fans below Jackson's private box provoked him, so he spilled water over them before exiting. He became a diverging figure for spilling one of the ravens' fans and received a lot of counterblasts.
Jackson didn't stop here; he danced on a tribute to the late NFL legend, Sean Taylor. He even stepped on a logo. It wouldn't be too long before he was headline news once again. His activities raged fans across the League. He was the face of the many headlines that read, "Twenty-one-year-old dancing video on the memorial logo for Sean Taylor during a game between Kansas City and Washington."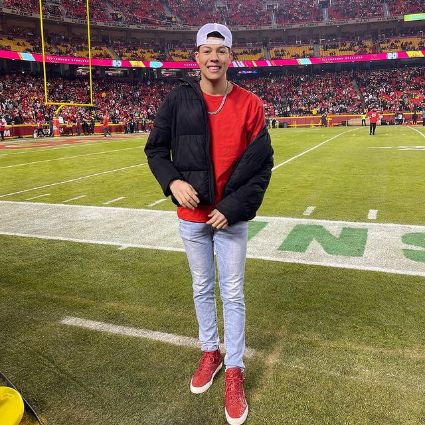 Jackson Mahomes entailed in an argument with some Baltimore Ravens fans and got in a negative light.
Photo Source: Instagram
The family of the Washington legend was in attendance to watch his jersey number depart when the incident happened. Jackson endowed them with an apology speedily, but it wasn't enough to wipe the massive criticism and unlikeable rep that he got from the NFL fanbase.
Stay connected to Glamour Fame for more.
-->