Jameela Jamil Came Out As Gay; Facts about the Actress
Published Tue Feb 11 2020 By Sea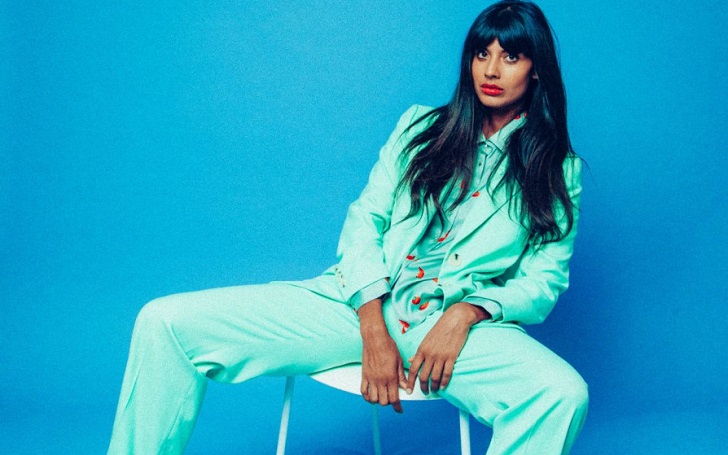 How would you define Jameela Jamil? She's spread her wings everywhere she can. After her first career job at T4, she presented alongside Scott Mills on BBC Radio 1's 'The Official Chart Update', as well as 'The Official Chart'. She's also a model, having featured in British and American Vogue Glamour, Cosmopolitan, and Japanese Teen Vogue.
Additionally, she's also written for The Times, Cosmopolitan, The Huffington Post, and Company. She moved to the states in 2016 after a cancer scare in 2015. She later revealed she survived cancer twice, in response to a man's comment about the way she dressed at her age. In the US, she immediately grasped the opportunity to co-lead in NBC's 'The Good Place'.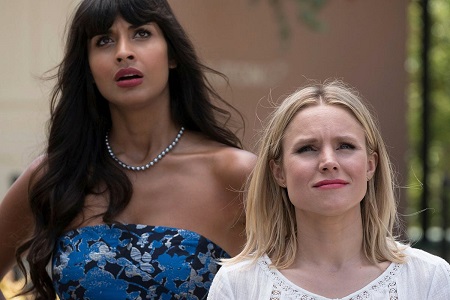 Jamil moved to the states and starred in 'The Good Place'.
Source: The Good Place, NBC
Add to that, the Brit is also a body neutrality activist. After completing 'The Good Place', as 'Tahani Al-Jamil', she is set to be the MC and judge on the new voguing competition 'Legendary', and with the news, came a flurry of backlashes regarding her sexuality, which many presumed to be fully heterosexual.
Jameela Jamil's Ethnicity: An Indian Father and a Pakistani Mother
While Jamil's accents are saucy to hear, her family heritage has roots to quite an unpopular mixture. Her father is an Indian while, her mother is from Pakistan. Ask the locals, there's nothing common about that.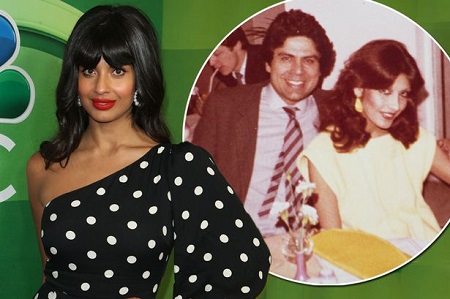 Jameela once slammed her own parents for being fat-phobic.
Source: Daily Mirror
While there are a number of actors in the Indian Film Industry, Bollywood, with roots from both India and Pakistan, none have been able to embrace Hollywood as Jamil. But there's also the backside of being from the mixed heritage, coming out as queer.
The model was born in Hampstead, London. So her parents probably met when they were in the UK.
Jamil Shared a Lengthy Message Announcing She Is Queer after Trolls Forced Her To
When HBO initially announced Jamil as a judge and "MC" of 'Legendary', people started going off on her, asking her to step down because she's not a part of the LGBTQ+ community in a show completely about them.
With a lengthy message on Twitter titled 'Twitter is brutal', Jamil finally came out openly queer to the public while stating that she put up the rainbow in her Twitter handle name when she was ready but afraid to talk too much about.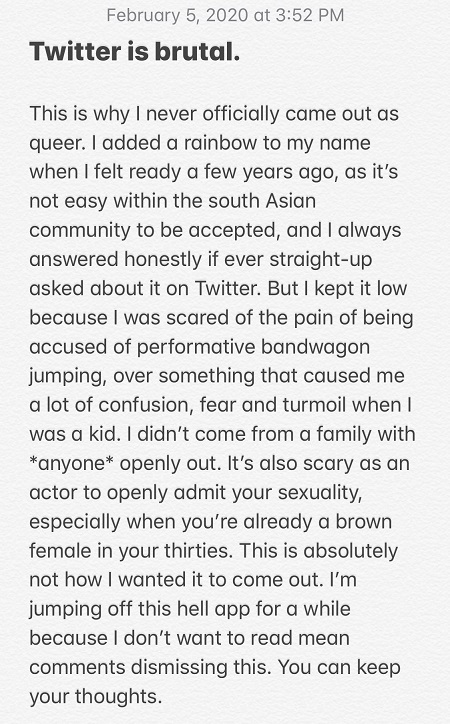 Source: Jameela Jamil 🌈, Twitter
After sharing the time she's had growing up not being able to express her sexuality as "a brown female in your thirties", she took a line to praise Megan Thee Stallion, a remnant from a Twitter reply to one such critic before the post.
In addition, she also cleared up her position on the show, saying she's not the main host but just a lead judge on the show due to her 11 years of hosting experience, despite HBO specifically stating the fact.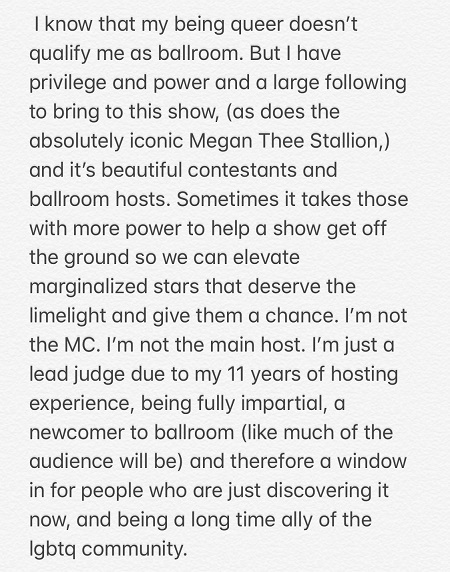 Source: Jameela Jamil 🌈, Twitter
As is common, there were both sides of the reactions to the coming-out post from Jamil. Piers Morgan, of course, was on the other side of it, mocking her actions.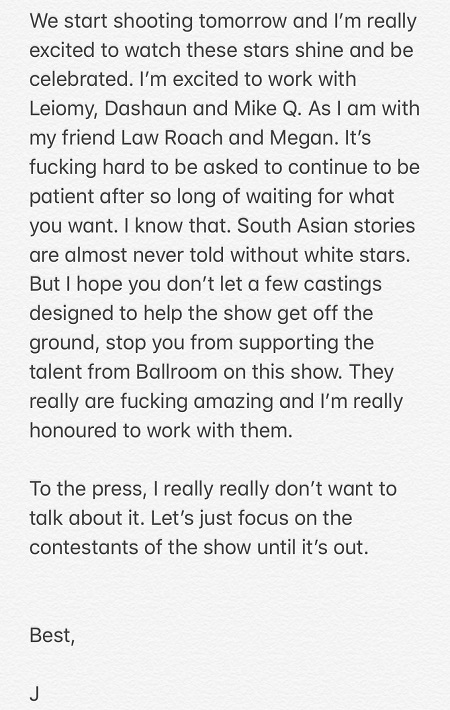 Source: Jameela Jamil 🌈, Twitter
The 33-year-old also kept her word when she said she'd be off Twitter so that she would not have to take all the negativity following her coming out. And rightfully so. She hasn't responded to any of the comments, which are clearly mostly against her, nor has she posted anything new there.
The Best Decision: Abortion When She Was Young and Not Ready
In reaction to the state of Georgia criminalizing abortion (meaning women who undergo illegal abortion could face life imprisonment or even capital punishment), Jamil shared the news on Twitter, making a case for the law also being "essentially a punishment for rape victims, forcing to carry the baby of their rapist."
After the post, she also shared her own experience in having an abortion when she was young and unprepared. "I had an abortion when I was young, and it was the best decision I have ever made," she wrote. "Both for me, and for the baby I didn't want, and wasn't ready for, emotionally, psychologically and financially."
For this, of course, there were people going on both sides of the argument. She's also confessed on Twitter about attempting to take her own life about seven years ago.
Musician James Blake Is Jamil's Boyfriend Since 2015, After Breaking Up with Her 'First Love'
Coming out a queer has people also lashing at her for having a BOYfriend for the last four years. Turns out, many didn't understand the meaning of Queer, the significance of Q in LGBTQ+, as they were surprised a woman who identifies as a queer is in a romantic relationship with a man.
Jameela Jamil started dating musician James Blake since early 2015 and thus has been with him for almost five years now. It was one of those arguments people used against her in the comments section. But Blake also took his stand for Jamil in the comments, writing, "I love you", once crediting him for "helping him evolve beyond years of 'surface level' interaction with others."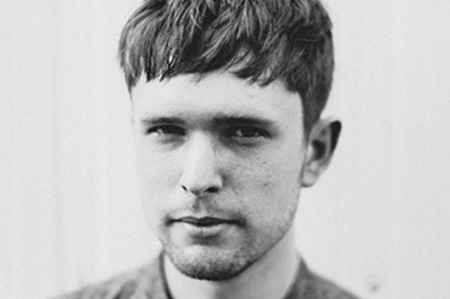 "Untalented b***ard," she funnily calls him.
Source: Jameela Jamil, Instagram
Before getting together with Blake, there was apparently only one person she once "loved". While the name remains anonymous, she affirmed there was indeed a long-term boyfriend who she described as her 'first love'.
"It was amicable," she explained at the time of the breakup. "We parted with all the love in the world."
That case too was brought up by some people in the comments.
Since coming out queer, she's also come out to admit that she chose "the *most* inappropriate and unfortunate time" to open up, in another lengthy Instagram post.
Stay tuned and connected to GlamourFame for more Entertainment content.
-->