Is Jason Reitman related to Ivan Reitman? Learn About his Family Here!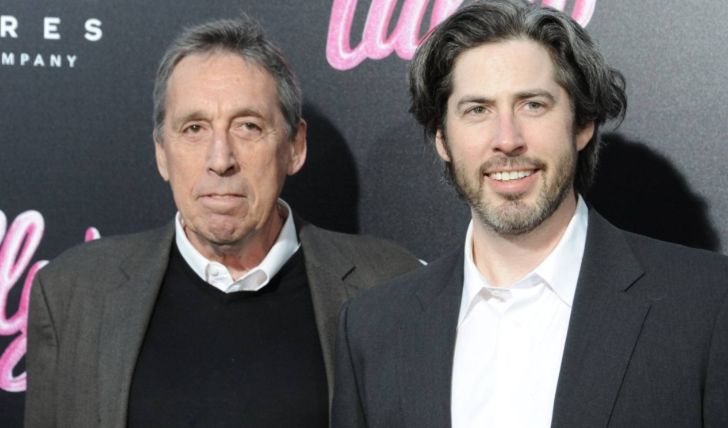 Ivan Reitman and Jason Reitman: Get to know the cool father-son duo!
Jason Reitman is the man behind the making of the recently released Ghostbusters: Afterlife, a sequel to the original Ghostbusters (1984), directed by his father, Ivan Reitman. Starring Finn Wolfhard, Mckenna Grace, and others, Ghostbusters: Afterlife has expanded the franchise's fanbase to a whole new generation. Since its release on November 19, the film has grossed 115.8 million.
Jason R. Reitman's career in filmmaking also includes his earliest hits like Thank You for Smoking, his first feature film. His second film, Juno, a coming-of-age drama film, was also a critical and commercial success. Reitman is also a celebrated actor with onscreen credits like Twins, Ghostbuster II, Father's Day, and Dave under his belt.
Get to know the father-son duo!
Director and actor Reitman was born on October 19, 1977, in Montreal, Quebec, to actress Geneviève Robert and director Ivan Reitman. Jason's family includes two younger sisters, Catherine Reitman, an actress and producer, and Caroline Reitman, a nurse. Jason is a dual citizen of Canada and America.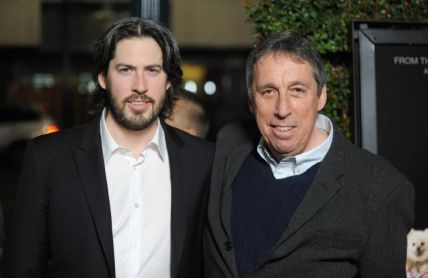 At 10, Jason started working with his father.
Photo Source: Today Online
Being the oldest sibling, Jason had the privilege of accompanying his father to movie sets. The Juno director describes his childhood self as a movie geek. Ivan once revealed that Jason practically grew up on movie sets, which fostered Jason's love for film and its making.
Though not much is known about Jason's bond with his mother, the director shares a very affectionate relationship with his father. At 10, Reitman started working as a production assistant on his father's films. Soon Ivan started exposing his son to acting by giving him small roles in his movies.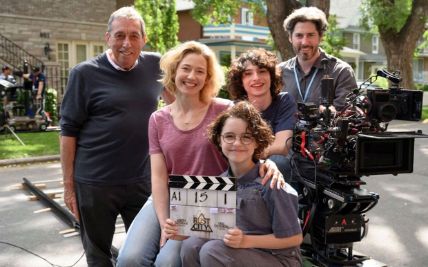 Ivan always wanted his son to direct a 'Ghostbusters' film.
Photo Source: Parade
Ivan, 75, is a director, producer, and screenwriter. His most notable work is, of course, the Ghostbuster franchise, but Ivan's career also consists of other hits like Meatballs, Stripes, Twins, Animal House, and Junior. In a recent interview, Jason revealed that his father overcame with emotion after he watched his sequel of Ghostbusters.
Ivan Reitman cried after watching Jason's 'Ghostbusters' sequel!
In a conversation with Empire, the Golden-Globe-winning director reveals how proud his father was after watching his newly-released sequel. Jason says Ivan has been homebound because of the pandemic, and he had to drive him down to the Sonny studio to watch the movie. "He cried, and he said, I'm so proud to be your father. And it was one of the great moments of my life," Jason shares.
Watch the making of Ivan and Jason's first co-directed commercial.
Source: Apple
A little backstory on Ivan's heartwarming reaction to watching the sequel; Ivan always wanted Jason to direct a Ghostbusters film and follow the legacy. Jason, on the other hand, was skeptical. "I've always been intimidated by the idea of making a Ghostbusters film. The shadow of my father, the shadow of that franchise loomed large," Jason confesses.
The cool father-son pair recently came together to direct a commercial for Apple. Not only is the collaboration heartwarming in the sense that it was Ivan and Jason's first co-directing collaboration, but the commercial itself, Saving Simon, is just as moving.
For more information and news on your favorite stars, stay connected to Glamour fame.
-->