Jenna Wolfe Net Worth - Check Out Her Wealth Breakdown!
Published Sun Nov 03 2019 By Sea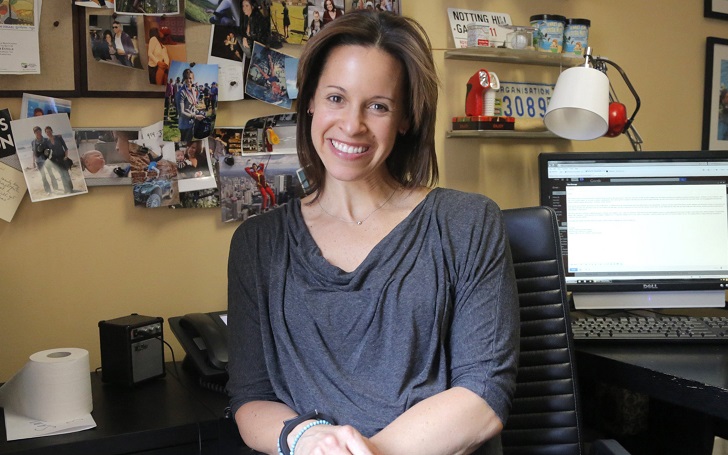 Jenna Wolfe (born Jennifer Wolfeld in Jamaica) has two decades-long experience as a news anchor and correspondent. Apart from that, she is also a personal trainer. Since joining the NBC network as a summer intern in 1999, she's continually been the top reporter there and runs her own 'Weekend TODAY' as the news anchor.
While it may be common for a news anchor to not be as rich as those millionaires in the world, but Jenna is one. As well as being the news anchor for the 'Weekend TODAY', she is also the national correspondent for 'NBC's Today'. As a side job, she is an NFPT-certified personal trainer, getting the certificate since 2016.
Jenna Wolfe's Net Worth Is Surprisingly $2 Million
The reporter for the top-rated morning news program in America has a staggering net worth of $2 million. All her income is attributed to her work in the news business and the fitness stint, even as a Lifestyle and Fitness correspondent at NBC. Apart from that, she also has appeared as a judge Food Network's 'Iron Chef America'.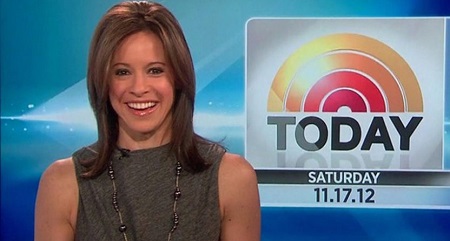 The Today show was the biggest work she did in her career.
Source: OnlyOneSearch
After coming to the states in 1989, she completed her Bachelor of Arts degree in French and English. She started her career on the screen in 1996 and in the physical fitness regime some 20 years back and has been consistent with her contents since. She is, therefore, a household name in the world sports news industry.
She Became the First Female Sportscaster on a Local Broadcast Television News Program in Philadelphia in 2001
The first reporting job she did was as a news and sports reporter for WICZ-TV, the affiliate company of FOX in Binghamton, NY, in 1996. She moved on to WUHF-TV as the weekend sports anchor in Rochester. She then joined WPHL in 1999 in Philadelphia, and two years later, she was appointed sportscaster there. That particular moment made history as she was the first female personnel to take such a position on a local broadcast Television news program.
Watch: Jenna Wolfe Talks Her Past
While working for WPHL, she also joined the Today Show as a summer intern during college for the second time in her career. She left WPHL in 2002 to join Madison Square Garden MSG Network's 'MSG SportsDesk' as its anchor and reporter. She worked there until 2004, before she joined WABC's Eyewitness News in NYC to be its weekend morning sports anchor. She also had her own special called 'Jenna's Beef' to editorialize the world's most notable sports events.
Then in 2007, the 45-year-old got her big break in NBC News. As mentioned earlier, she was the news anchor and correspondent for the network's various string of shows. In 2015, however, she decided to move on from her most successful tenure and left NBC that November. She reportedly received a salary of $70,000 during her time there.
The mother-of-two then took a two-year hiatus from the news industry, possibly to be a full-time mother, but returned to the scene as the host for Fox Sports on FS1's show, 'First Things First' in September 2017. She did the gig with NFL wide receiver Cris Carter and radio host Nick Wright. She still does it, while also being the National correspondent at NBC News.
The Fitness Journey Began with a Favor for a Friend Who Wanted to Lose Weight
The passion Jenna has for fitness is unmatched by any other things she does. She didn't know she loved to guide someone else to fitness until a friend asked her to help lose weight for her upcoming wedding. It was two decades ago, and she didn't know how to teach someone lose 15 pounds and tone their body, she asked the friend to follow her in the gym. Surprisingly, she lost considerable weight and looked quite well for the wedding.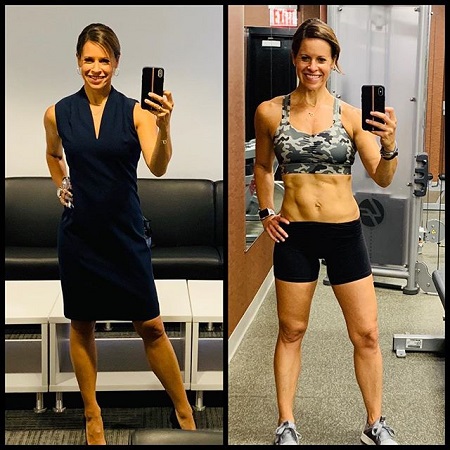 She loves fitness so, so much.
Source: Jenna Wolfe, Instagram
The inspiration gave her the necessary push to become a professional, and she did, helping countless along the way. In September 2016, she got her NFPT certificate to continue on the pride of the Jack LaLanne fitness award she won a year before at the annual IDEA World Fitness Convention 2015. But according to she herself, her biggest achievement was to get her mother to start exercising as well.
The work on the 'Today' show and NBC News comprised of her as the lifestyle and fitness correspondent, which is also a record as the first female to lead on the position.
A Happy Life with Partner Stephanie Gosk and Their Two Kids
Stephanie Gosk is the person Jenna is in a loving relationship for the last nine years. Stephanie is also an NBC News correspondent. They started dating since early 2010 and already are parents to two daughters. Harper Estelle Wolfeld-Gosk was born on August 21, 2013. Jenna announced the surprise in March that year. Quinn Lily Wolfeld-Gosk was born on February 4, 2015.
The fathers of both the girls are to remain a secret since she reportedly underwent artificial insemination from an anonymous donor. There have been many queries regarding it. But everything should remain just that as privacy is an outrageous thing to invade. Besides, even she doesn't know who the people are.
Visit GlamourFame for more intriguing Entertainment content.
-->