Jennifer Aniston Broke a Guinness World Record in Under 6 Hours - Who Did She Surpass?
Published Fri Oct 18 2019 By Sea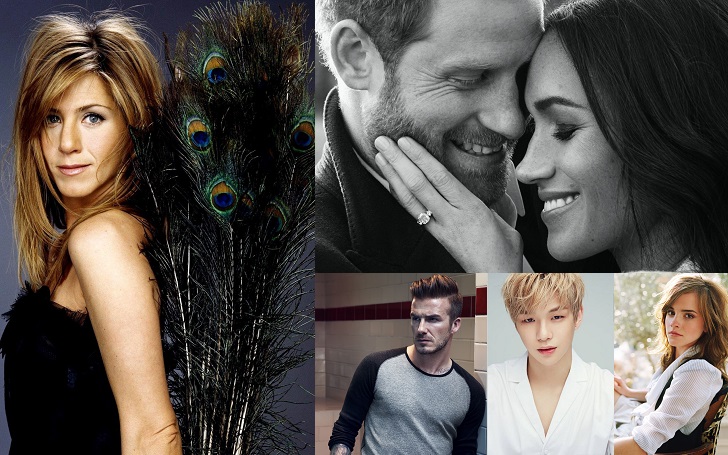 There's a Guinness World Record title for the 'Fastest Time to Gain One Million Followers on Instagram'. Believe it. But seeing all the crazy records listed in the Guinness Book of World Records, it is at all not surprising this kind of records already exists.
After joining the social media platform, Jennifer Aniston, broke the record with the time of five hours and 16 minutes to reach one million followers and snatched the title from the Royal Family's Prince Harry and Meghan Markle. The couple's official Instagram account, 'SussexRoyal', reached that landmark in five hours and 45 minutes, a close call in comparison to the previous record holders; there were others too.
Congrats Jennifer!! After the stalker account was busted, we're glad we can go along the life of the real Jennifer Aniston.
Jennifer's Record Broke Instagram Momentarily As Well
It's just in case you missed it, 'Jennifer Aniston' joined Instagram on Tuesday, October 15, and debuted her page with a recent photo of the cast of 'F.R.I.E.N.D.S.', all within the same frame. As soon as people noticed it, (it might be safe to say) thousands of her celebrity friends and colleagues came on to have a say about it. Of course, the internet got friendlier.
Bamboozled!!
Source: Jennifer Aniston/CommentsByCelebs, Instagram
The story can be appropriately titled 'The One Where Rachel Breaks Instagram', because as soon as she posted her first photo, thousands of fans flurried onto the platform to click that follow button, but not everyone got to. After just over 225,000 people followed her, fans complained, via Twitter and Instagram comments, that they could not press the 'follow' icon.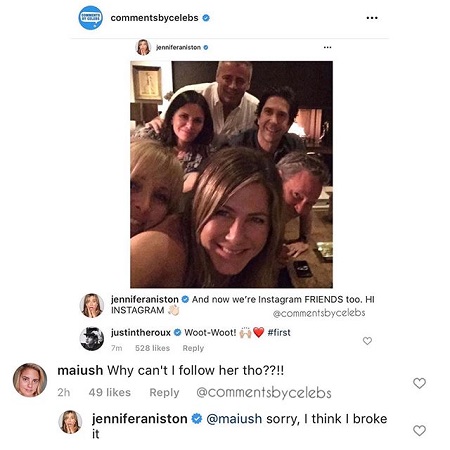 If Instagram hadn't crashed, there would've been a more impressive record.
Source: Jennifer Aniston/CommentsByCelebs, Instagram
The 50-year-old responded to a comment with "I think I broke it". Turns out, she actually did. A representative for Instagram told Page Six that they were actively trying to fix the problem, and they did as promised. Then the flurry continued again and reached the landmark at a rate of about 53 followers per second. It could have easily been over 100 followers per second had the follow button worked better.
The Instagram representatives also mailed CNET informing them the problem was fixed, and soon, 10 hours after the post was published, it amassed over 6.3 million likes, and she had 4.3 million followers. As of now, 13.4 million followers are already recorded, which will, of course, rise steadily.
The Duke and Duchess of Sussex Also Crashed the Platform Back in April
On Tuesday, April 21, 2019, at around 3:15 pm, the official account, '@sussexroyal', of Prince Harry and Meghan Markle was set up, and they brought the same response upon Instagram. It reached the 1 million milestone in just five hours and 45 minutes, as the Guinness World reports. It now has 9.7 million followers, which makes Jennifer's 13.2 million followers within less than a week a grand success in comparison.
The account posted a collage of pictures, the first photo welcoming the users to the page followed by a series of pictures of them and the causes the couple is passionate about. According to the journalist Benjamin Wareing, the rate at which they were getting the followers caused the platform to crash momentarily, after around 1 hour 9 minutes into the launch.
The duo's record was going to be featured on the Guinness World Records 2020, but Jennifer is set to take it home for now. Who's next?
SussexRoyal Stole the Record from K-Pop Star Kang Daniel, Who Apparently Deleted the Account
The record for the 'Fastest Time to Gain One Million Followers on Instagram' was first broken in 2019 by K-Pop singer and songwriter Kang Daniel whose account, set up on New Year's day, attained one million followers mark in 11 hours and 36 minutes as mentioned in the record books.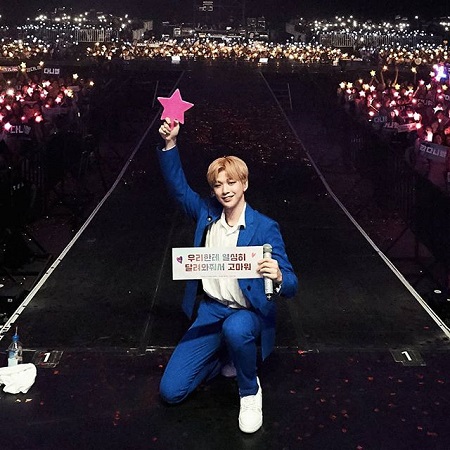 Kang was the first record-breaker in 2019.
Source: 강다니엘 Daniel K, Instagram
The 22-year-old's first post was a selfie on January 1, 2019, at 10:00 pm (PST) captioned "HELLO". The page hit 1 million on January 2 at 9:36 am (PST).
Kang is a prominent member of the South Korean band 'Wanna One' and best known for finishing first on Produce 101 S02 [2017/18]. The band was formed after the 11 boys met at that TV talent show. They disbanded in December 2018, but they still performed concerts until the end of January, as promised, before each of them moving forward with solo projects.
The Busan-born was prominent on the platform with several selfies of himself and videos of his pet cat. Searching for those photos won't do you any good since the account doesn't exist at all. It seems the singer deleted the account (from the disappointment of having lost the record?) and started a new one, 강다니엘 Daniel K, in July instead. That, you'll find for the search of his official account. That one also has an impressive 2.1 million followers and mostly grid-style images of himself.
The Record-Holder Was Pope Francis Before Kang
Pope Francis debuted his verified Vatican Media channel 'Franciscus' on March 19, 2016, maintained by the members of the Vatican, just like his Twitter handle. Just weeks after the Pope himself met the then-CEO of Instagram, Kevin Systrom, the Vatican's official communication department announced on March 17 that year that he'd be joining the platform.
The debut came with two pictures of the Pope as two different posts that day. The first showed a photo of him kneeling in prayer accompanied by the caption, "pray for me" in nine different languages. Systrom, who resigned from the company in September 2018, was there to see the first post go on air first-hand.
The Pope uses Instagram, but the account is managed by others, except the first post.
Source: CNN Money
The account that is separate from the Vatican's official account, Vatican News, had followers rushing in as the page reached the 1 million landmark in just about 12 hours. By now, the account has over 6 million followers and 776 posts.
Before the Pope, There Were David Beckham and Emma Watson
On May 2, 2015, British football star, David Beckham, celebrated his milestone birthday with a milestone event. It was his 40th birthday, and he joined the photo-sharing site with a "hello" post on 'David Beckham'.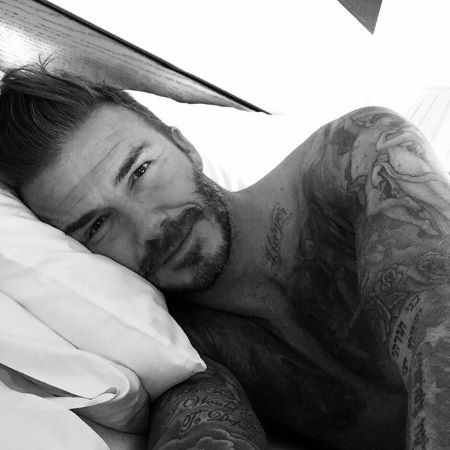 David Beckham was the one before Pope Francis came along on Instagram.
Source: David Beckham, Instagram
As soon as he committed to the use of technology despite his age, followers kept swarming in to learn of his posts in the future. While his son reached two million followers on David's birthday, he himself gained 1 million followers under 24 hours, stealing the spotlight from him. This was the first time Guinness World Record keepers kept track of the record. Currently, David boasts an impressive 58.7 million followers on Instagram from all around the world.
The records before the former England skipper are extremely blurry since Instagram itself was in its early phase after Facebook bought it in 2012. But a blunt log exists. Another British personality achieved it. Actress Emma Watson joined Instagram on July 8, 2014, with a poster of hers by UN Women. She was announced as their Goodwill Ambassador that very day. She had no "Hello" caption with the photo.
Emma was named the Goodwill Ambassador of UN Women back when she started using Instagram.
Source: Emma Watson, Instagram
The exact record doesn't exist, but she gained 2 million followers within two days, still an impressive feat at the time. By now, 'Emma Watson' has 52 million followers.
The previous records are not found that easily, but it seems it wasn't noticed before 2014 at all. Of course, Instagram became mainstream only a while before people took notice of such trivia. Now, with Jennifer taking it by storm, fans of other celebrities are waiting to see if their favorite stars will ever join Instagram.
There are a handful of high-profile personalities yet to enter the scene. The likes of Brad Pitt, Scarlett Johansson, Keanu Reeves, Jennifer Lawrence and Emma Stone, among others, are still there. Maybe one of those will grab the trophy. One day, we hope, one day; we'll just have to wait.
Stay connected to GlamourFame for Entertainment facts on more of your favorite celebrities.
-->