Jennifer Aniston Paid Tribute to Julia Roberts in a Pantless Instagram
Jennifer Aniston made us nostalgic and forced us to go down the memory lane when she paid tribute to Julia Roberts.
Jennifer Aniston still continues to amaze us, and her Instagram presence continues to be aspirational. The 'Friends' star took to her social media on Monday to share some behind the scenes shots from her photoshoot with Variety.
Aniston was in white sweater and no pants, to replicate the famous Julia Roberts' line in the 1997 romantic comedy, Notting Hill.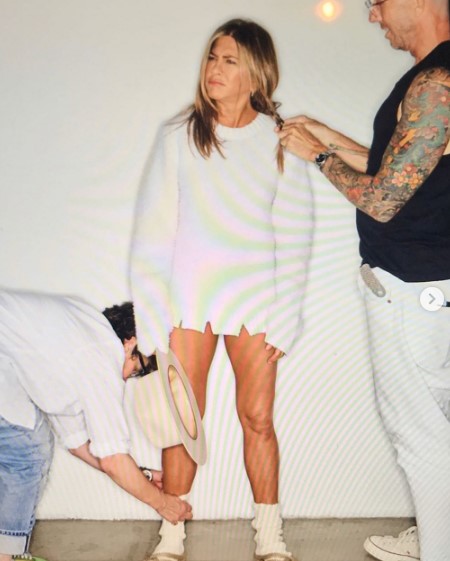 Jennifer created Julia Roberts scene to pay her tribute in a white sweater and going pantless.
Source: Jennifer Aniston's Instagram
Jen said, "I'm just a girl....standing with hair and makeup," she wrote in the caption. "A stylist. A photographer. A lighting crew, wind machine, props, and a computer .... asking you to think I woke up like this."
Though the 'Friends' star is active on Instagram for the last few weeks, she is killing it, and fans can't get enough of what Aniston has to share.
Though her official social handle is active for a couple weeks only, she admitted she had a secret account that she used to stalk her someone special.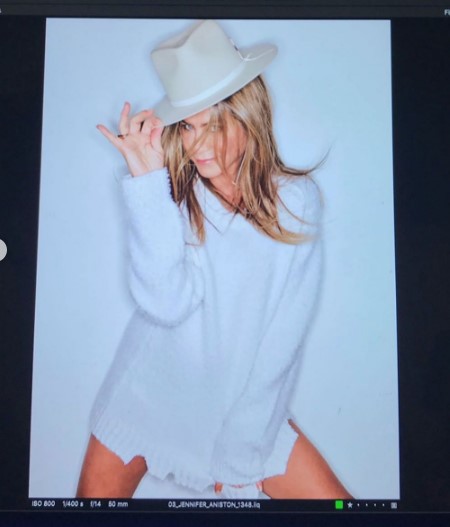 Jennifer on a hat now. She looked amazing.
Source: Jennifer Aniston's Instagram
Jen talking with Jimmy Kimmel on the 'Tonight Show with Jimmy Kimmel,' she said, "When I was thinking of doing this, I sort of figured it was time to kind of understand the world and dip my toe into the sort of social media pool."
Aniston made us nostalgic, and we fans loved it. To know more about your celebrities' lifestyle, stay tuned to Glamourfame.com, and don't forget to sign up for the newsletter.
-->