Jesse Watters Is Set to Be Married to His Mistress Following His Divorce from Noelle - What's the Story?
Published Mon Dec 30 2019 By Sea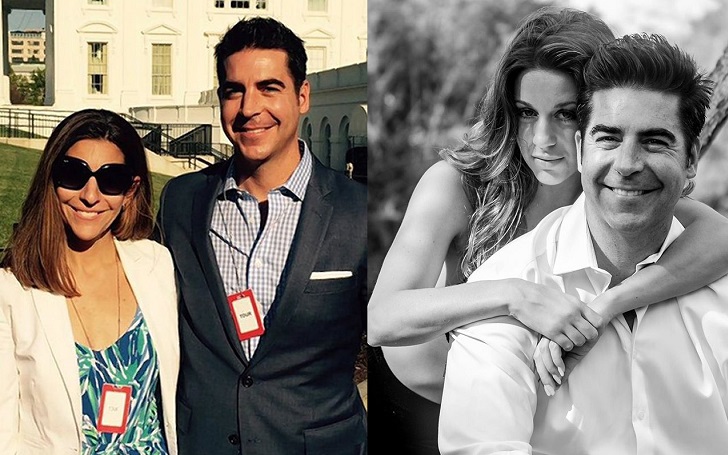 It's not every day that the President of the United States, Donald Trump (soon to be previous), congratulates you on your engagement. Well, Fox News' Jesse Watters got lucky. From various different angles of course, not just from the president one.
It seems like a mess of a relationship of his with Noelle Watters (née Inguagiato) and Emma DiGiovine. But it looks like it was a straightforward clear-up after Watters himself came clean with everyone in the world about an affair whilst already married.
Jesse Watters Was Married to Noelle Inguagiato from 2009 and Had Two Kids Together
Noelle was also at Fox News when she met Jesse Watters for the first time. She worked in the advertising and promotions department and hosted a web show called 'iMag Style' on Foxnews.com. The two got married in 2009 while living together in Manhasset, New York.
The pair were parents to twin girls, Ellie Watters and Sophie Watters, in 2011. Noelle didn't return to Fox after her maternity leave.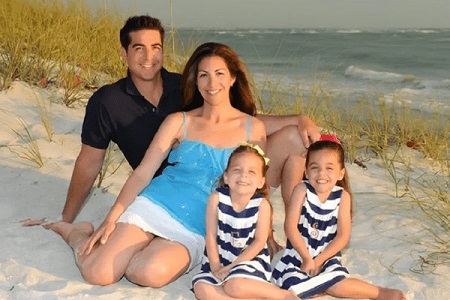 Jesse Watters shares two daughter with his ex-wife, Noelle Inguagiato.
Source: Daily Entertainment
It seems both of them are avid Trump supporters as she once shocked him by telling him she voted for Barack Obama in 2012. Dinners have been common with the now-impeached Trump at the White House. In fact, Trump is the one who invited him to the White House because he couldn't get enough of Watters.
Noelle Prompted the Divorce after Busting Jesse with Emma & He Confessed to Fox News about It
It was not an ugly story, but it's weird, to say the least. Noelle filed for divorce from Jesse in October 2017. But the announcement of their split was not made until May 2018.
According to the reports, the extramarital affair with Emma was what prompted the now ex-wife to file for the divorce. They were supposed to have just started dating at the time.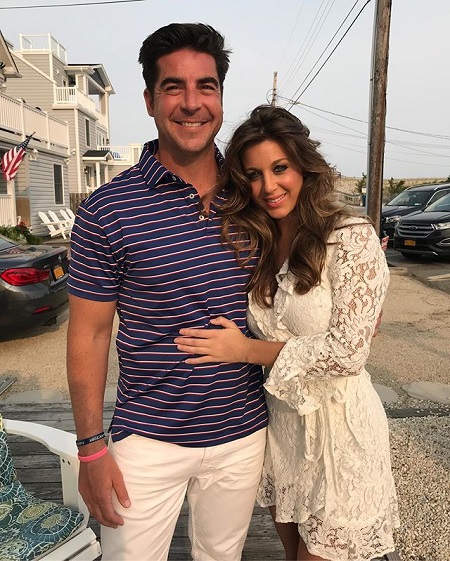 Emma DiGiovine used to work at 'Watters World' when her affair with Jesse Watters started.
Source: Jesse Watters, Instagram
The 41-year-old then went on to the Fox News' Human Resource Chief and confessed all of his wrongdoings, just shortly after the divorce-filing moment.
DiGiovine also worked at Fox News as the associate producer. But after Watters' confession, she was transferred to 'The Ingraham Angle' since, you know, workplace relationships are off-limits in the US. But by April 2018, she'd left the network.
"Within 24 hours of Jesse Watters voluntarily reporting to the Chief of Human Resources in November 2017 that he was in a consensual relationship with a woman on his staff, management met with both parties and a decision was made for the woman to be transferred to work on another program on the network where she currently remains," the spokesperson for the network announced.
Before the reports were finally released Watters and DiGiovine went to the Caribbean for a vacation, and both put up the pictures on social media of their trip.
Following the Divorce, Watters Announced His Engagement with DiGiovine
The divorce proceedings went on for quite a stretch of time. It was finally settled in March 2019, when they were supposed to appear in court for the first day of a divorce trial in Suffolk County on March 20. They never showed up but according to a court official, they called the court and informed the matter was settled already.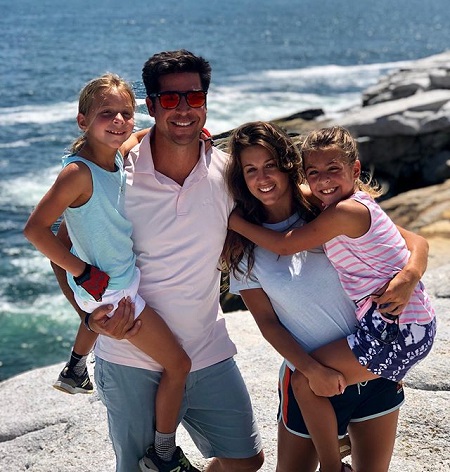 The divorce settlement probably included joint custody of the kids. Here's Emma with Ellie and Sophie.
Source: Jesse Watters, Instagram
The terms of the settlement still remain confidential, but Noelle demanded Jesse to pay her legal fees. The result of that, too, isn't confirmed yet.
Call it sleazy for Watters getting into a adulterous relationship with a then-25-year-old co-worker, but they're getting way ahead with their relationship in such a short time. Watters announced his engagement to DiGiovine earlier in August via Twitter. And guess what, Trump was the most prominent well-wisher of the pair.
It means the once-affair is still going strong without much opposition from their "family and friends". But other Twitter users beg to differ. They're talking of Karma in the comment section. Of course, the relationship was bound to get a lot of backlashes.
It also shows how Trump is actually a Watters fan-boy. He was at the Group of Seven summit in France when he congratulated the two.
The wedding date is yet to be confirmed. Don't worry; she gets along with the twins quite well.
Stay tuned and connected to GlamourFame for more celebrity updates.
-->