Who is Jim Cramer Wife? Here's Everything You Need to Know
Published Tue Feb 02 2021 By Bran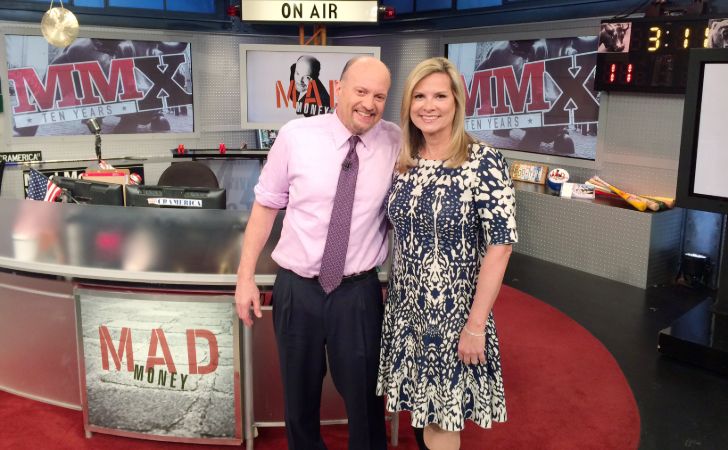 Jim Cramer's personal life is relatively lowkey compared to his dramatic married life. Know all about it here.
Almost all the American television viewers, especially those dedicated to the money market and investment sector, are aware of Jim Cramer and remain big fans of him. The former hedge fund spender is a fan-favorite figure from his regular appearances on the super-hit investment-related television show 'Mad Money' on CNBC.
Besides that, the graduate from Harvard University also sees his resume lit up as the founder of a formerly billion valued company, 'The Street.com,' which fell victim to the dot-com crash alongside many online firms.
As the anchor of several shows on CNBC, including the' 'Mad Money,' people realize that Jim Cramer's professional life is star-studded and known to plenty.
However, the 67-year-old wasn't lucky enough to have a clean sheet on his record with marriages. The former investor and owner of TheStreet.com is currently a married man. Know all about his married life with his lucky spouse in this article.
Jim Cramer Is Blissfully Married To Real Estate Broker
Jim Cramer's longtime rise in his level of fame did cause a small attack on his personal life, which was quite private. His thousands of fan-following grew fond of getting most of Jim Cramer's love life instead.
Interestingly, the co-founder of 'TheStreet.com' is a married man right now. It's been four years since Jim Cramer tied the knot with his current wife, Lisa Cadette Detwiler.
Related: Who is Yo Gotti's Girlfriend As We Enter 2021?
The love history between Jim Cramer and his current wife, Lisa Cadette Detwiler, dates way back to 2015 when they decided to get married. In fact, the love birds enjoyed a magical wedding ceremony in the Liberty Warehouse, Brooklyn. Interestingly, one of his friends, Aran Yardeni, took the honors to officiate the wedding.
While Jim Cramer is the famous one in his marriage, his partner is not any less when it comes to a successful professional career. His bride, who is currently 55-year-old works as a real estate broker for Corcoran Group Real Estate in Brooklyn Heights. Introducing her a lot more, she is the daughter of Joan B. Cadette and Walter M. Cadette.
As of 2022, his wife, Lisa, also serves as the general manager of The Longshoreman, an Italian bistro in Brooklyn itself. Despite the fact that Cramer owns around $150 million as net worth, it's empowering how his wife remains focused on working rather than chilling at their luxurious 65-acre estate n New Jersey. Moreover, Jim also owns a house in New York, Long Island, and Quoge.
Jim Cramer Is A Divorcee Too
Not many of Jim Cramer's fans realize the intimate detail that the former hedge fund investor is a divorcee who saw his love life fail miserably. The 'Mad Money' host was previously married to a woman named Karen Backfisch. The pair were blissfully married for over two decades, from 1988 to 2009, which put their followers in a big shock too.
The passionate Philadelphia Eagles fan and his ex-wife Karen share two adorable children as well. Even if they broke up and parted ways with a divorce agreement, the television sensation is on good terms with both his ex-wife and his two children. Little is known about his former partner after the celebrity author cum investor separated from her.
For more news and updates about your favorite stars, please stay connected with us at Glamour Fame.
-->