Joey Fatone Tattoos - Grab All the Details Here!
Published Fri Oct 25 2019 By Sea
The former member of *NSYNC boy-band, Joey Fatone, is far from normal. He likes to have fun, a lot. It takes a pretty strong gut to take on the 'Impractical Jokers' challenges. Among all the crazy things, tattoo is one thing he likes to fiddle with. He has a lot of them that people even don't notice, and anyone can't exactly pinpoint the total number of the tattoos he has.
There are some pretty odd tattoos inked in his body, but every one of them has a special meaning behind getting stamped on him, the known meanings that are. On the other hand, there were some temporary tattoos that he did just for the fun of it. You know the Post Malone thing.
A Huge Superman Fanatic - Tattoos Everywhere
It's no secret that Fatone loves 'Superman'. He doesn't read the comics though, he just likes to collect anything related to Superman (and Star Wars, apparently). Aside from his signed guitar collection, he has a whole room for his Superman memorabilia collection. A fan from Germany made a Superman sweater; that's his favorite.
Of course, he would have the iconic Man of Steel inked as well. The number of Superman symbol tattoos is indistinctive. He has the logo with fire spreading out of it on his arm. There is reportedly another in his right hip, but it's never been photographed. There's another flamed Superman logo on his right ankle, along with other indistinctive tattoos.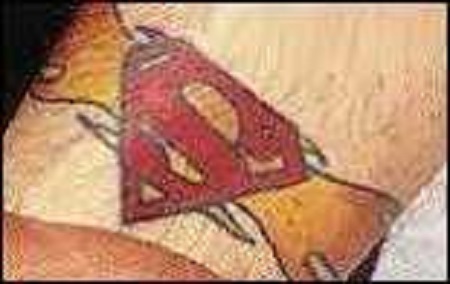 Source: Vanishing Tattoo
There may be many others, but you have to go through his whole body for them. Interestingly, the Superman tattoo was also the reason he bonded well with the 'Impractical Jokers' guys. Brian "Q" Quinn has one too, and when he and Sal were talking about it on their podcast 'What Say You?', he was mentioned to have one as well. But some person apparently thought they were making fun of Fatone and joked about it with him. The rest is history.
There's One Dedicated for Daughter Briahna and a Probably Erased 'Kelly'
In 2004, the year Fatone got married to now ex-wife Kelly Baldwin, he went into his regular Hart & Huntington Tattoo Salon at the Palms to get Kelly tattooed as well. We don't know if it still exists (since he announced they were going their separate ways), but he had it as part of his bachelor party weekend some time in May, 2004, and the location is also bizarre. It was in the inside of his lower lip.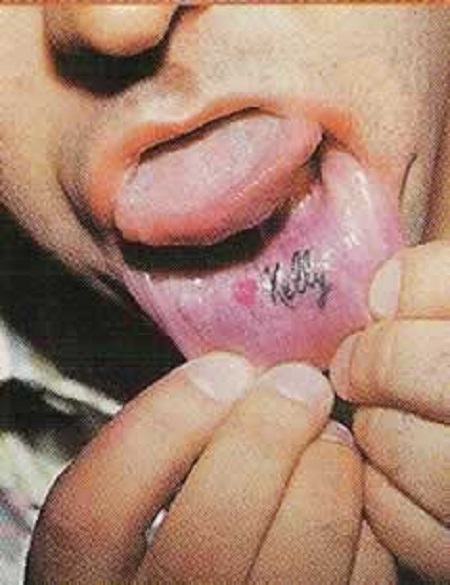 Source: Vanishing Tattoo
There's another one he dedicated for to daughter as well. His firstborn was Briahna Joely, and he dedicated his left calf for her. He inked her footprint, along with a sun and a crescent moon figure, after she was born in 2001. Her name is also tattooed above and below the footprint. She's now 18 and went on her senior prom already!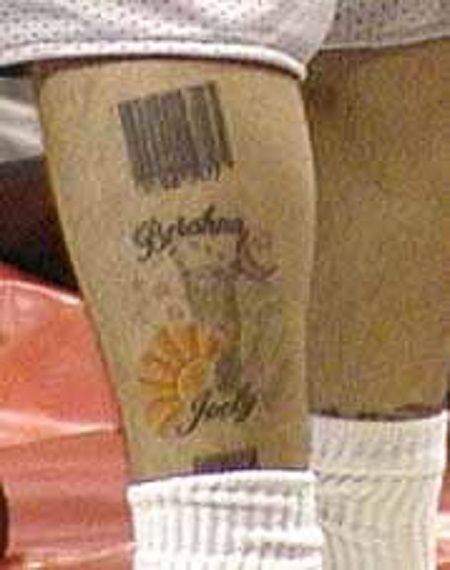 Source: Vanishing Tattoo
The 42-year-old is also a fan of Venus Flytrap, apparently. Yes, the carnivorous plant. He printed one on his left ankle on his 28th birthday at the Hart & Huntington Tattoo Salon again, and you can see a part of the plant's head popping out of the sock above. He also wore a shirt with the plant on the front, if you guys ever noticed.
Speaking of his birthday, you see the barcode in the picture above? It's the barcode that represents his birthday in terms of numbers.
Had Some Fun With the 'Post Fatone' Makeover
In October of 2018, Fatone inked a temporary tattoo all over his face, copying Post Malone's infamous face tattoos. He had the words 'Stay Away', 'Always' and 'Tired' written in the exact same spots as Malone. He attempted to draw the patterns on his face, the barbed wire on his hairline and the neck patterns. He did miss certain details though. He shared his picture up on Instagram and did a little play on words.
Rolling with the times.
Source: Joey Fatone, Instagram
It was temporary in the end, as he is clearly seen without those tattoos these days. He just thought it'd be funny to poke at the trend during the height of Post Malone's career. Also, that look was only his Halloween costume.
The Infamous Massive 'The Masked Singer' Rabbit Character
Apart from the many things he loves, his Rabbit character on 'The Masked Singer' show is probably his recent best. He took his love for the character as far as to ink it on his right leg. It covers his lower part of the leg completely. But he has not erased his Superman logo from long ago in ankle though.
Fatone announced that he was getting a new tattoo from The Warren Tattoo's Zoey Taylor on March 11 via an Instagram post. Then later that day, he shared his robot-like colorful rabbit tattoo to the world.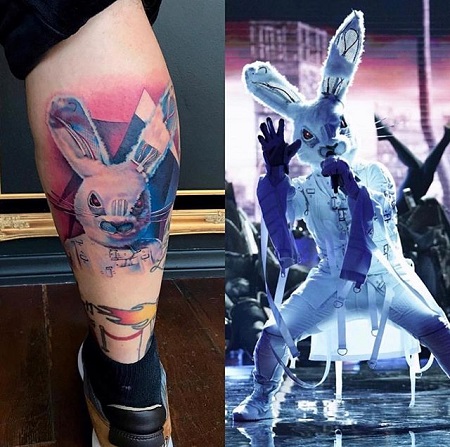 "Zoey Taylor did a KILLER job on the rabbit!"
Source: Joey Fatone, Instagram
That's all the known tattoos of the 'Dancing with the Stars' alum. Of course, many of them may not still exist, but he did have them at least at one time or another in his life.
Visit GlamourFame for more Entertainment content of your favorite celebrities.
-->