John Legend Is Named the 2019 Sexiest Man Alive, You Should Check Out His Wife, Chrissy Teigen's Reactions!
Published Wed Nov 13 2019 By Sea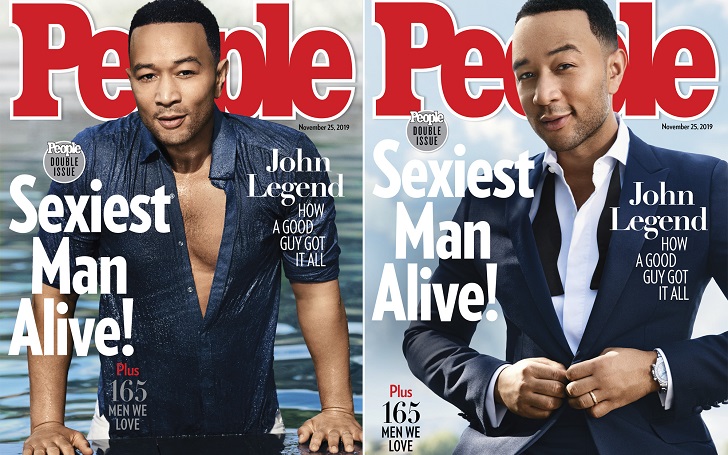 John Legend has been named legendary with the 2019 Sexiest Man Alive title, and wife Chrissy Teigen is hyped up about it.
American Emmy, Grammy, Oscar and Tony Award-winning singer, John Legend was named this year's Sexiest Man Alive, when he was crowned during Tuesday night's live episode of 'The Voice', by Blake Shelton, the Sexiest Man Alive 2017.
The honor from Shelton came with a pair of jean shorts, bedazzled with 'VEGOTSMA' written on the back, as he and the other coaches revealed the PEOPLE's new Sexiest Man Alive cover on the show. As you'd imagine, he had mixed emotions when he first heard the announcement.
Watch: Blake Shelton Announced the 2019 Sexiest Man Alive
"I was excited, but I was a little scared at the same time because it's a lot of pressure," the 'All of Me' star stated on the magazine's cover story for this week. "Everyone's going to be picking me apart to see if I'm sexy enough to hold this title. I'm [also] following Idris Elba, which is not fair and is not nice to me!"
Legend is not the only person who's thrilled to have received the title. His wife, Chrissy Teigen, also was proud of having "boned" the Sexiest Man Alive. But she then shared a clip of their kids, Luna and Miles, who were not that enthusiastic about it. They just don't seem to care that much.
Chrissy knew people were hoping for someone else to win the title and so she was prepared for all the backlashes. She instead tweeted things that could make any incoming lashes meaningless. "I cannot WAIT for people to get mad about John being the sexiest man alive. it's my new Starbucks holiday cup," she tweeted.
It seems it was not enough for the 33-year-old. She went a step further and updated her Twitter bio to "Currently sleeping with people's sexiest man alive."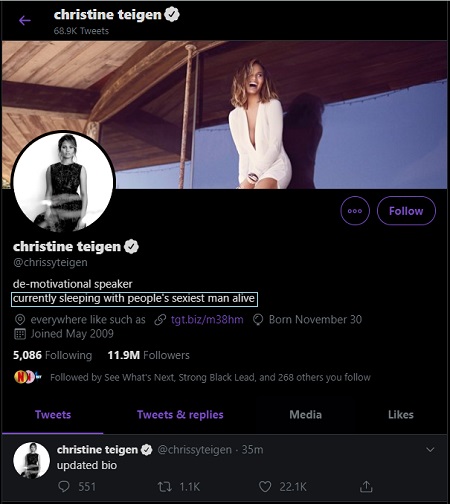 Nothing's enough to say how proud she is of her husband.
Source: Christine Teigen, Twitter
Legend responded to his wife's reactions on 'The Voice' saying she is always like that. "She's proud of me. She makes fun of me almost all the time. But she couldn't even be snarky about this. She's like, legit proud of me. I finally impressed my wife," he told Carson Daly.
Stay tuned and connected to GlamourFame for more Entertainment updates.
-->