Jordyn Woods Might Face a Lawsuit from the Kardashians Over Red Table Talk Appearance
Published Wed Feb 27 2019 By Ness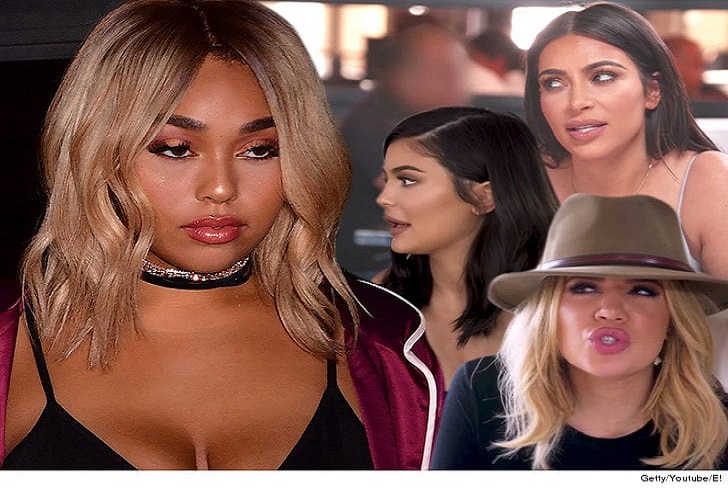 Jordyn Woods is all the rage ( literal, people are really mad at her) right now. After multiple sources came forward saying that Woods and Tristan Thompson, Khloe Kardashian's baby daddy, were seen all over each other at a party, the internet has been putting her on blast. Woods is/was best friends with Kylie Jenner who is Khloe Kardashian's step-sister.
In the latest news, Woods posted a video of herself on Jada Pinket Smith's show Red Table Talk. But, she could find herself facing a lawsuit or in some other form of legal hot water if she says too much about the Kardashian family on the show.

CAPTION: Jordyn Woods on Red Table Talk
SOURCE: Instagram
TMZ reports they have learned that she has signed a Non-disclosure agreement as a part of the KUTWK reality show. As per TMZ the NDA keeps her from disclosing anything about the lives of Kris, Kim, Khloe and the rest of the Kar-Jenner Klan.
Kim Kardashian's Best Friend Larsa Pippen Blasts Jordyn Woods' Red Table Talk Appearance
Larsa Pippen came after Jordyn Woods and her upcoming appearance on 'Red Table Talk.' Woods is speculated to talk about her hookup with Khloe Kardashian's baby daddy and then-boyfriend Tristan Thompsom.
Pippen said, ''Don't come for Khloé!!'' She commented on Hollywood's unlocked's post on Instagram about the next episode of Jada's Facebook Watch Series;
"Can't wait to see which version of her story she tells. Hope it's the same she told @khloekardashian when she checked her."
With that comment, Pippen also made the hookup quite official! Jordyn Woods has been friends with the Smith family for a long time. In fact, if you are wondering how Kylie Jenner met Jordyn Woods, it was because of a ''mutual friend'' who happened to be Jaden Smith. Jaden Smith is Will Smith and Jada Pinket Smith's son.
Kylie Jenner, Jordyn Woods and Jaden Smith
SOURCE: Justjared
Kylie Jenner met Smith in middle school and Woods was a friend of the family since she was a kid. When Kylie and Jaden started dating, that is when Kylie and Jordyn met and became instant friends.
Will Jordyn Woods talk about everything Kardashian, or at least the ''hookup'' publicly the Red Table Talk show? Her episode is set to be released on Friday, March 1.
-->