Joy Cutler Divorcing Kristin Cavallari and Dating Tomi Lahren All Details
Published Wed Sep 09 2020 By Chester
The Rumors about Jay Cutler Dating Tomi Lahren Fills The Internet
Jay Christopher Cutler aka Jay Cutler is a former American Football Player. He played NFL for 12 seasons and has gained a lot of popularity. Jay was a player from his college life and also has played some intercollege football matches. Playing as a national player for about 12 years, he has a lot of professional career and achievement to talk about.
Jay Cutler and Kristin Cavallari
Jay was not a popular person in the media except for sports news until the year 2009. The media and public started to put an eye to the football star after his relationship with Kristin Cavallari, an American Television Personality famous for her work in Laguna Beach: The Real Orange Country. Fans and Critics were excited about their relationship and that breakthrough the internet fo a long time. That news about their relationship made Jay famous among everyone.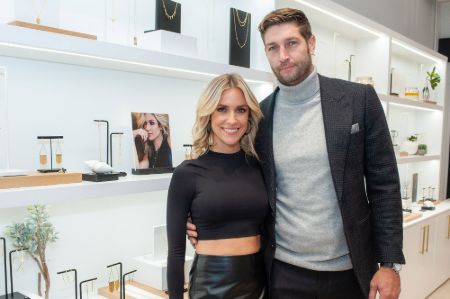 Ex-NFL Star Joy Cutler With Kristin Cavallari
Image Source: Page Six
Jay and Kristin were in a happy relationship for a long time. Following the dating and other hangouts, the couple got engaged in 2011. Jay and his fiance,at the time, were blessed with their first child in 2012. After, they got married in 2013 and welcomed two other children in the year 2014 and 2015 respectively. The public also made various analyses regarding their relationship and marriage. The parents of the three children were also happy together.
Who has Joy Cutler Dated in the Past?
The Football Player Jay also had some relationships in the past but the sources have not been able to mention them clearly as the quarterback had a low key life before dating TV star Kristin. The rumors rising about the dating history of Jay says that he had dated a reality TV star, Julia Allison.
Also, check out: Beauty Influencer 'Ethan Is Supreme' Dead at 17' from Drug Overdose
As Jay was not open about his relationship in the past, we never know about his past affairs.The tweets and the posts also supported their dating rumors.Besides, there isn't any information about football star dating or been in a relationship.
Joy Cutler Divorce With Kristin Cavallari
Sadly,the 37-year-old star has been separated from the Cavallari star Kristin. Around four months have passed since their divorcing news hit the internet. Jay Cutler has been active in social media sharing some farm pictures and other pictures indicating he is getting over with the split from Kristin Cavallari.
Is Joy Cutler Dating Tomi Lahren?
Surprisingly, the rumors of Jay Cutler dating Tomi Lahren,an American conservative political commentator and former television host has been spreading all over the news. Dating within a few months of divorce might have a bad impact on their children. But Jay is now the only one surrounded by dating rumors. Even Kristin was said to be involved in dating and relationships without a legalized divorce.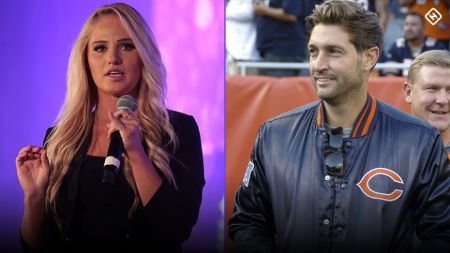 Are Jay and Tomi Dating for Real?
Image Source: Sporting News
The rumors started to rise after Tomi and Jay were seen together in Nashville a few days ago. They were said to be celebrating, drinking, and laughing together. However, the news is from the second-hand source, so, it actually may not be correct.
Are the Rumors True?
Following the rumors, Jay and Lahren both have talked freely about it. They have explained it as they were not dating and they are just close to each other and haven't thought about it. Jay also shared through Instagram saying that he and Tomi are not in any kind of relationship. Pointing the rumors, he also captioned the video as "be better internet".
For more Celebrity Dating News and Gossips, Visit Glamour Fame.
-->