Juventus Welcomes Massimiliano Allegri Back as Manager After Sacking Andrea Pirlo
Published Fri May 28 2021 By Danile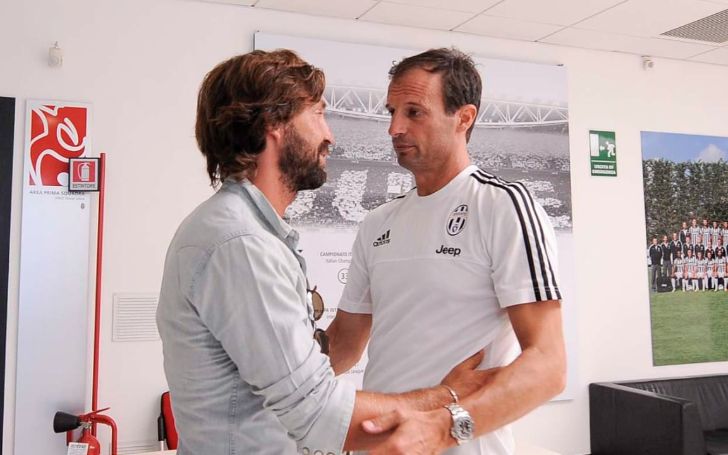 The Old Lady has called their former coach shortly after firing their former player and manager, Andrea Pirlo.
The 2020/21 season has been a bitter-sweet experience for Juventus. They failed to win the Italian league, a trophy which they won for nine straight seasons.
Moreover, the Bianconeri finished the league in the fourth position and almost failed to qualify for the next campaign's Champions League. There were many questions raised against Juventus, especially on their rookie coach Andrea Pirlo whose job was at risk before the season's end.
However, Pirlo ended the season on a good note by securing the champions league spot and winning the Coppa Italia 2021. But it seems it was not enough to earn him to keep his managerial role for next season as the higher-ups thought otherwise.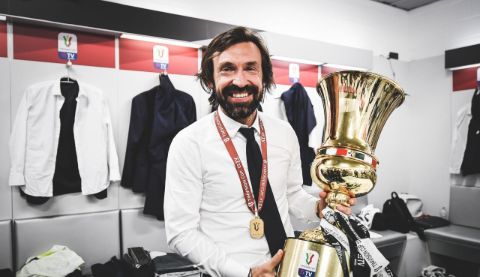 Juventus has bid farewell to Andrea Pirlo.
Photo Source: Juventus
The former Juventus midfielder joined Juventus as its head coach on August 08, 2020. During his time as a manager, he managed 52 games winning 34, drawing 10, and losing 8 games.
Juventus thanked their legend and wished him for his future.
A statement published by the club's official website read:
"Thanks, Andrea. These are the first words that all of us must pronounce at the end of this special experience lived together. A few months ago, Andrea Pirlo, an icon of world football, began a new adventure on the Juventus bench, his first as a coach. To do this, first of all, it takes courage, as well as awareness of one's own means, especially in a period marked by a thousand difficulties, with the world forced by the pandemic to reinvent its own rules day after day. And since in football what counts are the victories that are put on the bulletin board, let's remember: in a few months, his Juve has raised two trophies and brought home brilliant victories on the most prestigious fields, from San Siro to Camp Nou. For all this, for the courage, the dedication, the passion with which he faced every day, for the successes obtained, our thanks really comes from the heart. As well as our good luck for a future that will surely be beautiful."
Now the club has sought out Massimiliano Allegri, and he has agreed to come back. The 53-year-old manager was in charge of Juventus from 2014-19 winning five consecutive Scudetto, four Coppa Italias, and reaching the Champions League twice. It is not surprising why the 36 times Serie A holders have reappointed him.
Also Read: Inter Milan Part ways With Antonio Conte!
Allegri was let go by Juventus in 2019 and appointed Maurizio Sarri before firing him a year later after Lyon eliminated Juve in the Champions League Round of 16.
Juventus' official website announced the news to fans and captioned it with "Welcome Home, Max" and "Allegri is Back."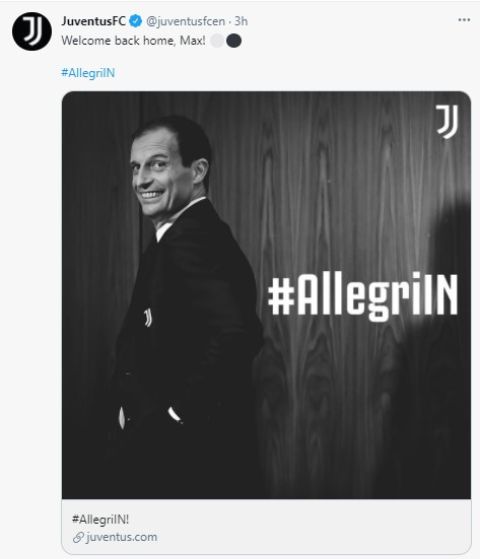 Juventus have announced the resigning of Massimiliano Allegri.
Photo source: Juventus' Twitter (@juventusfcen)
Reports say the Italian has signed a contract that will keep him in Turin until June 2025.
Read more articles and get the latest news and updates on your favorite celebrities at Glamour FameGlamour Fame.
-->