Kaitlin Olson is Married to Rob McElhenney Since 2008 - How Many Children Do They Share?
Published Tue Oct 15 2019 By Sea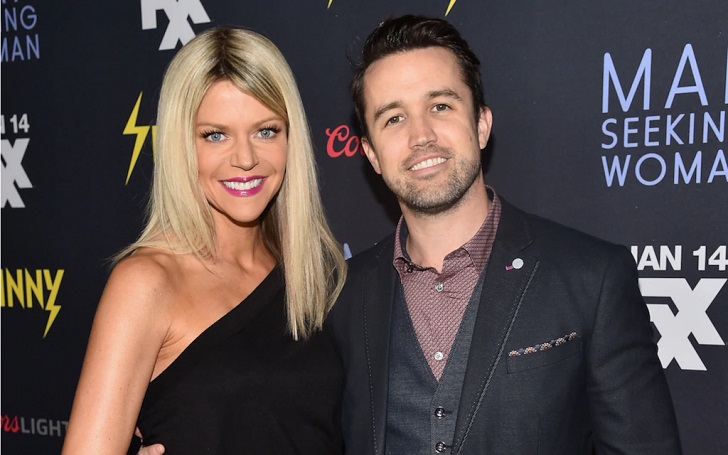 'It's Always Sunny in Philadelphia' is, as suggested by its name, always sunny. It is going on its fourteenth season and is evading the 'Cancel Culture' just like every other season, even though it might seem the content they put out would offend at least one group of people. But no, they've not been hit by it even once in all its years. (Touchwood!!)
It all comes down to the writing and the cast eventually, and Rob McElhenney has done an excellent job at keeping the show afloat all these years, entertaining the public and making them want more. A husband-wife relationship between co-stars is sometimes difficult to maintain, since both of them would be super-busy, but it's always fun for Rob and his wife of 10 years, Kaitlin Olson.
Kaitlin married Rob McElhenney after meeting on the set of 'It's Always Sunny in Philadelphia'.
Source: Red Loft Studies
The couple doesn't often talk about their relationships, but when it comes to friends, they are open to it, contrary to the time at the beginning of a fling (more below). Kaitlin and Dax Shepard are friends of over 20 years, and on one of his two-hour-long podcast 'Armchair Expert with Dax Shepard', Kaitlin laid out the whole detail for the first time.
It's a wacky story, that's for sure. It involves that tacky 'he doesn't realize he's in love' deal, which Kaitlin finds extremely weird, but she was okay with it. They subsequently married in 2008 and have two wonderful kids together while living in their long-time California home.
Kaitlin Thought Rob Was Bossy at First, but He Did Make a Good First Impression on Her
It was not 'love at first sight' for the two love birds — It didn't, just, happen right away. Rob was not her type, and it took some time for Kaitlin to realize the kind of person he actually was. They met after Rob's ex-girlfriend, Jordan Reid, was fired from the show and replaced with Kaitlin. Jordan was, of course, angry at that for quite a while, but she's over it now.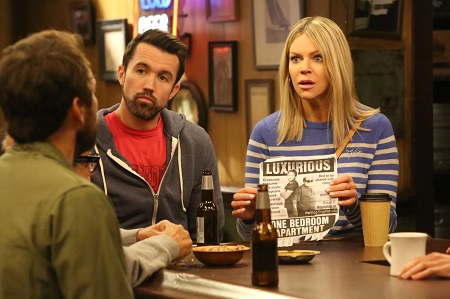 Kaitlin fell for him first.
Source: It's Always Sunny in Philadelphia, FXX
While working together, Kaitlin saw that Rob was "just so easily in charge." When he has a vision, he goes above and beyond at making it true. But that was not the true first impression he gave out to her. When continuing on the work, she discovered his "internal confidence" and that's what attracted her towards him (Dax hated it though).
He really just has a vision, and he's just a wonderful boss, and he's a collaborator, but at the end of the day, he's very comfortable taking in information and then just making a decision … he has more discipline than any person I know.
The 42-year-old is just a good dude, and as long as a person doesn't hurt anyone, he'd let them do what they wanted.
Kaitlin Made the Move (with Alcohol Involved), and They Dated in Secret for a Whole Year
Kaitlin slowly started to get attracted to him, and in a moment, Dax questioned her as getting "blurry as f***", she made her move. It wasn't your casual 'being shy and going up the guy to ask him out' kind of situation. She admits Rob is the kind of guy to be approached first rather than him approaching a girl, and at certain Fox parties, where there undoubtedly booze involved, she'd just kind of hint on it.
Then, at a game night in their married co-stars' house, Charlie Day and Mary Elizabeth Ellis, Kaitlin made the most awkward of moves. She was drinking, which she usually did to handle her nervousness around him, and she moved into him, sat on his lap and surprised the s**t out of him.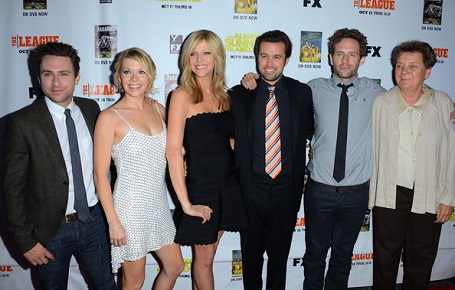 Various other co-stars were involved in their Love Story.
Source: Frazer Harrison, Getty Images North America
"He was just like, 'What—what are you doing?' That's the other thing about Rob. He's unbelievably direct. Like, honest to a fault."
The duo started dating afterward, in secret, even from their friends of the Sunny cast. She felt more and more in love with him, and he just wanted to keep it casual. Little did he know that he was also in love with him. Kaitlin realized it first, and she was confident about it since her always calling her on Friday nights and, spending the Saturday nights at her place. Apart from seeing each other every working day, he couldn't just wait to see her on Monday; he had to keep in touch.
It took him a while to realize … it was a very interesting dynamic. Like, once I fell in love with him, I realized that I was deeply in love with him in a way that I hadn't been in love with him before. And then we started secretly dating, and he really just wanted to be casual, but I had this hubristic confidence that this person is completely in love with me, but he has no idea.
The two were very scared their friends would hate them for keeping the affair a secret for the whole of the second season (2006). Rob was living with the ever-present Sunny star Glenn Howerton at the time, and he was very jealous of what Rob had become. Not because he knew Rob was dating Kaitlin, but because every Saturday night, he thought Rob would go out every to a bar and pick up someone to spend the night at the girl's room. He was completely oblivious to what was going on in Rob's life.
After the second season concluded, they let the big secret out and shocked everyone at the studio.
After a Wedding in a Malibu Beach House in 2008, They Welcomed Two Sons By 2012
On a crisp 27 September evening of 2008, the couple read their vows, after Rob proposed with a 1920s diamond cocktail ring, at co-star Danny DeVito's Malibu beach house. The ceremony took place on a beautiful property, under a huge sycamore tree in the middle of a ranch, with wild animals out and about. They planted a tree to honor their love. No wonder their marriage is so strong. The reception was also outdoors at the same ranch. Look at the beautiful setting.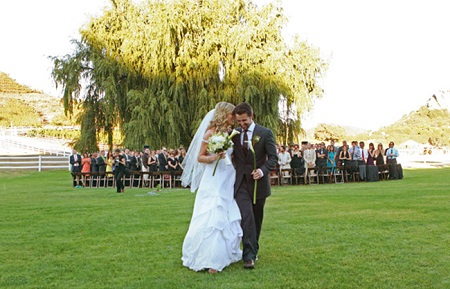 Source: Red Loft Studios
Source: Red Loft Studies
About a couple of years after the wedding, Kaitlin gave birth to their first son, Axel Lee McElhenney, on September 1, 2010. He's the rebellious kind and would often scare Kaitlin on certain nights she was watching television alone. He's a psychopath, according to her.
Almost two years later, their younger son, Leo Grey McElhenney, was born on April 5, 2012. He is the sweet one since he's kind of a mama's boy. Despite their different personalities, the two brothers get along very well and always enjoy each other's company. They are one a mission to continue fooling their mother every year.
Watch: Axel's Definitely a Psychopath - Kaitlin
Both the time, the mother-of-two gave birth at home, like the couple always intended to. The first was not too difficult for her, unlike the second. She went into labor during a baseball game between the Los Angeles Dodgers and the Philadelphia Phillies.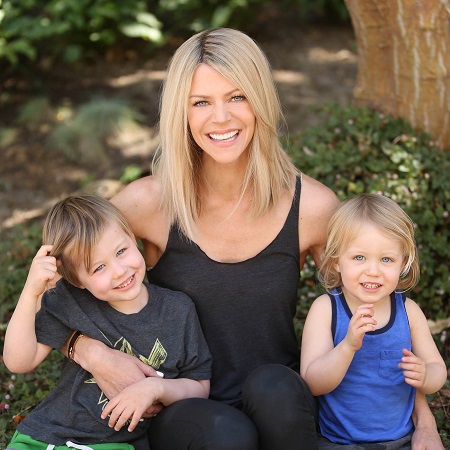 The two kids are always banding together against their mother.
Source: Tumblr
Despite it all going really well when she went home, four hours into the labor, her midwife needed to check some issues that 'might' come up. The traveled to the hospital on the midwife's Prius, with Kaitlin on the back seat, but it was a long one since a garbage truck just kept blocking their way. But 23 hours later, she gave birth to Leo back in her California home.
The family just enjoy their beautiful life together, and it doesn't seem like there will be any kind of trouble for a while now. The pair are still working for their longest-running comedy sitcom. Catch 'It's Always Sunny in Philadelphia' on FXX, Wednesdays at 10 pm. Kaitlin plays 'Deyandra Reynolds' or 'Dee' while Rob portrays 'Mac'.
For more Entertainment news of your favorite TV celebrities, keep visiting GlamourFame.
-->