Kate Garraway Shows Love with her Husband Derek Draper in Different Way
Published Sun Feb 20 2022 By sujan
Here is the brief information about Kate Garraway
Who is Kate?
Kate Garraway is an English journalist and also a broadcaster. She was born on 4 May 1967. Her father was a civil servant, and her mother was a teacher. She has two children, one son, and one daughter. Her daughter is 16, and her son is 12 years old.
She began her journey as a journalist in 1989, where she joined ITV Central as a production journalist, reporter, and news presenter. After seven years working in ITV Central, her talent was recognized by a boss who viewed her presenting a bulletin on ITV Central, and he promoted her as a co-presenter on ITV Meridian.
After that, she worked with many TV channels and presented many shows, which boosted her popularity as a presenter throughout the nation. She also participated in a dancing show named Strictly Come Dancing, partnering with a professional dancer. Later, she was eliminated.
Kate Garraway Relationship Status
Does she have a child? Who is her husband?
Kate Garraway was first married to Ian Rumsey, her previous boss. In 1998, she married her boss from the ITV Meridian, Ian Rumsey. They later split after four years of their marriage in 2002. She enjoyed her single life for the next three years.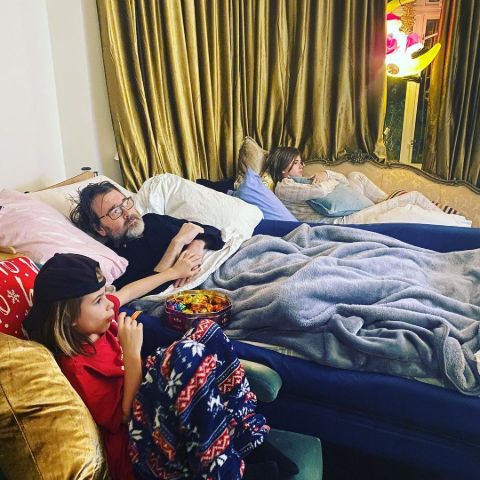 Image: Kate Garraway expresses her relief moment when there is a change her husband might need to shift into hospital but sorted by a home visit of a nurse.
Source: Instagram @kategarraway
In 2005 she found her other half, Derek Draper, in London. They both got married and were blessed with a son and a daughter. Since then, the couple is still together, and their love towards each other has never faded.
Also Visit: Nina Dobrev Supports her Olympic athlete Boyfriend, Shaun White, by Wearing his Official Olympic Gear.
This picture of her family posted on the official account on her Instagram shows how blessed their family is to have loving and caring children. Kate herself is a wonderful supporting wife. May God bless them with happiness in the coming days.
How Kate Garraway Shares her Love With her Husband, Derek?
Coronavirus has affected many lives among them; the worst one alive is Derek, Kate's husband. Kate has expressed that she has found a new way to be in love as her husband is slowly recovering from the Coronavirus. Derek was first infected by the virus in March 2020 and still battling with it. She and her husband have reached a whole new way of loving each other after Derek was hospitalized for nearly 13months.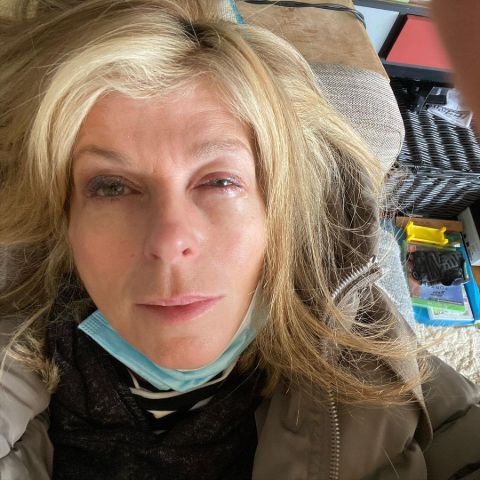 Image: Kate Garraway looks exhausted from working too long.
Source: Instagram @kategarraway
In an interview, she mentioned Derek sometimes felt suicidal, and their trust and support are what saved them from that crucial point. After Derek was discharged, Kate became his career. Whatever happened, she always remained positive and supported her husband mentally.
When she said she was not so sure about falling in love, she also added a new path that had emerged, a new way to love. During her interview, she made it clear that support and understanding level is what to be called love. And she found new ways to be in love, and they are very close to each other. Kate explained her definition of being in love in a very honest way.
The veteran journalist is a strong-willed woman who remained positive even during the most challenging time of her life. She managed her personal as well as professional life perfectly.
Don't miss: Is 'Loki' star Owen Wilson Married? Inside His Dating History.
Stay tuned to Glamour Fame for more celebrity updates.
-->