Katie Maloney Officially Files For Divorce From Husband Tom Schwartz
'Vanderpump Rules' stars Katie Maloney and Tom Schwartz announced their split earlier this month: Maloney recently filed for divorce!
Katie Maloney, 35, has filed for divorce from Tom Schwartz, 39, after one week of announcing their split and twelve years of being together. Sources confirmed that the Vanderpump Rules star, 35, filed for legal separation at the Los Angeles Superior Court on Tuesday. The estranged pair were fan-favorite on Bravo TV's Vanderpump Rules, where they got married twice, first in 2016 and legally, in July 2019.
Rumors of the couple's breakup surfaced when Katie was seen without her wedding ring on a post. Addressing the hard news, Maloney wrote, "I never thought I would have to make an announcement like this. But I feel it's important that I'm open about my life with you," adding, "After 12 years on an adventure through life together Tom and I are ending our marriage. This ending is not met with resentment or hatred. Although we may be on different paths, we will continue to love and support one another's happiness."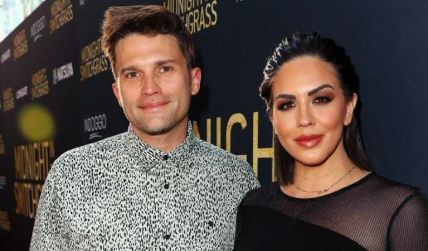 The 'Vanderpump Rules' couple were together for over 12 years.
Photo Source: Instagram
Schwartz, 39, also shared his statement on Instagram. "Well, this sucks. How am I supposed to capture 12 years of love in a f–in the canned Instagram caption. I'm not quite ready to use the 'D-word bc it's too painful. Yes, my heart aches, but I'll be ok," the Vanderpump Rules star wrote. Tom further explains how he and Katie had the most blissfully 12 years together and how staying in marriage while not happy would be even more tragic.
Don't Miss: Colton Underwood Shares Engagement Photoshoot with fiancé Jordan C. Brown.
Bravo viewers met the couple when the reality series premiered in 2013. The two had started dating two years before they came onscreen. The pair quickly rose to become one of the favorite couples on the show, with their dramatic ups and downs and calling each other with the pet name Bubba. The pair tied the knots in a 2016 event in California and later in 2019 in a Las Vegas ceremony. As per sources, the twosome has been experiencing bumps in their marriage for a while now.
Sources revealed the estranged pair had been going through a rough patch for a while.
Source: People
Another insider chimes, "Katie realized how unhappy she is, and Tom wanted it to last between them. He worked hard to make it work but the issues continued." Up until last year, the pair even had plans to have kids. "Without going into too much detail, me and Katie, we do want to have kids," Tom had said. But for what it was worth, the estranged pair genuinely seemed to have gone their ways amicably. After announcing their breakup, Katie and Tom got together for a drink. Tom posts a pic of Maloney with the caption, "It's all good."
Stay connected to glamour fame for more.
-->