Khalyla Kuhn is Married to her Boyfriend Turned Husband Bobby Lee - How Long Did The Couple Date Prior To Their Wedding?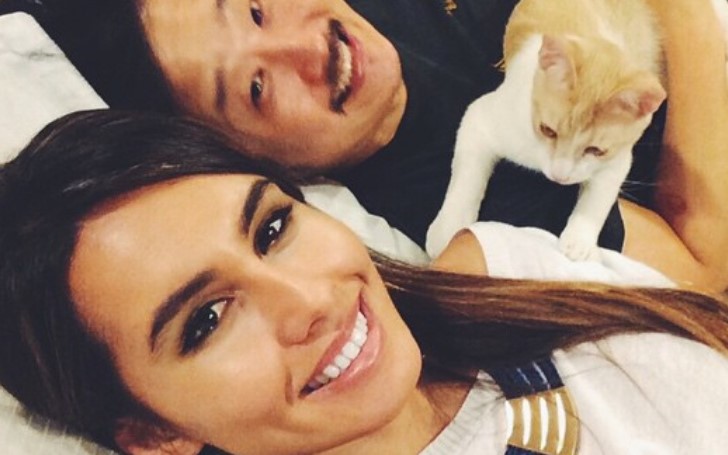 Khalyla Kuhn, a name you know probably because of her association with one of the greatest comics of MadTV, Bobby Lee. The 34-year-old is, however, not known for marrying Bobby alone, which many of her followers think.
Khalyla is an Instagram personality; she now boasts more than 150K followers. Despite her popularity of her own, many think she gained the following after marrying 'Harold and Kumar' star.
Well, that's not entirely false either; before marrying Bobby, she had just over 50k followers. But Khalyla doesn't like it when people come to her and say to her face she married Bobby for fame.
Khalyla Kuhn and Bobby Lee Met in a Tinder Date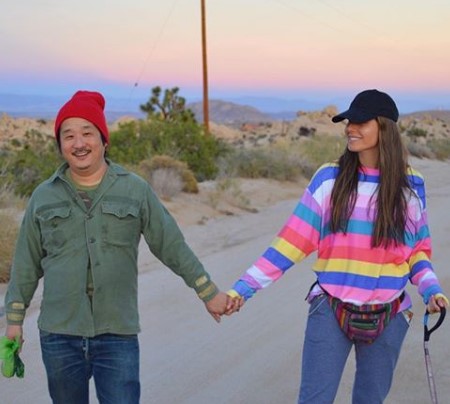 Bobby Lee and Khalyla met through a dating app, Tinder.
Source: Khalyla Kuhn Instagram
Dating apps are doing wonders for socially awkward people. We mean, could you even imagine Bobby approaching a girl? Even if he does, people will turn it down, claiming it's a prank as he is very well known for pulling weirdest skits and pranks on people.
But for both of them, Tinder came to the rescue. It was an instant connection as both of them swiped right, and the rest is all history.
The couple was seen together in multiple events, and their social media accounts were just flooded with their weird romance pictures.
Bobby Lee and Khalyla, however, both admitted they were not serious in the initial stage of their relationship, because 'TInder,' and it's largely popular amongst the people who just look for hookups. So, well, you guessed it why they were not serious.
But something magical happened, the couple who started dating from October of 2013 started developing something meaningful between them. Eventually, the couple started the next phase of their love life.
Khalyla Married Bobby in August of 2016
After three years in their relationship, the couple finally found the courage to move to the next phase of their love life. The couple walked down the aisle in August of 2016.
Though they had had their shares of ups and downs in their relationship, and let us tell you, Khalyla was the one who took some heat from Bobby's fans as she was accused of marrying Lee for purely the purpose of fame and money.
All these allegations and accusations kind of taking a toll on their marriage, but they pulled together themselves and found a way to fight all the rumors.
But Khalyla's tension was so evident as she was posting posts about her feelings when people accused her. This is a recent event where Khalyla took to her social media and clarified all who thought she married Lee for selfish reasons.
Khalyla took to her social media on March 14, 2018, and wrote, "I had a good job, a nice home by the beach, amazing friends, a humble but comfortable life, all carved out before I met Bobby. I've been self-sufficient since I was 17. Yet, all of who I am has been reduced to a 40-second clip taken out of context. Ok, internet, you win, I'm 💔."
The Couple is Happy Now and Runs a Podcast Together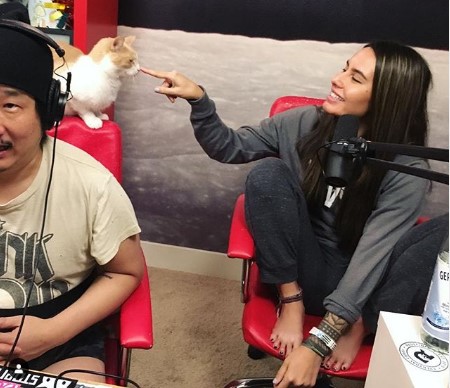 Bobby Lee and Khalyla during their podcast session.
Source: Khalyla Kuhn Instagram
Despite all the blames and accusations, the couple is happy together, and there's nothing separating the two. In fact, the two have found a way to make their marriage stronger by addressing other people's relationship problems.
Khalyla and Bobby Lee started a podcast named 'TigerBelly,' which was started back in 2015. The couple addresses relationship problems and finds a way how one can make their love life stronger and lasting.
This whole thing provided both of them to grow as a couple and, more importantly, grow as a person. The couple seems happy as far as we know, and we wish them all the luck for days to come.
For info on your favorite celebrities' lifestyle, don't forget to signup for Glamourfame.com's newsletter.
-->