Is Actress Kiernan Shipka Dating Any Boyfriend?
Published Wed Jan 29 2020 By Sea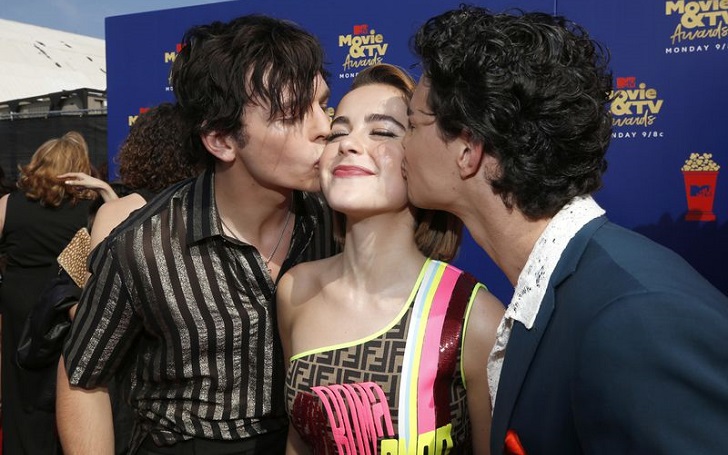 Tired of Kiernan Shipka just teasing you with her 'Nabrina' posts (or any other ships)? Yeah, we all are. While she hasn't exclusively told fans she is dating 'Chilling Adventures of Sabrina' co-star Gavin Leatherwood, or any other people speculated to be her date, the off-screen chemistry is not to be overlooked.
The show had a lot of things for the two. 'Sabrina Spellman' and 'Nick Scratch' finally become boyfriend and girlfriend, but Ross Lynch fans probably cannot swallow it up that 'Harvey Kinkle' had to be displaced from the romance. Some may even comment on that first season insignificant pursuit from 'Nick' on 'Sabrina', who was fully committed to Harvey; they can't help but feel the story went sour for the two who should be together.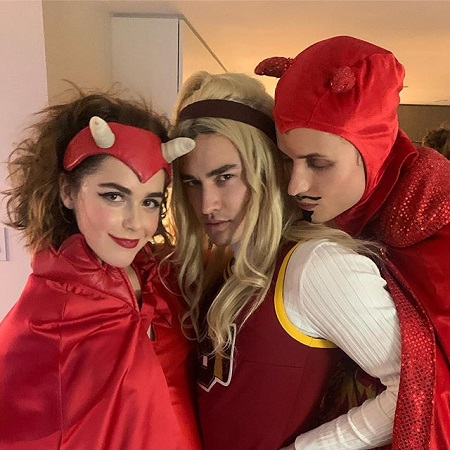 More than just one suitor for Kiernan Shipka.
Source: Kiernan Shipka, Instagram
Back to real life though. After getting her fame as a child actor in 'Mad Men', just the hype of her being cast in 'Chilling Adventures of Sabrina' got her to greater heights. When it aired on Netflix, her dating rumors just flew off the air. Here's everyone she's been linked with.
First Thing's First — Kiernan Shipka Teased Fans Who Were Shipping Her with Ross Lynch, a Lot
The dedication that Sabrina initially had for Harvey was something people took too much reading, especially, into how strongly Kiernan played the part. Fans started shipping the two into some kind of a dating relationship. The playful side of her just took it with grace.
The 20-year-old neither confirmed or deny this one (like many others later). Instead, she told Seventeen Magazine, she "couldn't imagine having a better person to be shipped with".
The show obviously meant the two having to appear in several interviews together. There were many cute moments from the two, including Lynch making Shipka stutter with his staredown.
Watch: The Last 25 Seconds Though...
The pair also dodged a question about them dating when fans asked them during an Instagram Live session together. Shipka instead jokingly told them she was dating Lucy Davis, who plays her aunt on the show.
There was a twist.
But Ross Is Dating Jaz Sinclair, Or So Is the General View
Yes, Kiernan and Ross seem to be content remaining as just friends. Well, because there was Jaz Sinclair in the scene. Jaz portrays Sabrina's one of two best friends, 'Rosalind Walker', who goes blind slowly because of her power.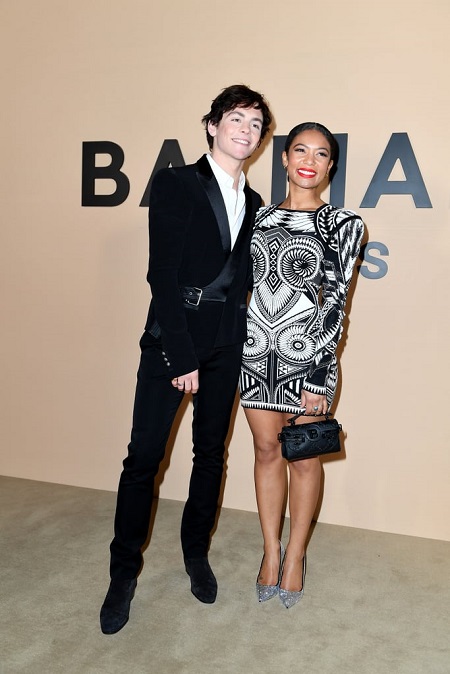 Apparently, they are now dating.
Source: Jacopo Raule, Getty Images
After celebrating his birthday (December 29, 2018) together (along with other friends & Kiernan absent), he fueled it by saying Ros is his "closest friend right now" in January 2019.
As of the latest, the pair made their very own shippers go over-the-moon by attending their first red carpet together. They made a cute TikTok video together before going hand-in-hand at the Balmain Menswear show at Paris Fashion Week.
So, yeah, all the Kiernan Shipka hype had died out by January 2019, and now, Ross and Jaz just need to say they are dating.
Nothing but Hearts for Gary Oldman's son, Charlie Oldman
After Ross and Jaz started to be shipped, there was another guy Shipka started being linked to, Gary Oldman's son, Charlie Oldman. Many even confirmed their relationship despite them not affirming the nature of it at all. Well, there was that post by Charlie on Instagram captioned with nothing but a heart symbol.
Though they were seen strolling the streets together since the Seventeen Interview of November 2018, they were linked together in March 2019 after being spotted having dinner and looking cozy together.
Find Out: Who Is Alexandra King Dating after Break-Up from Jimmy Garoppolo?
In April, they attended the Coachella together. But remember others were there too, including Christian Coppola, who she was later linked with. The pair also attended the premiere of 'Be Natural: The Untold Story of Alice Guy-Blache' that month.
However, the ice-breaker was his post before those moments. Oldman put up a really suggestive photo of the two. The caption, just "❤️".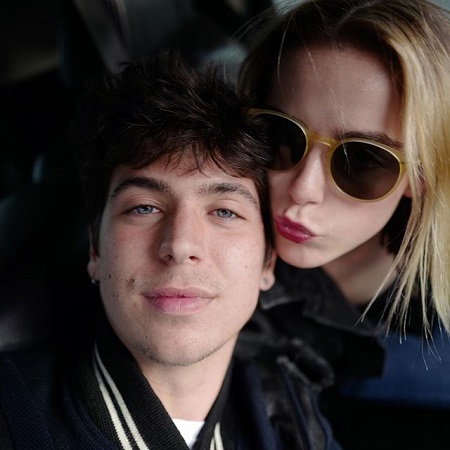 They were silent but loud.
Source: Charlie Oldman, Instagram
The silence from either people involved in the rumor mill might just suggest there was nothing going on. Though, shippers might suggest otherwise. But they're just friends hanging out, right? Nothing official or anything. Or not posting anything about him currently mean anything?
July 2019 Showered Rumors with Christian Coppola, And Why Not?
"I love you" might be the one thing people take as confirmation of a dating relationship. But we're talking about Kiernan Shipka here. There's no limitation to who one can say 'I love you' to these days. That's what happened when she posted a photo of her and Christian Coppola captioning it "MY LOVE". But no one knows; it may be true.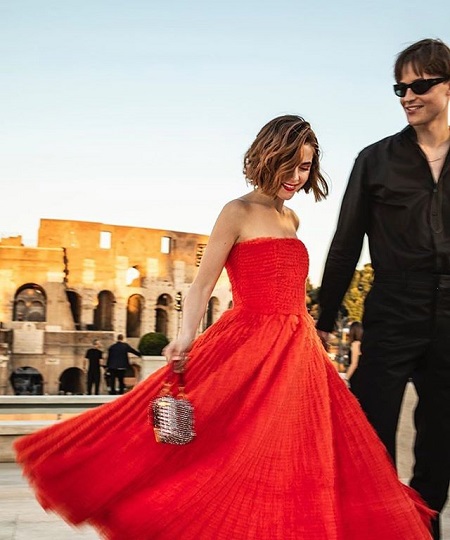 There was no drought of love from Shipka.
Source: Kiernan Shipka, Instagram
That was a July 2019 post from Shipka when they attended the Fendi show in Rome with him. She also gave the positive arrows in the comments section. Kissy faces and flame emojis had fans shipping the two.
Being the avid photographer Coppola is, Shipka featured a lot in his Instagram photograph show-offs. And the way he praised her was something he didn't do with other people in his life.
There was one signal that people apparently missed from back in April. Yeah, the time she was linked with Oldman. Coppola posted a short video, calling it his creation, while indicating her as the 'life partner' in the caption.
The pair's Halloween 2019 costume was also cute. If everything else isn't a sign, her birthday picture was something fans got really excited over. A straight 'I love you' from Shipka with an intimate photo of the two.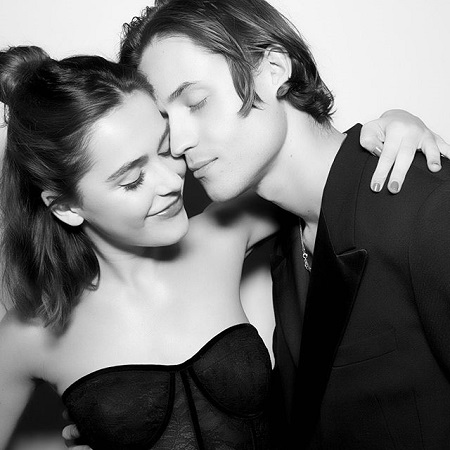 Coppola became the most prospective boyfriend, after all.
Source: Kiernan Shipka, Instagram
Charlie Oldman came back to the scene with a comment on the very birthday photo. He wrote, "No one is safe" three times. And of course, there was an 'I love you' for Lynch, too, on his birthday. But people choose to ignore it because he is already on the 'Harlind' ship.
A Brief Ship with Gavin Leatherwood Under Shipka's Suggestion
With such an enthusiasm to give fans what they want, it was not strange for the young actress to send signals connecting her co-star, Gavin Leatherwood. Of course, they were already dating on-screen.
Like the nickname she likes to give to such ships, she gave this one 'Nabrina'. In the Lucy Davis joke earlier, she named their relationship 'Liernan'. Yeah, funny like that.
But what really gave fans to shout out every time, was the way she gave those signals. If you care to ignore the "💔" caption on their latest pair photo by Shipka, there was a gift for the COAS shippers.
There were off-screen kisses from the two after Leatherwood needed "practice". But Leatherwood topless in a cuddling photo together on Shipka's Instagram page was too hot to handle for the 'Nabrina' shippers.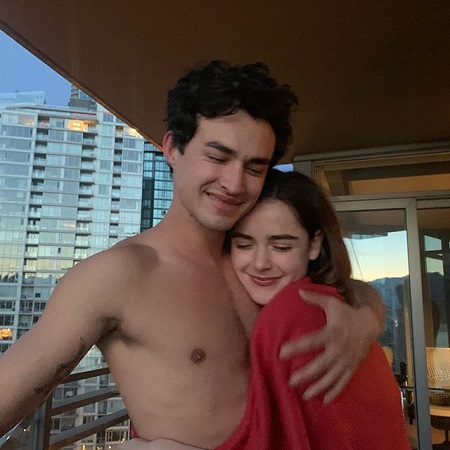 That's apparently a towel on Shipka.
Source: Kiernan Shipka, Instagram
While fans were going gaga over this one, like her other teases, it's also leaving the 6 million+ followers to speculate if there's anything going on. And like every other, it's apparently not.
Anything with Sam Corlett?
Yeah, 'CalBrina' also was suggested by Shipka herself. Don't get tired of her teasing you though. She casually posted a photo of herself with Sam Corlett, who plays 'Caliban' in season 2, and built a boat, naming it 'CalBrina', a few days before the season premiere.
Shipka just built another ship to amuse her fans.
Source: Kiernan Shipka, Instagram
There are a couple of more photos that she teased the fans with on Instagram too. In any case, it's new.
Why We Think She Might Not Be Dating Anyone at All
In the Seventeen cover story, there was a hint that for the early part of her career, she doesn't have time to focus on dating.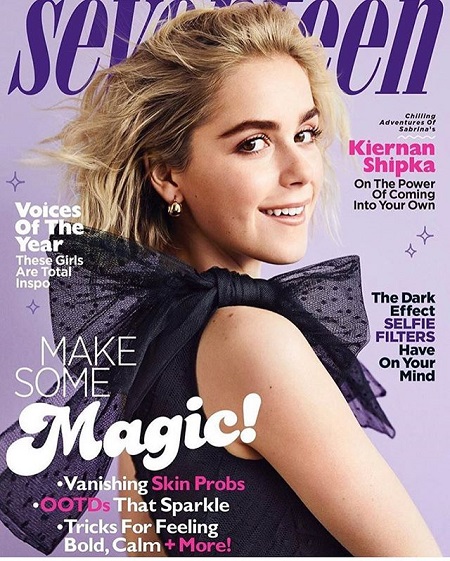 'Chilling Adventures of Sabrina' shot her to the fame that she has now.
Source: Kiernan Shipka, Instagram
While all the potential candidates have a chance with her (in all fairness and unbiasedness, Christian Coppola has the shot), fans will be content in believing their own choice. But for Shipka, it might be no one at all.
After talking about Lynch's ship, she told Seventeen Magazine she didn't have time to date in real life. One statement from her is all that was needed to suggest it.
"I'll wrap on Saturday at 6 a.m., so I'm pretty much useless on Saturday. And then Sunday, I have to get all my stuff done for Monday. Occasionally, the cast can drive me out for a fun time, but work is my number one priority right now."
There isn't anything that can stop something like love (too cliche?). But if Shipka starts to date is something that could happen. Be on the lookout.
Stay tuned and connected to GlamourFame for more Entertainment content.
-->