Kirby Howell-Baptiste as Death in Netflix's 'The Sandman'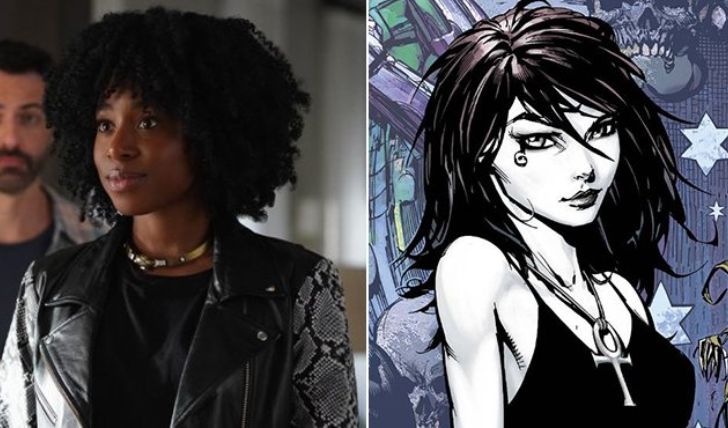 Kirby Howell-Baptiste as Death: The First Look of Kirby as Death is Out!
Netflix's The Sandman, an adaptation of Neil Gaiman's comic series of the same name, is an upcoming drama series. In early May, the series nabbed British actress, Kirby Howell-Baptiste, to play the grim yet wise character 'Death.' Howell was recently spotted on the sets of The Sandman.
Developed by Allan Heinberg, with Gaiman and David S. Goyen working as its executive producers, the first season's filming was wrapped recently. Fans can expect its release pretty soon, even though there is no set date yet. Howell-Baptiste, best known for Killing Eve and Why Women Kill, is becoming a recognized face in Hollywood: she also starred in Disney's Cruella.
Kirby as Death didn't go well with the comic series's hardcore fans.
Photo Source: Unknown Thing
The Good Place actress says she has been inundated with texts from friends and acquaintances ever since her casting in The Sandman was announced. Baptiste will be playing the sister of the protagonist (Morpheus/Dream), played by Tom Sturridge. Kirby's character is wise and kind, further described as a 'rich blend of modern myth and dark fantasy.'
Don't Miss: 'This Is Us' House For Sale.
The recently released image shows Howell-Baptiste decked up in an all-black costume. The casting of Howell as Death did saw a harsh reaction from fans of the comic series. Many argued Kirby, as Death isn't suitable, as the comic counterpart has pale skin.
Gaiman said the casting for Death was a hard one. "Hundreds of beautiful women around the world auditioned for the role; they were brilliant but none of them right," he further adds, "And then we saw Kirby's audition, and we knew we had our Death," Gaiman concludes.
Gaiman says the casting of Death was hard.
Photo Source: IMDb
In an interview with WWD, The Killing Eve actress reveals she became a Gaiman's fan long ago. "But this audition came about and I remembered Death because of the way she looks, like a goth, but she is s different to the sort of standard personification you see," said Kirby. Howell-Baptiste's co-stars include Gwendoline Christie, Boyd Holbrook, Charles Dance, and Asim Chaudhry.
For more information and news on your favorite stars, stay connected to Glamour Fame.
-->