Get To Know The Cast of The Real Housewives of Potomac
Published Thu Sep 05 2019 By Travis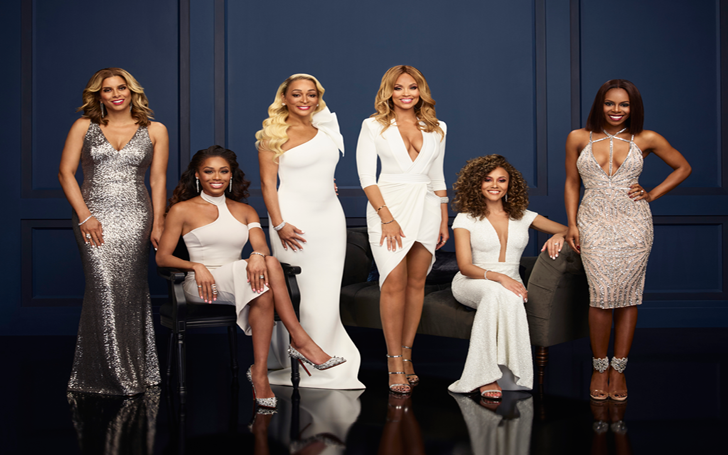 The Real Housewives of Potomac or just RHOP is the eighth installment of the sprawling The Real Housewives franchise. The series focuses on the housewives living in Potomac, Maryland with the series being greenlit on Bravo on 17 January 2016.
It was the second attempt by the channel to start the housewife franchise, and the show was first conceived on 11 November 2015, and the ladies were cast with Robyn Dixon, Gizelle Bryant, Katie Rost, Karen Hugar, Charrisse Jackson Jordan, and Ashley Darby all coming in to film the first season. After the initial first run, the show was a moderate success, and then Rost was fired before the ladies arrived to film the second season.
Watch: Everything you need to know before diving into the fourth season of The RHOP
On 2 April 2017, the second season aired and Monique Samuels was introduced as the new member of the cast. Charrisse Jackson Jordan was the next person to leave the show, Candiace Dillard was then hired for season three, and since then the six ladies are constant on the show with the series currently airing its fourth season with the finale of the fourth season currently date to arrive on 29 September 2019.
Like we said there are currently six main cast members for the show and here we are going a look at all of the cast and the show known as The Real Housewives of Potomac.
Robyn Dixon
Born on 31 March 1979 Robyn Dixon is a Baltimore native, she lived in Maryland her whole life with her college life also starting in the city. She graduated from the University of Maryland, where she excelled in business and earned a degree in business marketing. Like everything in her life, Maryland was also the place where she met her now ex-husband Juan Dixon. She was still only in high school when she fell in love with a basketball player of a rival school and their budding romance turned into marriage. The couple together brought two boys to the world, her two children, one a nine-year-old Corey and the other eight-year-old Carter, Robyn takes care of her family as well as business.
The relationship between Robyn and her husband is a weird one though, they still live together under the same roof, and she is not opening up about the living situation of the two, former husband and wife. They two got a divorce in 2012 and Robyn filed for bankruptcy in 2013, but the two never stopped living under the same roof in a perfect modern living situation for their two kids. Considering she only filed for bankruptcy almost six years ago, the fact she's managed to amass a net worth of around $3 million is a good turn around.
Karen Huger
The oldest of all the ladies, Karen was born on 3 May 1963 with the reality star living in Virginia where her father worked hard and instilled the hard-working ethic into his daughter. Married to Raymond, who is a CEO of a huge company called Paradigm, which allows him to take care of his side of things and Karen makes sure she is taking care of her side.
Karen is not exactly a fan favorite on the show, but she does carry himself with a class which makes her seem not so accessible. Karen is also an entrepreneur who manages her business, alongside taking care of her daughter, Rayvin, who is 17 years old. She is one out of two kids of Robyn and Raymond with Brandon 27 already living away from home. Karen is also known for her continued feud with another castmate Ashley Darby.
Though she is well off considering the immense net worth of her husband, her own private net worth is no slouch with almost $10 million in the bank she is one of the richest ladies in the group.
Ashley Darby
Born on 8 June 1988, the 31-year-old is the youngest member of the RHOP, and she is also the member who started the show in the first place. Ashley was only 23 years old when she became Miss District of Columbia pageant, and she started working at a pretty young age because she needed to support her mother and her younger sibling while also supporting herself through college in the University of Maryland.
Ashley married her husband, Michael Darby who is a real-estate tycoon and a millionaire; he is also 29 years her senior. After the marriage, Ashley became the step-mother of Michael's kids from a previous marriage. But she also recently gave birth to her own baby, Dean Michael Darby, who was born on 7 July 2019 and Ashley though only recently gave birth, said she definitely wants more kids.
Source: Instagram
Michael Darby was arrested in 2018 when he allegedly assaulted and engaged in improper sexual contact with a cameraman. The whole thing caused a huge rift among the members of the show. Even though he was let go for lack of evidence, there were still those who believed him to be guilty, which caused a lot of fights among the cast members.
Though she is the youngest member of the cast, when it comes to net worth, she is neck and neck with the rest of the cast members. Her personal net worth currently stands at about $5 million and most of her earnings are from her appearance in the Bravo channel show. A Bravo TV cast member earns about $60,000 every year and considering the popularity of RHOP and the fact Ashley is the original cast member she gets paid well by the show and she also owns a restaurant in Maryland, the place where she was born, raised and still resides.
Gizelle Bryant
The final original cast member of the show, Gizelle was born on 9 September 1970; she is currently 48 years old with 49 only four days away. Hailing from a prominent political family, Gizelle learned the ways of working in politics and rubbing shoulders with the elites of the elites from a pretty young age. Before she became a TV reality star, Gizelle was a student at Hampton University.
She moved to Baltimore after her college days and fell in love with a megachurch pastor and activist Jamal Bryant with whom she was married to for about seven to eight years. But after a string of extramarital affair, Gizelle left her husband with whom she raised three daughters. Grace and her twin daughters Angel and Adore are all similar in age, and they all live together in the $1.6 million house in Maryland.
Source: Instagram
Not only a reality star but also a renowned baking expert, Gizelle sold her baking goods to some of the most prominent restaurants in the city with a former Top Chef contestant Timothy Dean also buying from her. She was also a known events planner before she got married to her pastor husband.
Gizelle is without a doubt, one of the richest of all the ladies in RHOP with a net worth more than $4 million which she amassed through her divorce, endorsements and her involvement in the show RHOP.
Monique Samuels
Monique joined the cast of the RHOP before the start of the first season; she replaced former cast member Katie Rost who was fired from the show. Born on 6 October 1983, Monique was a tomboy while growing up in Pleasantville, New Jersey. After her high school, Monique started her college career in Duquesne University where she was provided with a full academic scholarship, but after a few semesters, she felt like her passion was outside academic, and she decided to pursue her true passion, music.
After a little time pursuing her passion, she met famed NFL athlete Chris Samuels who played for multiple teams and played the third most important position in football, left tackle. Chris and Monique are still married, and they are proud parents of three kids. Their kids, a son Christopher, a daughter Milani and newest member of their family, a boy Chase Omari are the light of the couple's life. The third child though was a tough time for the couple, in season three Monique suffered a brutal miscarriage which was really heartbreaking, but their sorrow was short-lived after Monique got pregnant again and she gave birth to a healthy child after a little complication during birth.
Source: Instagram
Though the reality star is focused on her career as a cast member of RHOP, her interest is also outside of the show. She started Not For Lazy Moms as well as the BOSS foundation, which is working to provide mentorship and leadership to the youth. Through all her business ventures, Monique's been able to amass a healthy net worth of $4 million. She also manages her husband's career, and Chris is also a well off personality with a net worth of almost $20 million.
Monique, though responsible, was once accused of drunk driving, she was involved in an accident where Monique fell asleep on the wheel and nearly hit a tree. Ashley was quick to blame Monique's drinking habits, but Monique was quick to shut all the rumors down.
Candiace Dillard
Candiace Dillard was the final member added to the cast of the RHOP after the departure of Charrisse Jackson Jordan. Candiace was born on 14 December 1986 in Biloxi, Massachusetts to Airforce physicians Chris and Crystal.
She became involved in politics right after her college days were over, and one of the places she worked was in the White House as an intern from 2010-11, and she also worked for Barack Obama as a field organizer during his reelection campaign.
After working for Obama and the White House, Candiace started her career in modeling. She took part in the Miss United States Beauty pageant where she won the top prize. After getting in the show, Candiace married her husband, Chris Bassett.
Though being the new member of the show, she is also one of the least liked members of the series. She was fighting with Ashley one time where she took a knife out during the fight and also threw the butter knife towards another of her castmate. She is known to carry a bit of a temper which you can see in abundance when the show is on air for the past two seasons.
Candiace also works outside the reality show, with her own beauty pageant and shampoo line, she was able to amass a massive net worth of $4.5 million which is not too shabby. It seems like reality TV does pay looking at the massive sums of money these ladies were able to collect over the years.
The Real Housewives of Potomac is currently in its fourth season with the final four episodes for the season still to air. You can catch up on the next episode of the series on 8 September 2019, only on Bravo.
-->