Lady Gaga, Bradley Cooper and Irina Shayk at the Oscars-Complete Story with Twitter Reactions
Published Tue Feb 26 2019 By Ness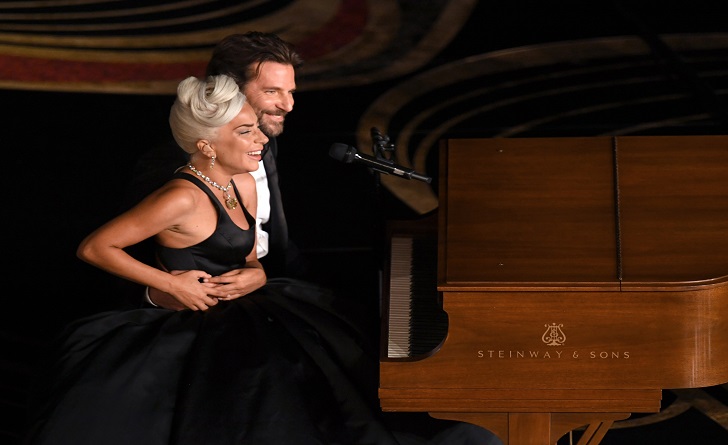 The 91st Academy awards or the 2019 Oscars has come and gone already, closing off the award season for this year. While there were too many spectacles to be seen this year, the most intriguing one was Bradley Cooper and Lady Gaga performing on the stage. They performed a super intimate rendition of 'Shallow' from their recent movie A Star is Born.
Bradley Cooper and Lady Gaga's 2019 Oscar Performance of 'Shallow'
Lady Gaga and Bradley Cooper Perform 'Shallow' from A Star is Born
Esposito has thrown jabs at Bradley Cooper prior to this comment. She labeled Cooper as a '' master manipulator'' in her memoir, Jennifer's Way in 2014.
How Does Irina Shayk Feel About Boyfriend Bradley Cooper's Steamy Performance with Lady Gaga
The Victoria's Secret model was the first to jump from her seat for standing ovation after her man Bradley Cooper and Lady Gaga's performance, one that most audience members thought was extremely intimate.

CAPTION: Lady Gaga, Bradley Cooper and Irina Shayk at The Oscars
SOURCE: Evening Standard
Shayk also gave Gaga a big hug when she won the Oscar for Best Original Song. Shayk has been with Cooper for 4 years now and they have a 23-mon-old daughter, Lea, together.
You might want to read: Lady Gaga and Bradley Cooper Almost Kiss after Their Oscars Performance
Lady Gaga split from her fiancé Christian Carino two months earlier breaking off a relationship of two years.
What Does Twitter Have to Say About Bradley Cooper, Lady Gaga and Irina Shayk Situation?
A lot actually! Twitter isn't buying Irina Shayk's cool demeanor about the steamy situation during the performance.
One Twitter user said:
Lady Gaga and Bradley Cooper had eye sex on stage at the Oscars in front of everyone pic.twitter.com/L7oPKBDLqa

— adam (@Adamiington) February 25, 2019
Another posted a gif of the exact moment when Gaga almost went for a kiss;
Lady Gaga almost risked it all for Bradley Cooper at The #Oscars pic.twitter.com/sW23JLLZXJ

— (@fabulousfeed) February 25, 2019
Other users were skeptical about Shayk's smile calling it a ''fake smile'' and adding that she, "knows the cameras are glued to her."
One user posted;
"Irina's ice-smile face when Gaga thanked Bradley for "believing in us" is what the kids call 'a mood' #oscars.''
Another Tweet screamed;
WHY DIDN'T THEY FOCUS ON IRINA'S FACE AFTER THAT PERFORMANCE? The whole world wanted to see how raging she was! #bradleyandgaga #oscars #shallow
— Laura Plunkett (@Lauraplunk) February 25, 2019
Someone got quite jealous;
No wonder why they didn't show Irina's face during this, I even got jealous! #Oscars https://t.co/6gk129JfOl
— Nann (@nanndiazdeleon) February 25, 2019
Bradley Cooper's ex-wife Reacts to a Joke about Lady gaga Affair
American Sniper actor Cooper and Bad Romance singer Lady Gaga's performance on the Oscar stage was so steamy it flamed their affair rumors even more.
Actor/comedian David Spade tweeted during the live performance, ''Is there any chance these 2 aren't f–king?"

CAPTION: Bradley Cooper's Ex-wife Reacts to Lady Gaga Affair
SOURCE: Twitter
Jennifer Esposito chimed in with a simple 'Ha' on the remark made by Spade. Esposito, 45, was formerly married to Bradley Cooper for five months when she filed for divorce from Cooper in May 2007.
Spade and Esposito weren't the only ones shocked by the performance. Gaga and actor/director Bradley Cooper were sharing the seat and a microphone throughout the performance maintaining heavy eye contact and even getting close enough to kiss. Both fans and celebrities are still talking about it!
-->