Late Ralphie May's Wife Lahna Turner - What is She Doing Now?
Published Sun Oct 20 2019 By Travis
Lahna Turner is a comedian, someone who took her guitar, her songwriting skill, and uniques stage presence to carve a career for herself in the world of comedy. She started late when it comes to her life in comedy, but she's been able to get recognition for the sly humor, her unique talent to entertain and make comedy through songs and the presence of mind she's got on stage.
Lahna was born on 15th July in the US, where she finished her high school education and started on her comedy career in the mid to late 2000. The comedian is also known for her appearances in various shows and documentaries along with her own comedy specials.
Source: Patheos
But the reason Lahna is most known to the people is because of her relationship with the late comedian Ralphie May. Ralphie was also a comedian, and he was successful because of his specials and extensive touring. Then in 2017, the comedian died, and his legacy lives through his wife and children.
The Relationship Between Ralphie May and His Wife Lahna Turner
Ralphie May and Lahna Turner met in Houston while the two were at an open mic event. They became friends and were soon going out together by the mid-2000s. No one would've pegged them for an ideal couple, but the duo made it all work for each other, and soon, the wedding bells were ringing.
The couple got married on 3rd July 2005 in the presence of their friends and family, and the love birds shared their vows, become husband and wife. It was a match made in heaven, and the couple made it work through all the trials and turbulences. Soon the family of May and Taylor grew with the arrival of their first child, a daughter April June May, who was born in 2007.
Source: The Comic's Comic
Soon, the couple welcomed their second child, a son August James May, who arrived on this earth in 2009. The family grew, and the relationship between the husband and wife also grew, which made its way into their work relationship. The couple were involved in multiple projects together and worked on their podcast 'The Perfect 10.'
But the marriage hit some hard times, and Lahna filed for divorce from her husband in October of 2015, and the couple separated, awaiting the finalization of their divorce. But it never happened, while the couple was separated and awaiting the finalization of their divorce Ralphie May died on 6 October 2017.
Death of Ralphie May and Lahna's Life After the Demise of Her Husband.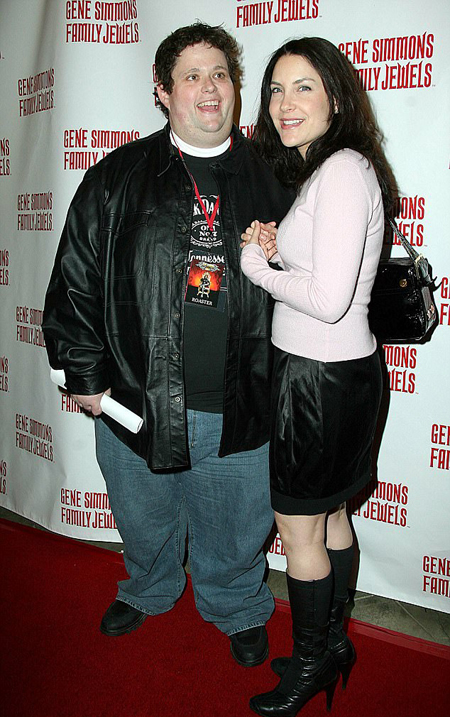 For years Ralphie dealt with obesity; he was only 16 years old when he got into a car accident, and his weight got to over 800 pounds. He went through gastric bypass surgery, which helped cut the weight by about 350 pounds. Again, while suffering from viral pneumonia, the comedian again lost 40 pounds of weight.
Due to his large body and unhealthy eating and living habit, the comedian went through a variety of diseases and almost lost his life in 2011 when he suffered from a pulmonary embolism. Pneumonia was the one thing he could never get rid of, and it was the constant bout with the disease, which is why the comedian lost his life.
Source: 24 Hours
May was in Las Vegas on 6 October 2017 when he was supposed to do a meet and greet, but his health deteriorated, and in the night, the comedian lost his life. He was 45 years old when he died and left behind his estranged wife and two children, and the Las Vegas performance was his last hurrah.
After the demise of her husband, Lahna continued working on the podcast of the couple's, and she also appeared in a couple of TV shows. The comedian also recently executive produced 'What's Eating Ralphie May?' which was a documentary about the late comedian.
Watch: Lahna Taylor with her guitar
Lahna is currently living with her children and trying to provide the best possible life for them, while also working on various projects to make sure the life of Ralphie and her children is as smooth as possible.
Before you leave, make sure to click on our Entertainment section to get all the news and gossip on your favorite celebrities. Also, do not forget to visit Glamour Fame to be in the know of all the happenings in the world of show business.
-->