Linda Hamilton Talks Leaving Hollywood And Deciding To Play Sarah Connor Again In Terminator: Dark Fate
Published Tue Sep 03 2019 By Travis
Linda Hamilton talks about her disillusionment with Hollywood and returning to portray the iconic role of Sarah Connor.
Linda Hamilton was the biggest movie star in 1991, 'Terminator 2: Judgement Day' just arrived in theatres with critical acclaim, and the movie made over $520 million becoming the biggest movie of the year. The film was not only an action movie success, but it also helped cement the legacy of 'Sarah Connor' as the greatest female action movie star in the history of cinema.
Linda's psychotic yet caring portrayal of the character was lauded by everyone, and she became the go-to woman for action movies in the 90s. Considering how The Terminator made her seem in the 1984 film, it was a drastic change for the character in the sequel, and we now realize it was as per the request of Linda herself. When James Cameron called to ask if she was willing to do another Terminator movie, Linda only made on request, she was not going to play a damsel in distress, and she wanted her character to be psychotic.
Watch: James Cameron talks about Linda wanting to be crazy in T2
James heeded to Linda's wishes, and it was the reason why we saw Linda inside an asylum sporting 16-inch biceps and doing pull-ups like she is preparing for a future war no one knew was coming. After Linda was done with the character, she said there were multiple offers to play in other action movies where she would be playing the lead role. Even James Cameron said to her, she can be the "female Bruce Willis," but Linda was not interested in doing any more action movies, she didn't want to be the "it-girl" when directors thought of an action oriented female character.
Linda talked about being on the verge of being type-casted into every action movie ever, and she said, "People really did not know what to do with me." There was no interest from her in being the female version of Bruce Willis, considering Bruce's career trajectory and the type of movies he is doing now, it was the right decision by Linda not to go down the path of cashing in on the fame of 'T2.'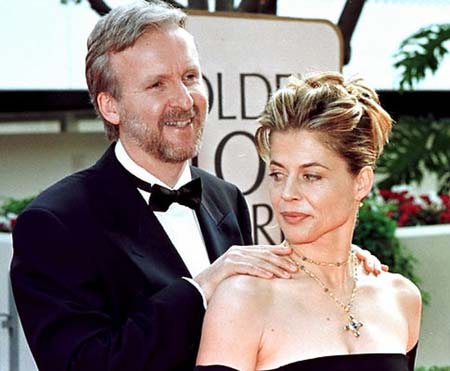 Source: NY Daily News
Linda was the student of Lee Strasberg, and all she wanted to do after her education and training was to do Shakespeare but once she signed to play Terminator her plans and priorities "took a left turn." Terminator made a serious impact on Linda's life, she got divorced with her first husband in 1989 and then poured everything into playing Sarah again in T2 then things took a turn with the director of the film, James Cameron, with whom she moved in with. Linda explains there was no love between the two, it was just, they both fell in love with Sarah Connor, and the relationship ended after a brief almost two yearlong marriage.
Linda took a long hiatus from acting after her divorce from James, and then she became a celibate, she claims to be 15 years celibate but also stated it is hard to keep track of it all "because it just doesn't matter" at least to her it doesn't. Then slowly she started becoming disillusioned with Hollywood, the year was 2012, she finished her recurring role in the TV show Chuck and when her phone stopped ringing, and her agents stopped calling her, Linda sold her Malibu home, packed her bags and left and not she is far away from the glitz and the glam of Hollywood living in her cozy home in New Orleans.
Source: The New York Times
After 'Terminator: Genisys' bombed, and critics panned the movie, producer for the film and the man who started it all, James Cameron, couldn't take it anymore, so he decided to take a hands-on approach with the next Terminator movie. Tim Miller, the director of 'Deadpool', was hired to bring back Terminator to relevancy, so Cameron and Miller decided to retcon everything after T2.
For the new movie to work, Tim said he needed Sarah Connor, and Tim was afraid she was not going to agree with coming back into the limelight. Linda worked so hard to hide away from the public eye; it almost seemed an impossible task to bring her back to play the character one more time. Linda agreed with Tim's assessment, she was wary about how the movie first changed her life, and she was not known as Linda around her neighborhood, she was the actress who starred in the biggest film of 1991. It was a long hard assessment for the actress who wanted her normal life and someone who didn't want the movie and the whole media circus to "creep into" her life again.
Watch: The new trailer for Terminator: Dark Fate coming this November
Finally, to convince Linda to come back to play the role, James sent her a letter about two years ago when he asked her if she was willing to return to play Sarah Connor once again. Linda was not going to say right away; it was a ling thinking process where she thought about how she can do the character of Sarah justice. It wasn't more about pleasing the fans at this point in her career; it was more about staying true to the character, which in essence always stayed with her. Linda wanted to do the character of Sarah Connor justice, and after much talk with the director Miller and producer Cameron, they were able to craft a new and true version of Sarah which Linda could feel proud in portraying.
When everything lined up perfectly Linda was more than happy to be back, but it wasn't easy to be back playing the character, Linda said the work she put into this movie to get back in fighting shape was ten times harder than she did before filming T2. Even though the stunts were hard Tim Miller said Linda was more than happy to do her work and considering she is 62-years-old now, it was more liberating to play the role at her age, Linda said. You can read the full article here.
Source: io9
It was a hard decision for Linda to come back into the fold for Terminator: Dark Fate but after the film finished filming and she was back in her home, Linda said she woke up one morning and said, "Damn, that was fun!" Going by the trailer for the movie, it does look to be fun, and she was enjoying herself. Terminator: Dark Fate is set for release on 1 November 2019 with Arnold Schwarzenegger, Linda Hamilton, and Edward Furlong reprising their original roles as well as Makenzie Davis, Gabriel Luna and Diego Boneta playing new characters.
-->