Love and Football: Meet Jennifer Giroud, The Woman Who Stole Olivier's Heart!
Jennifer Giroud is the spouse of the renowned French professional footballer Olivier Giroud. Jennifer and Olivier have been married since 2011, and she has been instrumental in supporting her husband's performance at the highest level.
Olivier often attributes his success to his wife's influence. Although Jennifer prefers to keep a low profile, she has made a few public appearances alongside her famous partner.
Exchanged Wedding Vows With Oliver Giroud
Jennifer Giroud and Olivier Giroud tied the knot in 2011 after being in a relationship for several years. The exact details of how they met and started dating are not widely publicized, as both Jennifer and Olivier prefer to keep their personal lives private. However, it is known that they knew each other for a significant amount of time before taking the step towards marriage.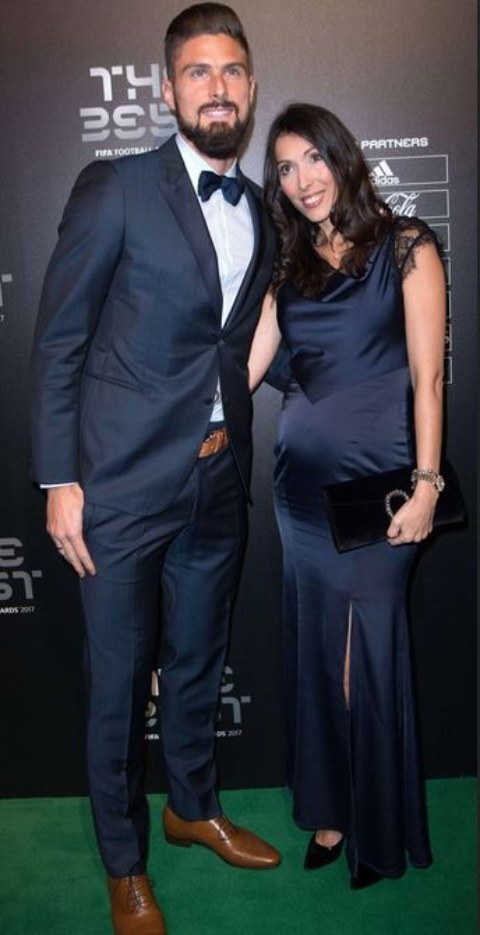 Throughout their relationship, Jennifer has been a constant support for Olivier both on and off the field. Olivier has often credited his wife for her unwavering encouragement and love, which has played a vital role in his successful football career.
Despite being in the public eye due to Olivier's fame, the couple has managed to keep the details of their dating life and early relationship away from the media. They have chosen to prioritize their privacy and focus on their family life, which includes their two children.
Blessed With The Two Beautiful Kids
Jennifer Giroud and Olivier Giroud are proud parents to two children: a daughter named Jade, born in 2013, and a son named Evan, born in 2016. They are also expecting their third child, which is a joyous addition to their growing family.
While the couple has been seen enjoying holidays and spending quality time together in public, they prefer to keep the details of their marital relationship private. Despite being in the spotlight, Jennifer and Olivier do not share much about their personal lives with the media.
In the past, there were rumors and questions about their relationship due to Olivier's involvement in a secret affair. However, it appears that the couple has overcome the challenges and worked through their issues, as their marriage is now stable.
Did Oliver Giroud Cheat on Jennifer Giroud?
Jennifer Giroud found herself embroiled in controversy when her husband, Olivier Giroud, was accused of having a relationship with Celia Kay while still being married to Jennifer. The situation escalated further when Olivier admitted to the infidelity, leading to widespread media attention and public scrutiny. However, he later issued an apology to Jennifer, seeking forgiveness and reconciliation.
Amidst the controversy, rumors have surfaced suggesting that Jennifer and Olivier are expecting their third child together. As the couple navigates the challenges in their relationship, the speculation about a new addition to their family has sparked interest among fans and media alike. The future remains uncertain for the couple, but their personal life continues to attract attention and speculation.
Quality Time With Husband, Oliver Giroud
Recently, Olivier Giroud, who is currently playing for AC Milan, and his wife Jennifer were spotted heading to the upscale London venue, the Chiltern Firehouse.
The restaurant is known for its popularity among guests who attended the Royal Wedding, with many reportedly heading there after Prince Harry and Meghan Markle's evening gala reception.
Apart from their stylish outings, the couple has also enjoyed some quality time together on holidays, like their trip to Sardinia. They were seen wading into the ocean on the beautiful beaches and relaxing on sun loungers while mingling with other holidaymakers on the enchanting Italian island.
Their shared adventures and affectionate moments show a strong bond between Olivier and Jennifer.
Details on Jennifer Giroud's Age, Birthday, and Family
Jennifer Giroud's birthdate is not available in the information provided. As per the information given, there is limited data about her early life, childhood, personal life, and education. It is known that she was born in the United States and holds American nationality, but her exact birthdate, ethnicity, and educational background are not disclosed in the available records.
Due to her preference for privacy, Jennifer Giroud's personal information might not be widely accessible on the Internet. As such, details about her early life, family background, and educational journey are not readily available to the public.
Net Worth of Jennifer Net Worth in 2023
Jennifer Giroud gained initial fame due to her relationship with the renowned French international striker, Olivier Giroud. The couple later tied the knot, and they are blessed with two children.
Regarding her professional life, there are no official records available about Jennifer's past or present occupation. However, it is evident that she is fully supportive of her husband's footballing career.
While Jennifer Giroud's current salary is not disclosed, Her husband estimated net worth is approximately $10 million as of 2023. On the other hand, Olivier is earning a salary package of $3.17 million while playing for the prestigious Italian club AC Milan.
Jennifer Giroud Instagram, Facebook, and Twitter
Jennifer Giroud is an active presence on social media platforms. She boasts a substantial following on popular networking sites like Instagram and Twitter.
On Twitter, she has garnered over 8.9k followers. Jennifer frequently engages with her audience, sharing glimpses of her family life, including her husband and children.
Likewise, her Instagram account is lively, with regular updates showcasing moments with her loved ones. However, she currently does not maintain an active presence on Facebook.
Keep Watching Glamour Fame
-->