Love Beyond the Limelight: Bill Russell and Marilyn Nault's Journey as Husband and Wife
Bill Russell was an iconic figure in the world of basketball. Born on February 12, 1934, in Monroe, Louisiana, he went on to become one of the greatest basketball players of all time. Russell played center for the Boston Celtics from 1956 to 1969, winning an astounding 11 NBA championships during his career.
Known for his exceptional defensive skills, shot-blocking ability, and leadership on the court, Russell was a dominant force in the game. He was also a trailblazer as one of the first African-American superstars in professional basketball. Russell's impact on the sport and his contributions to the civil rights movement has solidified his status as a legend in basketball history.
Bill Russell and Marilyn Nault Married For Only Thirteen Years
Bill Russell was previously married to Marilyn Nault, with whom he tied the knot in 1996. The couple exchanged vows in an intimate wedding ceremony attended by their close friends and family members. Marilyn worked as a saleswoman at a jewelry store in Seattle when she first crossed paths with Bill.
At the time, she was 46 years old while Bill was 62. After four years of dating, they decided to take their relationship to the next level and embarked on a journey of marriage. Although it was not
Bill's first marriage, having been married twice before, he and Marilyn shared a joyful union for 13 years. They cherished their time together, experiencing marital happiness and exploring the world through their travels.
How Many Kids Do Bill Russell and Marilyn Nault Have?
During Marilyn's 13-year marriage to Bill Russell, they did not have any children of their own. However, Marilyn became a stepmother to Bill's three children from his first marriage to Rose Swisher. Their kids include Jacob Russell, Kareen, and William Russell Jr. However their son, William died in 2016 due to cancer.
Kareen Russell, aged 61, has pursued a career as a legal and political analyst. She completed her education at Georgetown University and Harvard Law School, and currently, she is reported to be working with the Robert F. Kennedy Memorial Center for Human Rights.
Jacob, born on June 5, 1959, is married to Sara, and they reside in Washington, D.C., raising their two children together. Despite not having biological children with Marilyn, Bill's role as a father extended to his children from his first marriage.
Bill Russell Married For Fourth Time At the Age of Eight Four
After the passing of Marilyn, Bill Russell found love once again and married former professional golfer Jeannine Russell. They tied the knot on December 8, 2018, when Bill was 84 years old. Their marriage lasted for the next four years until Bill's passing at the age of 88 in 2022.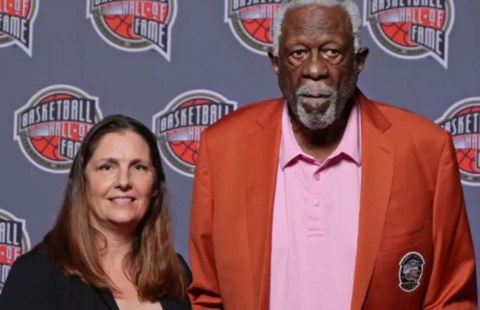 Throughout his marriages, Bill had a total of three children, all with his first wife, Rose Swisher Russell. Despite his multiple marriages, he did not have any children with his subsequent wives. Bill Russell's personal life was filled with love, companionship, and the joys of fatherhood, leaving behind a lasting legacy both on and off the basketball court.
Also See: Details on NBA Legend, Larry Bird's Marital Life! Know About Larry's Relationship and Wife
Bill Russell's Other Marriages
Bill Russell, the legendary Boston Celtics player, was married four times to four different women, each marriage with its own unique story. His first marriage was to his college sweetheart, Rose Swisher Russell, in 1956.
Their marriage lasted throughout his entire NBA career, spanning 17 years, but eventually, they grew apart and divorced. They had three children together. In 1977, four years after his divorce from Rose, Bill married Dorothy Anstett, the winner of Miss USA 1968. This marriage was short-lived and ended in divorce after only three years, without any children.
In 1996, Bill married Marilyn Nault, marking his third marriage. They enjoyed 13 years together as husband and wife before parting ways. Bill Russell's personal life was as eventful as his basketball career, with each marriage bringing its own joys and challenges.
The Death of Marilyn Nault and Bill Russell
Marilyn Nault passed away unexpectedly on January 21, 2009, at the age of 59. Her death came as a shock, as she had not been reported as being ill or hospitalized prior to her passing. The exact cause of her death has been kept confidential by the family, leading to various speculations and rumors.
Bill Russell, in deep mourning and shock, made the decision to keep the details private. Her death deeply saddened the entire Russell family, including her stepchildren. The cause of her death remains uncertain to this day.
Bill himself passed away on July 31, 2022, at his home in Mercer Island, Washington, at the age of 88. The news of his passing was announced by his family on Twitter, and he was widely recognized as one of the greatest champions in team sports.
A Short Bio on Bill Russell's Third Wife, Marilyn Nault
After graduating from high school, Marilyn Nault moved to Seattle and took on a job to support her parents. She worked as a jewelry salesperson before exploring other career opportunities. After completing her university education, she pursued a less well-known job.
In addition to her professional endeavors, Marilyn also ventured into entrepreneurship and established her own businesses. However, due to her private nature, not much information is available about the specific nature of her businesses. Marilyn maintained a low profile and preferred to keep her personal and professional life out of the public eye.
Recommended: Discover the Life of Vanity Alpough, the Stunning Wife of NBA Star Kendrick Perkins
Visit Glamour Fame For More Updates on Different Celebrities
-->