Love Island Fans In Tears As Anna, Jordan, Chris And Harley Got Dumped From The Villa
Published Fri Jul 26 2019 By Travis
Love Island made a major shake up to the Villa as four people were dumped at the same time.
Love Island shook up the villa in a significant way as two couples got dumped at the same time. The drama in the Wednesday night episode was fantastic as Anna Vakili, Jordan Hames, Harley Brash, and Chris Taylor all got dumped from the villa at the same time.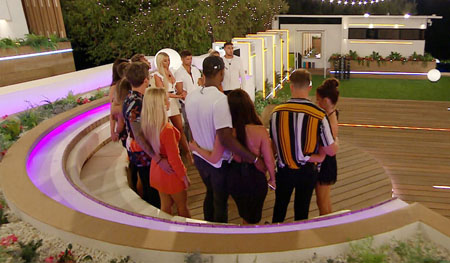 This came a day after Jordan took his revenge by expressing his feelings for India Reynolds a few days after asking Anna to be his girlfriend. Fans were sure he was getting his revenge on Anna after she dumped him in the villa and cozied up with Ovie Soko. Well, it doesn't matter now as the broken-up couple got dropped from the villa.
Even on their way out, the two were arguing, and Jordan said, "I feel like for me, I don't have any regrets." Which Anna could not let slide so she retorted, "Well, you should have regrets because you hurt someone's feelings."
Watch: The aftermath of the Double couple dumping
Even though getting revenge must've been sweet for Jordan, he realized he hurt Anna. Jordan said, "Obviously, I apologize for the way I went about things, but I don't regret acting on my feelings. Everything I felt in the villa, I've voiced."
There is no love lost between the two scorned lovers but on the other side of things were the newly added members of Love Island, Chris Taylor, and Harley Brash, who it seem to have a budding love on their hands.
About their relationship Harley said, "Things are still very very early with me and Chris, but we're excited to see how things go," and Chris agreed with Harley as he said, "We're on the path to love, it's definitely the beginning of something that could be quite special."
Watch: Chris and Harley are on the verge of something good outside the villa
The heartbreaks and fighting aside, Anna made an emotional exit from the show. Since she was present in the show from the start, she was friends with all the girls, and they were all torn apart from the news Anna was leaving.
The girls whom Anna was close friends with, Amber Gill, Maura Higgins, and Molly-Mae all cried after learning of the imminent departure of Anna. They were all genuine tears of losing a friend, but Molly's tears were called into question, and fans were quick to label her with crocodile tears.
Anna huddled with her girls and told them she was thankful she had friends like them inside the villa, "I'm so grateful for you three because I feel like I have found love with you guys, I'm so grateful."
Anna and Jordan were almost always bottom of the fans voting list as they were unable to garner much affection from fans. So, no one was particularly tearing up over the fact Anna and Jordan were leaving though some did express their love for Anna and her goodbye.
Chris, on the other hand, was a new member of the villa and faced an uphill battle against other established villa mate to make a name for himself. Still, he was able to garner some amount of fan following and love; those fans were crying over the loss of the comedian.
With ten contestants remaining and only five days to go before the finale, we are in the home stretch now as series five winner will be announced pretty soon.
-->