Did MAFS Star Michael Brunelli Edit His Biceps in a Shirtless Instagram Photo?
Published Tue Oct 01 2019 By Travis
Martha was one thing, but now Michael is also sharing edited pictures of himself.
Reality stars are known to be handsy when it comes to their images shown online, what reporters click while they are out and about is not something they can control, but when it comes to Instagram, there are all sorts of trickery used to make the image look perfect.
The thing is when it comes to perfection; pretty rarely it is like the robots of 'Westworld,' but most of the time, it comes out like the Frankenstein's monster. Most of the celebrity photoshop pictures are soo apparent; people ask why even bother editing if you can't even fool a middle schooler.
Source: Instagram
This is the case when it comes to Married At First Sight star Martha Kalifatidis, who is accused of photoshopping all of her images whenever she uploads a new one. But there are also not pulling it out of the place where the sun doesn't shine; the whole thing is so obvious with warping lights and unnatural sign people can't help but point out the amateur level of talent on display.
Well, as long as she was the only one doing the whole thing yes it is whatever, to be honest, but now it seems her beau Michael Brunelli is also getting in on the action of photoshopping. The reality star posted a photo on Instagram which looked fairly okay.
Source: Instagram
But under some scrutiny, the image seems to be photoshopped. Michael is showing off his biceps in a shirtless photo, but then when you glance up to his deltoids, the light around it seemingly is warped with the body part seemingly smoothed and slightly enlarged by picture trickery.
Well, fans were not going to let any of it slide as it is evidenced by the fact the people were laying into Michael for photoshopping his image. He is already a good looking man with a nice physique; there is no need to used tools to enhance the image.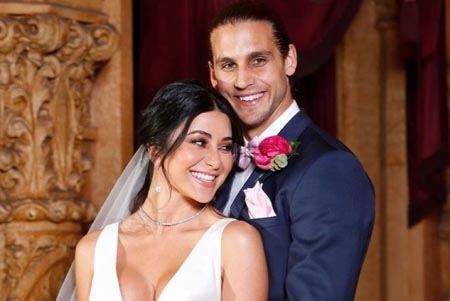 Source: Aussie Celebs
The perception in the media is not important; people need to comfortable in their own skin but if using tools to enhance the images, make the people happy, then keep doing it.
Before you leave, make sure to check out the Entertainment section for more information of Married At First Sight. Also, visit Glamour Fame for gossip and news on all your favorite celebrities.
-->