Is Mama June Going To Prison Over Drug Possession Charges?
Published Sun Sep 15 2019 By Sea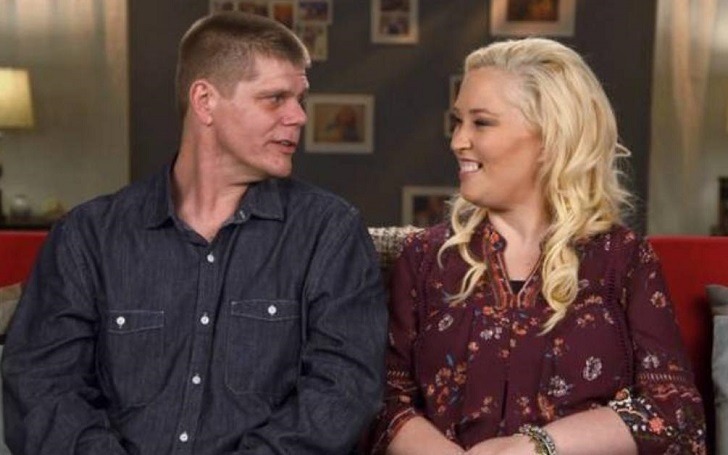 Mama June E. Shannon and her boyfriend, both, were indicted by a grand jury for two charges of felony drug possession from their March arrest.
June Shannon, who goes by the nickname Mama June, was arrested back in March with her boyfriend, Eugene "Geno" Doak, for allegedly possessing controlled substances and drug paraphernalia.
The grand jury of the Macon County reviewed the evidence in both cases as asked by the State of Alabama and found them guilty. Both the pair's bond was set to $11,000, and they were ordered to appear in court. If they are to be convicted, both of them may face years of life in prison.
Both of them might be headed to prison, again.
Source: WE TV
The review came out bad for the both of them as they "did unlawfully possess a controlled substance, to-wit: Cocaine" and "did unlawfully possess with intent to use to inject, ingest, inhale or otherwise introduce into the human body, drug paraphernalia, to wit: a pipe."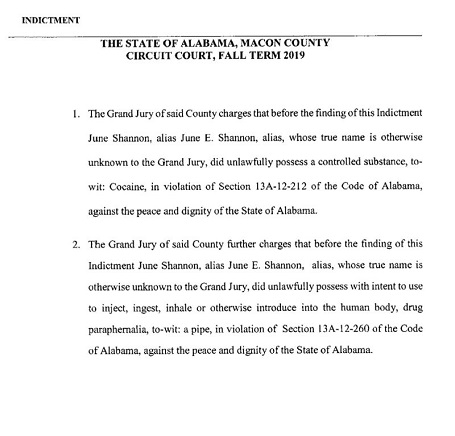 Indictment for June.
Source: Macon County Grand Jury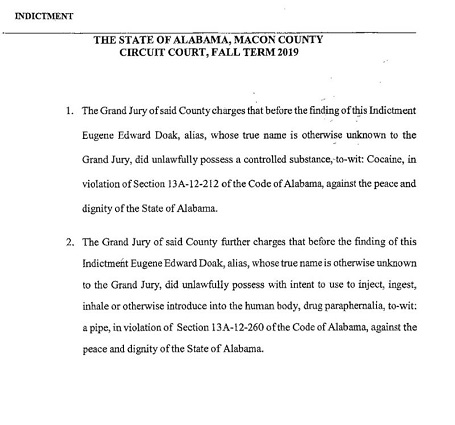 Indictment for Geno.
Source: Macon County Grand Jury
According to a spokesperson for the Macon County D.A.'s office in Alabama, they had an arraignment docket on Friday, September 13, but failed to appear before the judge. Meanwhile, June's sister was there with a camera crew, hoping to stage an intervention with her. The next date of trial is yet to be confirmed.
June was arrested after she allegedly had crack cocaine and a crack pipe with her in March while Geno also had the same stuff. Geno was further arrested for domestic violence as well.
It's not the first time her family had tried to hold an intervention for her. Two days prior to the arrest, her two daughters, Lauryn "Pumpkin" Shannon and Alana "Honey Boo Boo" Thompson tried doing the same and convinced her to enter the treatment facility in North Carolina. But only 12 hours later, she left the place.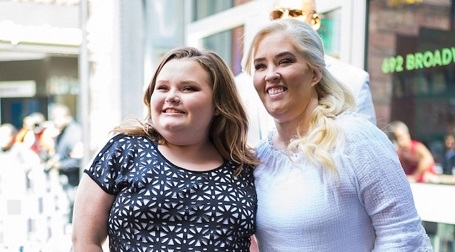 Honey Boo Boo moved away from Mama June and won't return unless Geno is out of the picture.
Source: WE TV
According to her show, 'Mama June: From Not to Hot', June was awaiting trial in Alabama as of the end of May and could not leave the state until after the hearing. After failing to appear in court last Friday, she may face several years of jail time.
Despite all the support her family tries to give her, she doesn't seem to want to improve and stay with her child-molesting boyfriend (he was jailed for molesting June's child and, as soon as he got out last year, she got together with him). The 13-year-old Honey Boo Boo left her company and is living with her elder sister Pumpkin, but she still doesn't care. She is not fighting for her custody at all. And Honey Boo Boo has no intention of returning to her if she is still with Geno, either.
Moreover, June intended to leave her home in Georgia and live in an RV with Geno, despite everything they are going through. They were living in the house without a care for it, trashing every room there is.
The decision of June to live with Geno and stick up to him, while willing to abandon even her kids surely is not considered good parenting or being a devoted girlfriend. There's just no place for it. While her family tries to help her, she doesn't want to be. It is now looking bleak for her another time, and jail-time is officially the next worst thing that could happen for her. She should really get some help, right?
-->