Is The Mandalorian Cast Member Omid Abtahi Married?
The 40-year-old Iranian-born American actor, Omid Abtahi, has proven his acting skills from his numerous works in Hollywood. The actor who is best known for his role as 'Salim' on Showtime's show, 'American Gods.'
Moreover, the actor was part of big names like 'Hunger Games: Mockingjay.' Furthermore, he is also best known for his role on other hit TV shows like 'Over There' and 'Sleeper Cell.'
Recently, Omid Abtahi is part of Disney+'s one of the most awaited shows, 'Mandalorian.' The Iranian-born American actor will play the role of Dr. Pershing, a human scientist who is affiliated with an Imperial remnant.
While the actor's career seems to be flourishing, let's find out how his personal life is.
Omid Abtahi is Married to Sabrina Bolin
Omid Abtahi and his wife, Sabrina Bolin, share a extremely understanding relationship; and they grow strong every day.
Source: Instagram
Omid was born in Iran on 12th July 1979 and spent most of his childhood there before moving to Paris, and later to the United States.
After moving to the USA, the 40-year-old tried his hands on acting and got lucky. But little did he know, he would find love of his life there.
Omid is married to his girlfriend Sabrina Bolin, who, by profession, is a hypnotherapist. The couple remained hush-hush about their relationship for quite long and publicly announced only after getting married.
According to some reports, the couple tied the knot back in 2008 in a private marriage ceremony. The couple now shares a four years son.
Omid Abtahi's wife, Sabrina Bolin, Runs Her Own Clinic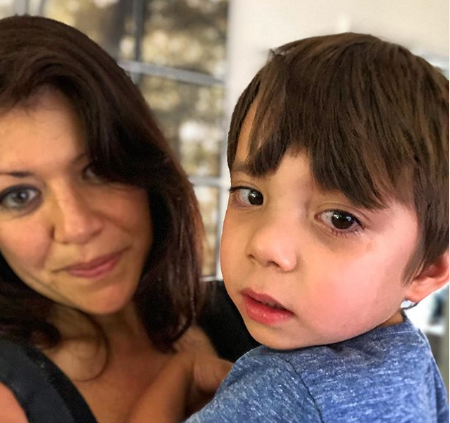 Sabrina and Omid Abtahi share a four-year-old son.
Source: Instagram
As we mentioned earlier, Sabrina Bolin is a hypnotherapist. Moreover, she is also a life-coach. She runs her own company, which is based in Los Angeles.
Sabrina handles most of her work via online appointments. She, along with her business partner, Caroline White, are doing wonders as a life-coach and a hypnotherapist.
Sabrina says, "Once you understand how your soul speaks, you can begin making choices from your clearest vessel, that sacred, intuitive space deep inside. Then, by shifting your thought habits around self-doubt, you can get crystal clear on what you truly want to bring forth into the world."
Moreover, the duo also has plenty of e-books and contents to guide you through your life and promises you to get you where you deserve to be.
Sabrina and Carolina also offer some free goodies for people who need help but are afraid to get it. Precisely, their free stuff provides basic guidelines and make them comfortable with their approach of healing.
Sabrina Bolin is a life-coach and a hypnotherapist.
Source: Instagram
The partners seem to be avid photographers as well since their website clearly mentions all the photos are taken by 'Sabrina Bolin and Carolina White.'
What a beautiful soul they are! No wonder they will not just guide the people but also help them heal. We wish them all the light for their beautiful work.
For more information on TVs, Movies, and your celebrities' lifestyle stay tuned to Glamour Fame, and don't forget to sign up for the newsletter.
-->