'Mary Poppins Returns' Became The Outright Winner of The UK Box Office on The Final Weekend of 2018
Published Thu Jan 03 2019 By Jessica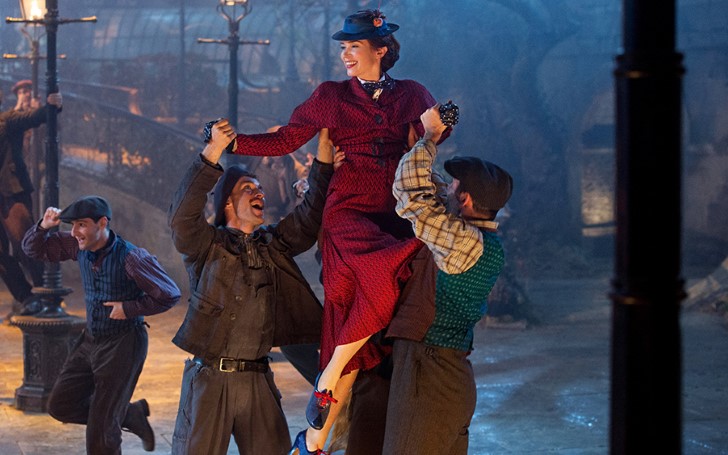 Walt Disney family film Mary Poppins Returns is the outright Christmas winner in the UK's 2018 Box Office finessing movies like Aquaman and Bumblebee.
The film sequel to Mary Poppins (1964) released nearly 54 years ago nabbed £7.4m from more than 730 sites on its second week from its release date in the UK.
Becoming successful to hold on to the top spot in the UK Box Office for the three-day weekend (28th-30th December), the film where Emily Blunt plays the lead role of a magical nanny increased its gross rate to 10%, with £23.3m in earnings to date.
SOURCE: CNet
After it's release in North America, the film earned $114.5m just after 14 days.
You may also like: 'Aquaman' Leads With $10.1 Million on New Year's Eve Box Office
Transformer sequel movie Bumblebee secured its place in the second position by an intake of £5.4m from nearly 590 sites in its opening weekend.
The Paramount film that cast Hailee Steinfeld in the lead role is directed by twice Oscar-nominated animation specialist Travis Knight, making his first live-action debut.
See too: Will One Direction Get Back Together? Learn All The Major Rumors Since The Band Went Into Hiatus
Warner Bros's Aquaman, the character portraited by Jason Momoa, collected £2.4m with an extension of 2% from 559 sites on its third weekend from its release date, making its position in the third place.
Mary Poppins Returns, based on a book series by P. L. Travers and directed by Rob Marshall takes place after twenty-five years of the original film events.
The magical and former-nanny (Emily Blunt) of Michael and Jane Bank returns to take care of the second generation of the Bank family as well as takes them on an adventure full of funs.
Also read: Netflix Has Released a New Poster And Premiere Date of Stranger Things season 3
The outright winner at the end of 2018 UK box office, this movie made with the budget of $130 million surpassed over $200M worldwide in its total box office collection.
Congratulations to the entire team of Mary Poppins Returns.
-->