Matilda Ramsay - Facts to Know About Gordon Ramsay's Daughter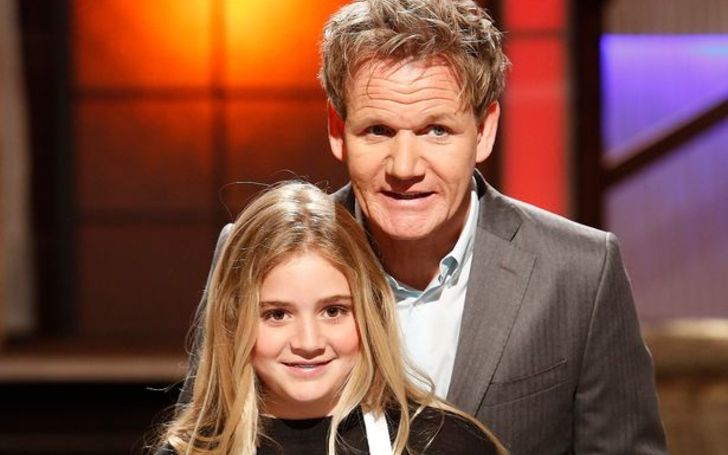 If not Matilda Ramsay, then Gordon Ramsay is quite the common name in the entertainment field. You must've heard the notorious ways of the food critic as Gordon is known for his fiery temper and bluntness.
Just like an internationally recognized father, little Matilda, also known as Tilly, is a keen follower of her daddy's steps. She is the fourth child of Ramsay, who is an English television presenter and a chef.
A Little About Matilda Ramsay
Matilda Elizabeth Ramsay is the daughter of popular British chef Gordon James Ramsay and Tana Ramsay. Her father is a restaurateur, writer, television personality, and a food critic, whereas her mother is a cookery book author.
Matilda Ramsay is the fourth child of Gordon Ramsay.
Photo Source: Instagram
Tilly was born on November 08, 2001, and resided in both the United Kingdom and America due to work-related issues. She shares four other siblings named Megan Ramsay, Holly Anna Ramsay, Jack Scott RaColin Hanks Net Worth - Complete Breakdown of His Earningsmsay, and Oscar Ramsay. Matilda is the youngest one of the family to get stardom from her cooking skills.
Matilda Learned Cooking To Get Gordons Attention
Ever since Tilly was young, she grew up in a house full of home-cooked meals and chef talks. Also, growing up with five kids ramming up and down to get her dad's attention, Matilda said the best option was to cook. With that step, attention was the least bit problem as she then found out her real talent.
Watch: English Breakfast with Gordon and Matilda Ramsay
After that, Ms. Ramsay talent shined on as she appeared in Gordon's cooking show, 'Masterchef Junior,' along with other programs like 'Hell's Kitchen' and 'The F Word.'
You May Also Like: Jamie Oliver Vs. Gordon Ramsay - Who Is Better Chef ?
Looking at her knack in cooking, the day wasn't too far until she started getting offers of running her own show.
Matilda Ramsay Runs Her Show, 'Matilda and The Ramsay Bunch'
The child cook is currently 18 years old and already hosts her own cooking series for the BBC's CBBC called 'Matilda and the Ramsay Bunch.' It is a British cooking entertainment program that is currently running on its fifth series.
Watch: Gordon Ramsay gets pranked on Father's Day!
The main cast in the series is Matilda, Gordon, Tana, Jack, Holly, and Megan, that aim at a younger audience. The first season aired on April 14, 2015, and the latest 5th season aired on 2019 on BBC. The show encases a series of unique episodes where Matilda cooks for her family in summer holidays, outings, and events.
Matilda and Her Dad Share the Same Birth Date
Coincidently, the celebrity chef dad and the rising cook share the same birthday on November 08. It wasn't enough that the father-daughter duo bond was unbreakable, they share the same birthdays as well. This year Tilly celebrated her 18th birthday, whereas Gordon celebrated his 53rd birthday.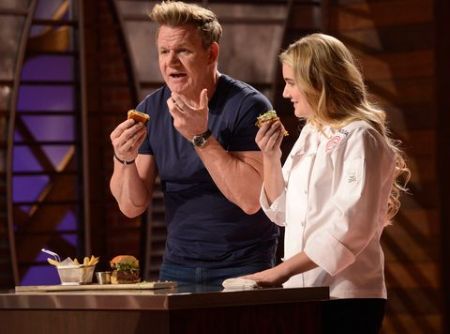 Gordon and Tilly during Masterchef Junior.
Photo Source: SKY
In one of the most adorable post, Ramsay wrote, "18yrs ago today this gorgeous lady was born. @tillyramsay you are gracious incredibly unselfish and always thinking of others before yourself, I'm so proud and happy to share our birthdays, you are my best ever birthday present love you Kiddo. Dad X,"
Also See: Colin Hanks Net Worth - Complete Breakdown of His Earnings
Hope you liked the article, for more be sure to tune into Glamour Fame.
-->