Matt Bevin's Wife Glenna Bevin - How Many Children Does The Couple Share?
Published Fri Nov 08 2019 By Sea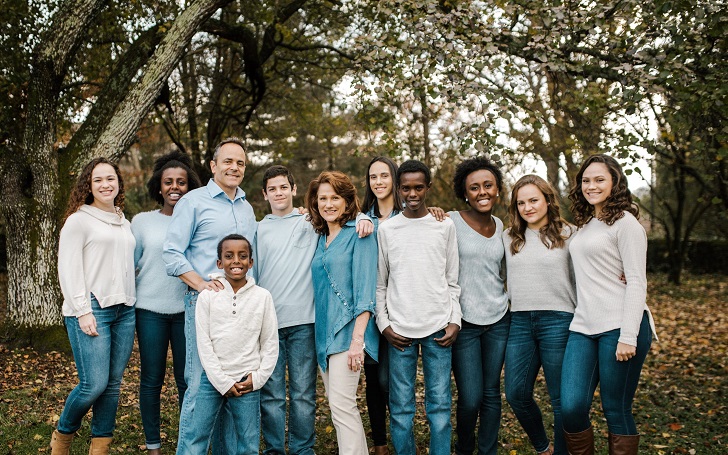 Glenna Bevin is the First Lady of Kentucky, wife of the Governor of Kentucky, Matt Bevin. She's not known just for having the title as she is an excellent social activist.
Product of a blind date, the marriage was going to be affected by the involvement in politics. But they have made it stick with 23 years of being there for each other and nine children together.
Glenna Bevin's Oldest Daughter Was Killed in an Auto Accident; Matt Was Not Her Own Father
Before the first lady met Bevin, she was married to an abusive man, with whom she had Brittiney Wish Bevin, her first child. After her marriage to Matt in 1996, he took Brittany in and changed her name.
Brittany rests at the Cave Hill Cemetery Louisville, Jefferson County, Kentucky
Source: FindAGrave
However happy the couple are in their married life, there was a big damper in their early days. Brittiney passed away at the age of 17 on September 22, 2003, due to a car accident on Lexington Road, near the family home. A senior at Louisville Collegiate School, her death devastated the couple.
That is also probably what further prompted the couple to be a part of many groups of people active in the welfare of children and women who struggle in life. They established the Brittiney's Wish after that to funds domestic and international trips for high school students. They also started an endowment that opened Bevin Center for Missions Mobilization in 2012.
After Brittiney, Four of Their Nine Children Were Adopted from Ethiopia
After the wedding, the couple had five children together and adopted further four. Glenna doesn't find it bothersome to take care of so many kids though, she loves kids after all. As Matt notes, "I'm told, when she was a little girl she wanted to have a dozen kids."
The efforts the couple makes for the needy are widely known. They first adopted only Jonah Bevin (son) from Ethiopia. But during the adoption process, they learned of 3 siblings kids, also from Ethiopia, likely to not be taken in by anyone, despite the humanity many people have shown to orphans. As their hearts cried out, they took in Danial Bevin (son), Sophia Bevin and Lydia Bevin (daughters) in June 2012 as well.
The couldn't just leave them behind after seeing their condition.
Source: Matt Bevin
The four kids joined the couple's five kids they already had before 2006. They had their application for a daughter, before applying for Johan because they already had four of them. Daughters Carolina "Grace" Bevin, Mackenzie Bevin, Madison Bevin, and Olivia Bevin (born before Brittany's passing) became sisters to the younger brother, Isaac Bevin, on February 12, 2005.
Criticized for Matt's Action to Get the Kids to Contract Chickenpox Early On in Life Rather Than Later
In an interview with WKCT in March 2019, the senator revealed that all his nine children already had chickenpox. The shocking part of it was that he intentionally had them contract it so that they would be immune to it and not have to worry about the disease getting worse when they do get it later.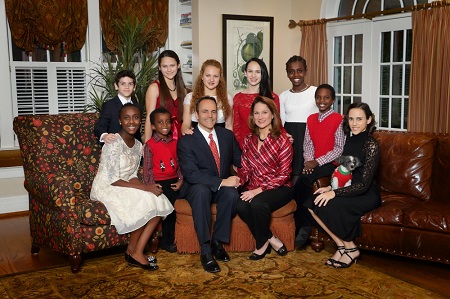 All of them are safe from chickenpox with no complications
Source: The Bevin Family
All of them turned out fine, despite being miserable for a few days, but this attempt was criticized by medical officials as being 'unsafe'. They all had it as when they were little kids.
"They got the chickenpox on purpose because we found a neighbor that had it, and I went and made sure every one of my kids was exposed to it, and they got it. They had it as children. They were miserable for a few days, and they all turned out fine."
The story seems like that 1998 'South Park' episode, 'Chickenpox'. What is more interesting (that surprisingly intertwined) is that he did it for fear of the more serious shingles, a form of herpes, that the children could suffer from when they contract it when they're older. (Seriously, everything aligns.)
The doctors also criticized him for putting other people in the community at risk. He is also one of the people that believe vaccination is not for everyone. What he did to his children might have been for his concern, but he also believes parents should get to choose vaccination for their children rather than get forced to by the government.
Whatever the case, Glenna believes he is an amazing father to the kids, and they go for vacations and retreats quite often. "The love in his heart is endless, inspiring and contagious," she says.
Stay tuned and connected to GlamourFame for more Entertainment updates.
-->