Matt Damon Reminisced His School Days and Explained How Ben Affleck Saved Him From Getting a Beat-Up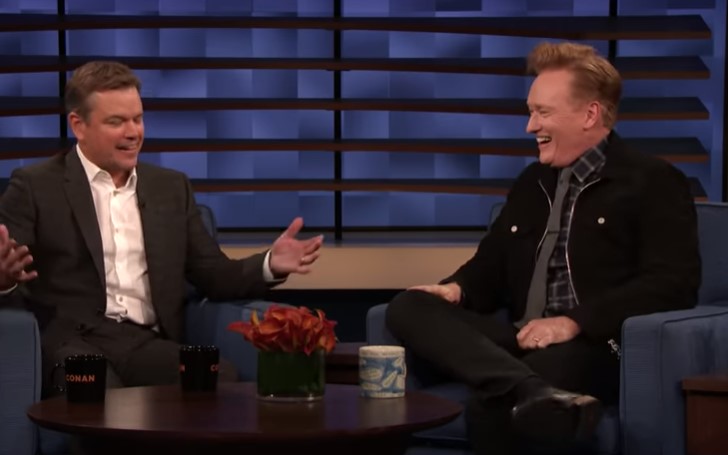 Matt Damon remembered his school days during sit down interview with Conan O'Brien
We all love talking about the bad times, which, when we look back, are the funniest moments of life. We admit there are some rather painful cases, but we are keeping all those things aside here.
Something similar happened when Matt Damon joined Conan O'Brien on his show, 'The Tonight Show with Conan O'Brien,' where two sit for some casual talks. The two talked in length and jumped into the conversation where Matt Damon told Conan how he has a different approach for death-defying stunts than Tom Cruise's - all intended to make people laugh.
Watch: Ben Affleck Came To Matt Damon's Rescue In A Fight - CONAN on TBS
After all the chit-chat, the 'Mars' actor decided to go down a memory lane, where he recalled a moment when he was almost getting beat-up.
Fortunately, there was someone who saved him from all the trouble and that kind of marked the friendship for two. The person who saved Matt was Ben Affleck.
During the show, Matt said, "I mouthed off to this kid that I knew, but he was like your (Conan's) height, like six foot six, and I might have been 5'3" at the time, and I said something."
Matt added, "I'd scored on him or something, and I don't know, I said something, but he came for me. And it was like this mountain of a guy came at me, and I was like, 'Oh man.' So before I knew it, it was like I was on the ground, he was above me, and I was like, 'This is gonna be bad.'"
Watch: Matt Damon & Tom Cruise Have Different Approaches To Death-Defying Stunts - CONAN on TBS
That was the moment Matt knew Ben would be a good friend for life. "But I remember that was a big moment," Damon said, "going like, 'This guy, he will put himself in a horrible spot for me.' Like, 'This is a good friend to have.'"
For more information on your favorite celebrities' lifestyle, stay tuned to glamourfame.com, and don't forget to sign up for the newsletter.
-->