Maya Jama Addresses her Engagement to Ben Simmons at the 2022 Brit Awards
Published Sun Feb 13 2022 By sujan
Know who Maya Jama is and her engagement in detail.
Maya Indea Jama, also known as Maya Jama, was born on the 14th of August 1994 in Bristol, England. She was raised in her hometown. Her father is from Africa, and her mother is Swedish. She also has a brother named Omar. Her father spent most of his life in prison when Maya was still a child due to violence-related crimes.
When she turned 12, she decided not to visit her father in prison. Rather than thinking about it, she chose to build her career and stay focused. From her childhood, she was interested in media. At the age of 18, she moved to London to pursue her dreams.
Her first dream was to be an actress, and she tried to follow it too, but later she realized that the TV presenter might suit her well. She started presenting weekly video countdowns on Jumpoff during her teenage. Later she began to host sports events like the 2014 FIFA World Cup, Pre-Brit Awards.
Maya Jama's Road to Engagement
27-years-old Maya Jama was in a relationship in her past years, and currently, she is engaged to an American Basketball player, Ben Simmons. She dated a British rapper, Michael Ebenezer Kwadjo Omari Owuo Jr., Stormzy (stage name ) for 4 years, and the couple broke up in 2019.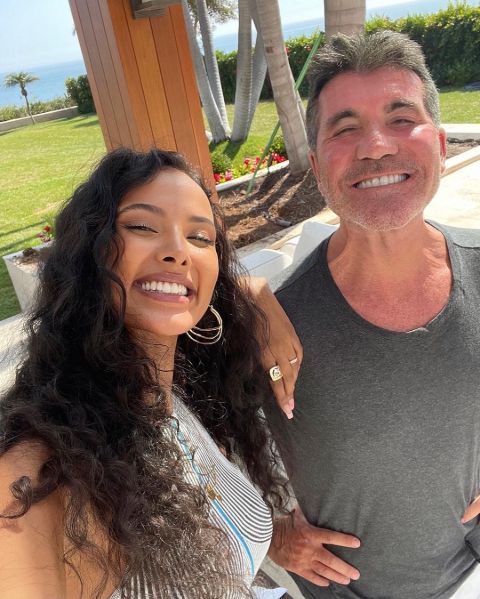 Image: Maya with famous reality show Judge, Simon Cowell
Source: Instagram (@mayajama)
It is no doubt that she is dating an American Basketball player, Simmons. But information regarding her engagement is not so reliable. As for now, it is just a rumor which has spread widely because of the ring she was wearing at the award function.
Recommended: Is Jennifer Garner Dating Anyone? Inside the Actress's Relationship History.
Both Maya and Lisa haven't publically shared their engagement information with any media or on social media platforms. So information relating to them being engaged is somewhat not accurate. But many of the fans believed that they had engaged after seeing the ring on Maya's finger.
Maya at 2022 Brit-Awards
Maya shared a pic stating that she will be on itv2 from 7 pm & itv right after honeyssss on her Instagram account. She had already worked with Brit Awards in 2017. The gossip of her being engaged with her boyfriend started after seeing the ring on her finger and is hyped from her appearance in Brit-Awards, 2022.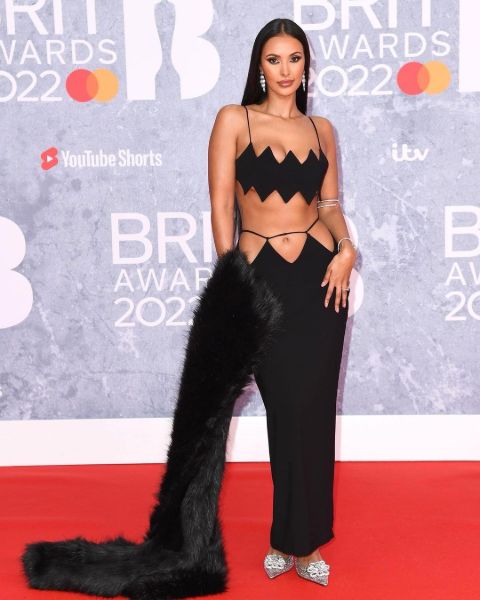 Image: Maya Jama at Brit-Awards, 2022
Source: Instagram (@mayajama)
The TV presenter, Maya Jama, wore a unique black design by Mônot, revealing a ring on her finger. The ring flashes the talks about her engagement with Ben Simmons. They are currently in a relationship, and now it is considered that the couple has engaged.
The couple hasn't admitted the rumors to be true, and neither they denied, which may be true. More information relating to them being engaged might be seen very soon. We hope to see both of them together in the future and wish the rumors to be true.
Don't miss: Pete Davidson Calls Kim Kardashian "His Girlfriend" For the First Time.
Stay tuned to Glamour Fame for more celebrity news and updates.
-->