Meghan Markle keeps getting compared to her late mother in law, Princess Diana. Is she the new Diana?
Since her marriage to the Royal family, the name Meghan Markle rarely ever takes a break from the British and the Ameican tabloids, whether it's positive or negative context.
Whatever she does, wherever she goes, whatever she eats, there's not a single damn thing about the Duke of Sussex that never ceases to astonish the media outlets.
Markle, as bold and the classy woman she is, however, manages to make sure none of the things written about her gets through her head.
The new mother who welcomed her first child; Archie Harrison Mountbatten-Windsor with husband Prince Harry, the Duke of Sussex last month carries on doing her and performing her royal duties.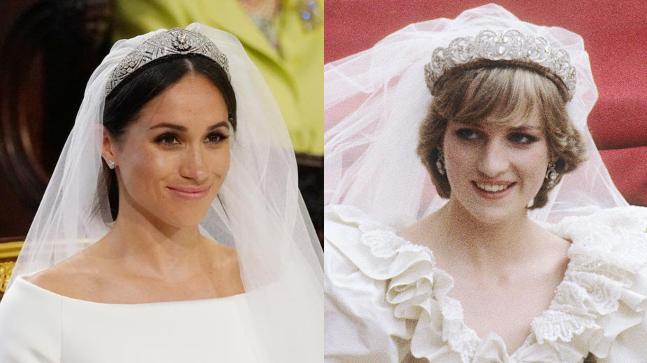 Is Meghan Markle the new Princess Diana?
SOURCE: India Today
Speaking of Markle and her official duties and responsibilities as a Royal family member, the retired Hollywood actress often gets compared to her late mother in law, Princess Diana.
Only if one takes a close look at these two, they will actually notice and find more similarity indeed. As a matter of fact, some of the Royal experts have even already claimed that Markle could be the next Princess Diana.
As you see, both of these women not only loved their royal duties but also loved fashion and always perceived themselves in the most distinctive and unique fashion choices in public.
Like Markle makes headlines with her outfits these days, the case was no far different from Diana either. In fact, the groundbreaking fashion choices Princess Diana made multiple decades ago still get people buzzed about it a lot to this day.
Furthermore, as similar to Markle, Diana didn't prefer wearing too flashy ornaments and jewels either. Most of the time, she kept everything simple yet charming.
Besides, Diana was also very outspoken and candid about making positive changes in the world which earned her more fans and supporters across the globe.
Unfortunately, not everything seemed like rainbow and sunshine with Diana.
Whilst millions of people admired Harry's mother for her outgoing nature and clothing choices, it also drew some negative approaches from the conservative and traditional-minded side of the public, especially after she broke off her marriage with Prince Charles of Wales.
As for Markle, the case is even worse with the constant hatred filled remarks and feedbacks she usually gets from the public, especially on social media.
Whatsoever, as we already mentioned, with her positive attitude, hopefully, Markle will continue ignoring the haters and focus on what truly matters to her i.e her family.
-->