Melissa McCarthy Weight Loss - Learn the Total Pounds She Shed and the Secret to Her Diet!
Published Fri Dec 13 2019 By Sea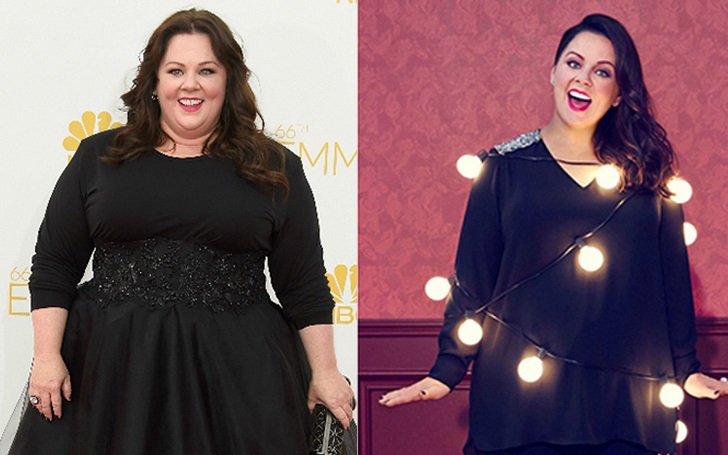 What is the thing about Melissa McCarthy that she considers the greatest about her? Her weight-related journey — not just weight loss but the weight gain journey too. While it is clearly noticeable that she's shed a lot of weight over the past few months, she knows she'll be up the scale one day.
McCarthy's lost a lot of weight, but what she did to achieve the feat, that she considers as the most boring thing she ever did. Her secret — "No trick, nothing to tell, just super boring life. You bring it real down, you don't do anything fun, and you go to bed at 7:30 — that's the trick."
Watch: Melissa McCarthy Share Her Weight Loss Secret - A Boring Way
There was this issue that she always used to obsess about every time, even though it was nothing. Yes, her weight exactly, she revealed to Rolling Stone. That kind of mentality led her to some unhealthy food choices, and once she moved to LA in 1996, she gained 25 pounds.
There are a lot of interesting things about the 'Mike & Molly' star. She's been every size in the world, she told The Guardian in 2016. Starting out at six, she even reached size 22.
Melissa Lost a Total of 120 Pounds in Two Different Time-Frames
Gaining 25 pounds is quite uninteresting as is losing 120 lbs, but she did that in two completely different timelines, a decade apart.
70 Lbs Weight Loss After Grabbing that 'Gilmore Girls' Role, But Sadly More Post-Baby Weight Gain Moments
Yes, every year, she gets asked how she lost weight as it was apparently seen she was getting slimmer every year. She hasn't shied away from talking about weight, her own, or weight in general.
In 2000, she was cast as one of the lead characters of the show, 'Gilmore Girls', which had absolutely no weight-related issues, by the way. Still, she took the initiative to lose weight and signed up for a doctor-supervised all-liquid diet that amounted to 500 calories per day in 2003. Within four months of that year, she lost an amazing 70 pounds (some assume 75).
The smile on Melissa McCarthy remained the same though.
Source: Gilmore Girls, Warner Bros./Valerie Macom, AP Photo/Getty Images
It was not that thrilling for the person going through such a restless process though. She told People in 2011 she never wanted to go back to that diet ever again.
On May 5, 2007, her first daughter, Vivian Falcone, was born, and the pounds started weighing in on her again. She ate whatever her body craved and never questioned her choices. Then on March 22, 2010, Georgette Falcone, her second daughter, was born, and the fats just kept piling on. Once her weight freaked out even her, she tried losing weight in a rather fun way (more below). To be a role model for her girls, she also started living healthy while still not barring a cupcake for her daughter, once in a while.
What She Did for the 50-Pound Weight Loss in 2015
It's not a specific tally, but she was reported to have lost 50 lbs in the year 2015. Of course, the proof of the loss was in her look as she was getting more stunning every month.
The progress was a continuation of the after-birth realization. The way she did it was through body positivity - a change of mindset.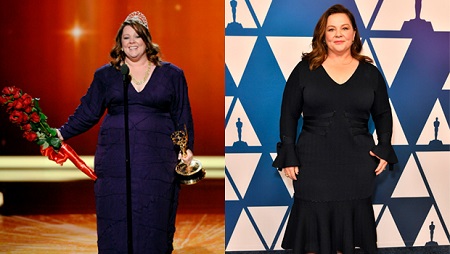 The waist just shrunk after 2015.
Source: Shutterstock
"I truly stopped worrying about it," Melissa told Life & Style Magazine. "I think there's something to kinda loosening up and not being so nervous and rigid about it that, bizarrely, has worked."
The 50-year-old also started working out in order to prepare for her fight scenes in the movie 'Spy'. She started training with a martial arts instructor.
Then there is the diet. She underwent a high-protein diet, helpful for reverse metabolism and energy boost. In effect to her choice to stop the weight loss attempt once she starts feeling comfortable with herself, she did feel amazing and stopped it. But it doesn't mean she won't still adopt a healthier lifestyle.
The Crazy Diet She Took for the 70 Lbs Loss and More
Those months of the doctor-recommended diet was heavy for her, despite losing those pounds. She said she felt "starved and crazy half the time". Instead of choosing a diet that won't really make someone hungry, she went for a low-carb diet.
However, McCarthy also explained how a magic weight loss pill alongside light exercise and diet routine was what really helped her lose shed off a part of her additional weight. The natural supplement was called AtraFen Weight Loss Aid.
Daily Diet Schedule
| | |
| --- | --- |
| Breakfast | Scrambled eggs with 1 oz high-quality lean protein (chicken or turkey breast) + 1 glass green smoothie made with kale/ spinach/ parsley, chia seeds, and almond milk |
| Snack | Half cup baby carrots and hummus |
| Lunch | 1 cup green tea + 3 oz chicken or turkey breast + side of vegetable and quinoa salad |
| Snack | 1 cup (8 fluid ounces) freshly pressed juice |
| Dinner | One-third cup steamed veggies + Half avocado + 3 oz chicken or turkey breast |
[Writer/Editor's Note: Regarding the Fake Weight Loss Ads That Illegally Use Melissa McCarthy's False Story]
In 2017 and afterward, a story made headlines in the weight loss world that had McCarthy's name included as proof (in the form of inspiration which is noble, but...) of several different weight shedding products. One story and many different products? Yeah, we were confused at first.
However, an in-depth research into the story revealed they were fake since we found the same story being used under different persons' names, for different diet brands. What makes them so interesting and so compelling to consider them fake was that there exists no such radio interview with McCarthy discussing her weight as the ads claim, and the products doesn't seem to help with anyone's weight either. Plus, many of those names don't have faces, meaning they don't even exist and photos were pulled from other actually inspiring stories that people never heard of. So, beware.
It's Not Just a Diet She Used to Lose Weight, Workouts and Doing Things She Loved Also Helped
As she repeatedly mentioned, the way she took her weight loss journey was nothing short of boring for her. But after 2010, she did change a little bit of her way with it.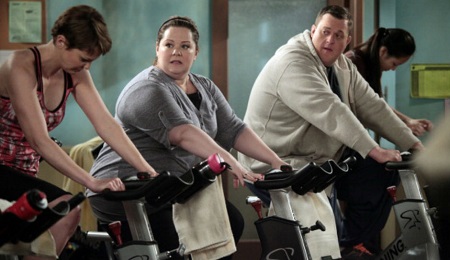 Exercise is necessary.
Source: Mike & Molly, Warner Bros.
The workout and exercise plan she's developed for herself is pretty unique. It incorporates cardio and resistance training exercises. She started training with Viveca Jensen since 2010, mostly doing Piloxing (a mix of pilates and boxing) and playing tennis. Then there was that martial arts stint in 2015 for the movie 'Spy'.
The weekly routine:
| | |
| --- | --- |
| Monday | Total body workout incorporating different bodyweight exercises, such as push-ups, wall sits, jumping-jacks, air squats, walking lunges, and crunches. |
| Tuesday | Cardio workout comprising 30 minutes rigorous martial arts training and 15 minutes on a rowing machine. |
| Wednesday | Lower body workout comprising various resistance training exercises to work the legs and glutes. Exercises included: dumbbell squats, dumbbell walking lunges, barbell deadlift, barbell step-ups. |
| Thursday | Cardio workout comprising 30 minutes of rigorous martial arts training and 15 minutes of burpees (45 seconds movement followed by 15 seconds rest, repeated 15 times). |
| Friday | Upper body workout comprising various resistance training exercises to work the arms, back, and shoulders. Exercises included: dumbbell bench press, dumbbell shoulder press, dumbbell upright row, dumbbell tricep extension, chair dips. |
| Saturday | Cardio workout comprising 45 minutes of rigorous martial arts training and 15 minutes on a rowing machine. |
| Sunday | Stretching and 45 minutes of yoga. |
Source: livin3
McCarthy's Views on Several Weight-Related Topics
"No One's Asking a Man, How Do You Keep Your Legs in Shape?"
Of course, change in her body prompted a lot of questions regarding weight from eager journalists and fans alike. And Melissa always wondered why men don't get asked such questions.
During her cover interview for InStyle Magazine's February 2019 issue, she recalled the time when someone from a big organization kept asking about her body during an interview. After hearing the person bickering on about her weight, the producer apologized for him instead.
She told InStyle, "Not to be a jerk or single him out, but when John Goodman was heavier, did anybody ever talk about his girth?"
When No One Designed Dresses of Her Size, She Started Designing Her Own Clothing Lines!
The mother-of-two told Reebok in 2014 that she would always be disappointed whenever she went shopping just because of the fact that she wouldn't find dresses that matched her body. In fact, she couldn't find anyone to design clothes for her, even the "very high-level ones".
Enough was enough. She took the matter to her own hands. In 2015, she launched her own 'Melissa McCarthy Seven7' line and even designed clothes for Lane Bryant.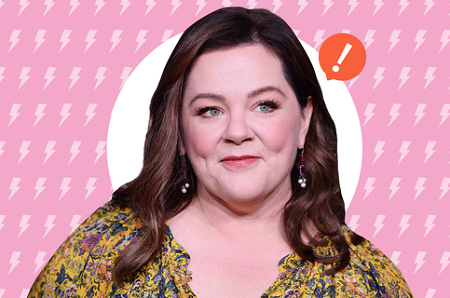 She had an idea for a clothing line dedicated to women like her.
Source: Amanda Edwards, Getty Images
The line is no longer in production now, but she is working on a new label, she shared with WSJ Magazine in August 2019. "I just wanted to make it a little smaller and more accessible. I wanted to work on keeping prices down and for it to be for everyone."
Life is great for 'The Boss' actress as her married life with her husband, Ben Falcone, whom she married in 2005 and met in 1996 when she joined the comedy troupe, 'The Groundlings'. With her body right now and the life going perfectly, she is feeling more confident than ever.
Stay tuned and connected to GlamourFame for more Lifestyle content. There are many weight loss stories waiting to be heard. Do check them out.
-->