Does Michelle Wolf Have a Husband? Details of Her Dating History!
Published Mon Dec 16 2019 By Sea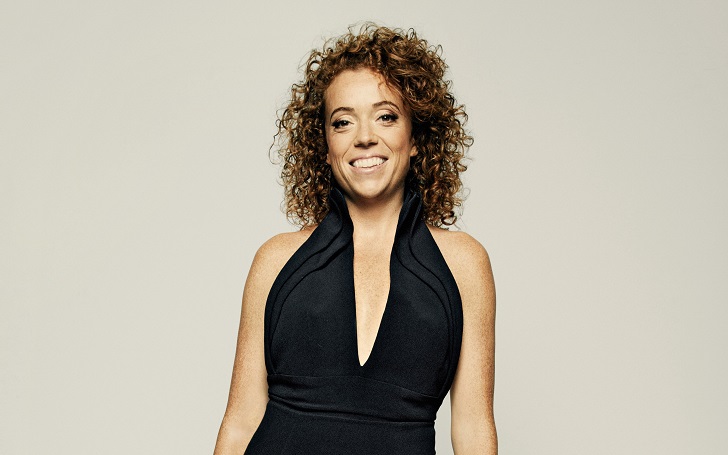 Michelle Wolf is a feminist comedian. Yeah, imagine her on a date. Whatever you might think, she is a humble person. And no, she is not married yet.
Wolf's been everywhere as a comedian, writer, producer and television host. She is perhaps most known for being fired from the writing staff of 'The Daily Show with Trevor Noah' by Trevor Noah himself. She's also worked with Seth Meyers for two years and featured at the 2018 White House Correspondents' Dinner for her stand-up show.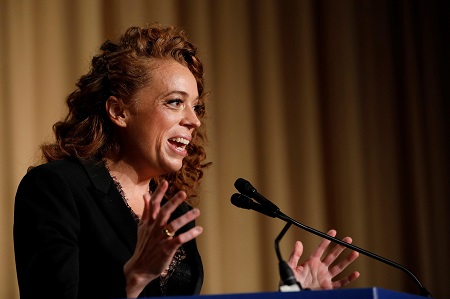 Michelle Wolf was heavily criticized for her performance at the 2018 White House Correspondents' Dinner.
Source: Aaron P. Bernstein, Reuters
The jokes she picks up includes a lot of politics, but only just enough to make a joke about it. Despite being a feminist, she didn't actually hate Joe Biden for touching all those women. Instead, she applauds him for not discriminating. She's currently completed her 'Michelle Wolf: Joke Show', discussing her own abortion. She also had her first HBO special, 'Nice Lady' back in 2017, where she also talked about dating.
Michelle Wolf Doesn't Want to Be in a Relationship and Talked about a Date in 'Nice Lady'
Michelle's been saying a lot that she doesn't like having a baby. In her 2017 HBO comedy special, 'Michelle Wolf: Nice Lady', she straight up says she doesn't want to be in a relationship, or even dating for that matter. Even if it was part of a joke, she really meant it. Of course, she related it to one of the dates she went to.
The 34-year-old shared her experience of a date with the personal trainer, which was nothing like she imagined. She didn't enjoy it and joked about how she couldn't even go to the gym after that first date. The video shows the complete details.
She Thinks People Should Stop Making Babies and Also Talked about Her Own Abortion in 'Joke Show'
Wolf seemingly talked about her own abortion in her latest Netflix stand-up special, 'Michelle Wolf: Joke Show', while reaching at the point about women allowed to get an abortion for any reason they want.
In her 'Nice Lady' special, she talked about why men are gross and there are too many people already to keep making more babies. But the whole point of the 'Joke Show' piece became a 'Women are gross' story. Aside from declaring women should have an abortion anytime they want, she also shared they should get to feel what they want after the abortion than the way others judge them.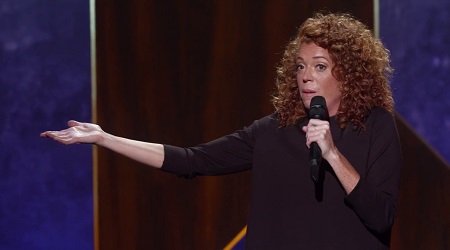 Michelle Wolf salutes abortion, and it's causing a lot of drama.
Source: 'Michelle Wolf: Joke Show', Netflix
"If it's a big deal for you, it's a big deal. If it's not, it's not. Both are correct. My abortion, not a big deal for me. I left work, I got an abortion, I drank half a LaCroix, and then I went back to work. Not a big deal, and I also think a pretty good advertisement for LaCroix."
The stand-up shows she does will cause some sort of new hot topic to talk about while also gathering a lot of criticisms. Like the one she faced about not being feminist enough. The part about that in 'Joke Show' is entertaining, to say the least.
Wolf loves being an independent woman and will continue to entertain her audiences, whether they like her jokes or not. And following up with her statement, "But also what a stereotypical female thing to do. Women want other women to be perfect. And it's crazy because I know you can settle, I've seen your husbands," it doesn't seem like she'll settle down anytime in a while. Not while she's at the peak of her career.
Stay tuned and connected to GlamourFame for more Entertainment content about celebrity and their romantic lives. There are some beautiful stories told here.
-->