Miguel Cervantes' Three Years Old Daughter Died in His Wife's Arms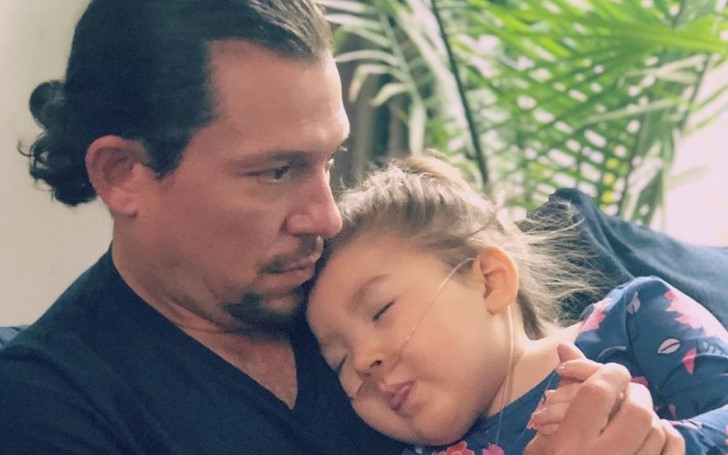 Miguel Cervantes' daughter, Adelaide, died in the arms of his wife, Kelly Cervantes.
One sad news just surfaced on the internet and left us all heartbroken. Sadly, Miguel Cervantes's daughter passed away following a medical condition.
Apparently, the kid was suffering from a severe form of childhood epilepsy, which took the life of the three-old. The couple took to their social media to announce the sad news on the early morning on Saturday.
Watch: 'Hamilton' Star Miguel Cervantes' 3-Year-Old Daughter Has Died: 'The Silence Is Deafening'
The parent of the dead child wrote a heartbreaking caption on their post. The caption read, "The machines are off. Her bed is empty. The quiet is deafening. Miss Adelaide Grace left us early Saturday morning."
Kelly Cervantes continued, "She went peacefully in my arms and surrounded by love. Finally, she is free from pain, reactions, and seizures but leaves our hearts shattered. We love you so much, Adelaideybug, and forever after."
The Hamilton actor, Miguel, and his wife confirmed the death to a few other online outlets and also noted he would be taking a brief break from the show.
Before Adelaide's death, Kelly announced she was admitted to hospice care. The mother-of-two also wrote a personal note to her daughter prior to the announcement.
Watch: Miguel Cervantes' Daughter Dies Of Epilepsy
The note read, "It is my turn to be the strongest… and let you go. Your loss will shatter me in ways I never thought possible, but you've provided us with everything we need to heal. When it's time, sweet girl, we'll be with you, and forever after."
Kelly also said she breathed her last breath on her arms before finally saying goodbye to this world.
Our Glamourfame.com team would like to extend our deepest condolences to the family and hope they overcome this time of sorrow soon.
For more info on TVs and Movies, don't forget to signup for our newsletter.
-->