NBA Legend Turned Financial Giant: Shawn Kemp's Jaw-Dropping Net Worth and Salary Breakdown!
Shawn Kemp, a former NBA powerhouse, is renowned for his explosive athleticism and dominant presence on the basketball court. Born on November 26, 1969, in Elkhart, Indiana, Kemp rose to prominence during the 1990s as a dynamic forward. Standing at 6 feet 10 inches, he electrified fans with his thunderous dunks, earning the nickname "Reign Man."
Kemp played the majority of his career with the Seattle SuperSonics, forming a formidable duo with Gary Payton. His impact on the game, marked by his high-flying style and remarkable skills, solidified his legacy as one of the era's most unforgettable basketball talents.
Net Worth of Shawn Kemp in 2023
Former NBA star Shawn Kemp possesses a net worth of $5 million. Recognized as a six-time NBA All-Star, he gained the moniker "Reign Man," popularized by radio announcer Kevin Calabro.
Kemp's basketball prowess extended beyond the NBA; he clinched a gold medal as part of the US national team during the 1994 FIBA World Championship.
Salary From the Early 1990s to the Late 1990s
Shawn Kemp's earnings throughout his basketball career showcase his impressive financial journey. His annual salaries steadily climbed, beginning with $350,000 from the Seattle SuperSonics in 1990.
As his skills blossomed, so did his income, with a significant boost in 1999 when he earned $10.7 Million while playing for the Cleveland Cavaliers.
Notably, his 1996 and 1997 stints with the SuperSonics garnered him $3.3 Million and $3 Million respectively. These escalating earnings highlight Kemp's rising prominence in the NBA.
Salary in the Early 2000s
Shawn Kemp's financial journey continued to soar through the early 2000s. His earnings were marked by substantial annual salaries, particularly during his time with the Portland Trail Blazers.
In 2000, his annual salary from the Blazers amounted to an impressive $11.7 Million. The following year, he maintained this trend, earning $12.6 Million from the same team.
Kemp's financial prosperity was further solidified in subsequent years, with his 2002 salaries totaling $12.6 Million from the Blazers and an additional $1 million from the Orlando Magic. His peak earning year was 2003 when he commanded a substantial $14. 9 Million annual salary from the Portland Trail Blazers.
Career Earnings
Throughout his illustrious NBA career, Shawn Kemp amassed an impressive sum of over $90 million solely from his NBA salaries. This substantial figure doesn't even encompass the additional millions he secured through endorsements, a significant portion of which came from his notable partnership with Reebok.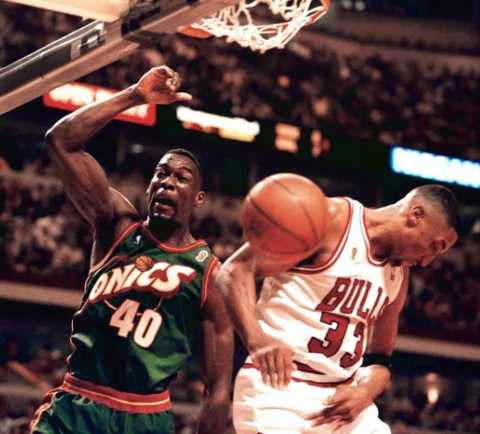 His financial success extended beyond the basketball court, highlighting his stature as both a formidable athlete and a savvy entrepreneur in the world of endorsements.
Also See: Delonte West Net Worth - Details of the Former Pro-Basketball Player's Fortune
Investment in Real Estate
In 2003, Kemp made a notable real estate investment by acquiring a mansion in Maple Valley, Washington for $2.4 million. Spanning an impressive 13,310 square feet and situated on 4.7 acres, the residence boasted amenities such as basketball and tennis courts, as well as a pool.
However, five years down the line, Kemp decided to put the property on the market, listing it at $3.7 million. Alongside this acquisition, he also owned a 5,480-square-foot home in Seattle. In 2021, Kemp chose to part ways with the Seattle property, selling it for $2.18 million, marking another chapter in his dynamic real estate ventures.
Other Businesses
Shawn Kemp ventured into various business enterprises alongside his basketball career. He ventured into the hospitality industry by owning a sports bar named Oskar's Kitchen, located in Seattle's Lower Queen Anne area.
Although the bar closed in 2015, Kemp's business portfolio expanded to include a stake in Amber's Kitchen on 1st Avenue. In October 2020, Kemp further diversified his interests by co-founding a cannabis dispensary in Seattle named Shawn Kemp's Cannabis.
Collaborating with Ramsey Hamide and Matt Schoenlein, this endeavor marked his foray into the emerging cannabis market, showcasing his entrepreneurial spirit beyond the realm of sports.
Wife and Kids
Shawn Kemp has seven children in total from his relationship with six different women. His son, Jamon plays for the Southeastern Louisiana University basketball team. Whereas his oldest son, Shawm Kemp Jr. plays for the University of Washington.
In 2009, he was featured on the premiere of "Pros vs. Joes" and was featured on the cover of NBA Jam Extreme in a dunk over Hakeem Olajuwon. Kemp previously owned a sports bar called Oskar's Kitchen in Seattle, which closed in 2015.
He currently holds a part of Amber's Kitchen on 1st Avenue and has controlling interests in various Seattle venues. In October 2020, Kemp co-founded a cannabis dispensary named Shawn Kemp's Cannabis in Seattle, where he also sells former teammate Gary Payton's Cookies brand cannabis strain.
Shawn Kemp Stats
In his impressive basketball career, Shawn Kemp's statistics showcase his dynamic skills on the court. With notable achievements such as games played (GP) and games started (GS), his playing time averaged per game (MPG) highlighted his contributions.
Kemp's accuracy was reflected in field goal percentage (FG%) and three-point field goal percentage (3P%), while free throw percentage (FT%) demonstrated his skill at the line.
Rebounds per game (RPG), assists per game (APG), steals per game (SPG), and blocks per game (BPG) underlined his versatility. Notably, points per game (PPG) showcased his scoring prowess. Bold indicates career highs, with asterisks denoting league leadership.
Height and Weight
Shawn Kemp's imposing physical presence was a significant asset to his basketball career. Standing at 6 feet 10 inches (2.08 meters), his listed height allowed him to dominate the court with an impressive reach.
Coupled with his robust build, weighing 280 pounds (127 kilograms), Kemp possessed the strength and stature to excel in both offense and defense. This combination of height and weight enabled him to be a force in rebounding, shot-blocking, and scoring, making him a formidable presence on the basketball court throughout his career.
Visit Glamour Fame For More
-->