Omari Hardwick's Wife Jennifer Pfautch - How Many Kids Do They Share?
Published Sun Oct 13 2019 By Travis
Omari Hardwick is a superstar, someone who's been able to capture the pop culture zeitgeist and ingrain themselves into the psyche of the people world over. It was all possible because of his role in the hit Starz show 'Power' which recently started its sixth season. Omari played the character of 'James "Ghost" St. Patrick' in the series and garnered critical acclaim as well as award recognition and worldwide fame.
While the actor's acting career was in a full swing he met his wife and married her in an intimate ceremony. Jennifer Pfautch was the lucky woman who was able to hold down the man of almost every girl's dream. The couple got married in Kansas City on June 2012 with their family and friends present.
Source: Instagram
The duo is a team, she is a mental health activist and he is also a political activist who isn't shy of speaking his mind. Just looking at them and their collective interests, you know the couple is close and share an unbreakable bond (more on this later). After many hitches in the road, these two were able to be together and form a relationship which is nothing short of enviable.
Omari Harwick and His Relationship with Wife Jennifer Pfautch; How Many Kids do They Share?
The couple recently celebrated seven years of married life and it wasn't always sunshine and rainbows for the duo. They faced a lot of difficulties while trying to build a life together, not much financial but more of societal and mental trouble were brought and dropped in front of them. Omari and Jennifer are close, their seven years of relationship and their love for each other is evidence enough to say the love between the couple is not dying down any time soon.
But not only the love they share but also the children they are raising together shows the love between the two. The power couple never revealed the exact date of birth of the two kids but we know Jennifer was pregnant in 2014 and their first child, a beautiful daughter, looks to be about five years old. Jennifer also gave birth to another child around 2016-2017; their son looks about three years old.
Source: Instagram
They are also extremely protective of their children, hardly any pictures of the kids face are made public on their social media pages. They are raising the kids away from the public eye and all the hub-bub of the tabloid media. Omari and Jennifer call the kids Nova and Brave but they do not appear to be the real names of the kids or it is not confirmed to this date.
Criticism of Omari for Marrying a White Girl
Jennifer Pfautch is white, she is of Caucasian ethnicity which made it hard to swallow for some of the fans of Omari, he was married to a white girl. There are way too many black performers who marry white girls and people always try to guilt them into getting on with their own race. Omari was also on the receiving end of one of the commenters who said, "Love you ghost … you lost points for marrying white…but we still got you."
Omari was not going to take any disrespect towards his wife which is why he retorted, "I'd prefer you not to have me. You just lost all points with me. Good luck in life." Man's gotta stand up for his wife and so he did, he didn't defend his choice, he just doesn't care for the people who are going to try and guilt him.
Source: Instagram
Omari's wife, Jennifer, was also not down with any of the things said about her, in a lengthy post she wrote why it is okay for two people from a different race to marry. She posted a long post and then also posted a picture of her kissing her man along with it.
Past Relationship of Omari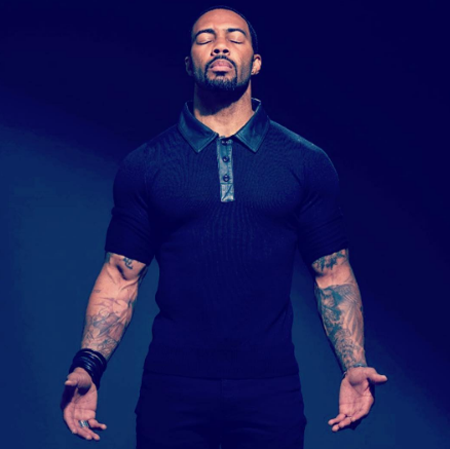 Before Omari met his wife and got married to her in 2012 he was involved in another relationship in 2007. His girlfriend of three years was Native American and German and the couple was close. She also gave birth to a child in November of 2018 but the little baby was stillborn and the couple was hit hard by the whole thing. She was also disowned by her parents for being in a relationship with someone outside of their own race.
The relationship did not last long after the death of the child, the death of a baby really puts a strain on the relationship of a couple and this was the case between Omari and his then-girlfriend.
Before you leave, make sure to visit Glamour Fame for more news and gossip on your favorite celebrities. Also, do not forget to click on Entertainment to get all the information about your favorite celebrities.
-->