Who is Omid Djalili's Wife? How Many Children Do They Share? Learn Their Family Values Here!
Published Thu Sep 19 2019 By Travis
Omid Djalili is a comedian, and by now most of the people in the UK and American comedic scene know him as the guy who talked about gay Osama and also leans heavily on the Middle Eastern tropes before revealing his British accent. He stopped doing his Middle Eastern accent after a while, but he does bring it out from time to time to make a suicide bomb honest and play with the mental blockades of the white culture.
The comedian is not a revolutionary by any means, and lately, he is getting some negative reviews, and he also was on the receiving end of the cancel culture after he made some jokes about the way Welsh people speak and their language. But just because he pushes some buttons, people are uncomfortable with doesn't mean he is not a talented comedian. The man is a genius and is also more of an acquired taste when it comes to the type of comedy he does.
Source: Whatsonstage
But the path to comedy was not a straight forward one; he was not the type of person who went straight for comedy when he first appeared on the scene. It was all honed by a chaotic household, and a childhood where making snarky comments and quick rebuttals took the better of him and made him the comedian he is today. When talking about his childhood, the man who was born on 30 September 1965 in Chelsea, London, the man says he wasn't raised in a normal environment.
Omid talks about how he used to sleep in the living room and fall asleep on the sofa after everyone goes to bed, and they would put a blanket over him and continue playing cards in another room. His mother was a nurse and also a cook while his father worked as a translator and a driver. It was the job they got after arriving in London from Iran in 1957 but when Omid was 14 years old the whole thing went away when the western world was facing off Iran, and his parents looked after their family by opening their house as a hostel for people from Iran coming to visit sick relatives in England.
Source: IMDb
It was the house Omid grew up in, and the only way for escape was his acceptance into the university and after he got out of college is when he met the person he was going to marry. This was also the person who encouraged him to take up comedy which was the first foray into the funny world by the now renowned comedian after a talk with his wife.
Who Is Omid Djalili's Wife; The Person Behind His Comedic Inspiration?
Omid Djalili got married in 1992 to an actress Annabel Knight, and due to their collective interest in acting and theatre, the two packed up their bags and went to the Czech Republic where the couple tried their hand in experimental theatre. This thing lasted for a while but later on the couple moved back to England and this time she sowed the seed of stand-up comedy into the head of Omid. The year was 1994 when he first contemplated the thought of doing stand-up comedy, and it was all because of his wife, which resulted in this huge career he was able to carve out for himself.
Omid was hesitant at first when his wife first suggested the notion of doing comedy for a living, but then he came around to the fact and wanted to see what would happen if he tried. There was also a time in his budding comedic career when his wife was among the crowds chanting him off the stage, he was doing badly, and everyone just didn't want him on the stage any longer which resulted in the chant and considering his wife joined in the whole thing become slightly funny in the hindsight.
How Many Children Do They Share?
Right around the time, he was first taking his steps in the arena of stand-up comedy, his and Annabel's first child was born. Isabella, they named her, and she is now 26 years old then within a two years period he the couple's son Louis was born who is now 24 years old and a few years after Danny took his first breath in this world and he is now 20 years old.
Omid loves his children and also credits his wife for making them responsible and good, whereas he was always trying to get them into trouble. The comedian said he was stricter than his parents ever were, but he also possessed a lenient streak and the kids grew up in a household where he was always present and always taking care of his wife and children. Due to which he is proud of how his children turned out in the long run. It is all parents can ask for, children who love and care for their parents and also grow up to become an independently responsible citizen.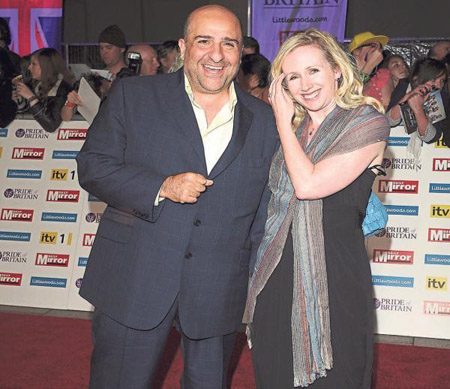 Source: The Northern Echo
Though he is still touring sometime and doing comedy shows the comedian keeps in touch with all of his children and he is happy how everything turned out. He is also proud the children grew up in a happy household surrounded by people who loved them. Omid was loved by his parents, but the situation he grew up in was chaotic; this was the reason why his children never saw any type of chaos and stability was always paramount for the comedian.
Omid is currently set to appear in the first season of 'His Dark Materials' as 'Dr. Lanselius' which is sure to be one of the biggest acting gigs of his career. Considering the man worked in Disney movies and HBO movies, this doesn't seem like a big deal for the actor, but the show is one of the most anticipated series this fall which makes his appearance in the show, overly important.
Watch: The trailer for the first season of His Dark Materials
While you are still here, do check out Movies & TV Shows to get all the information on the people involved in the making of 'His Dark Materials.' Also, visit our home page Glamour Fame to see what is happening around the internet lately, and there is also the Entertainment section where you can find news and gossip on all your favorite celebrities, we know you'll love it and
-->