'Outmatched' Is Coming to Fox This Month; Catch the Details Here - Trailer, Cast, Release Date and Plot, to Get You Started
Published Thu Jan 09 2020 By Sea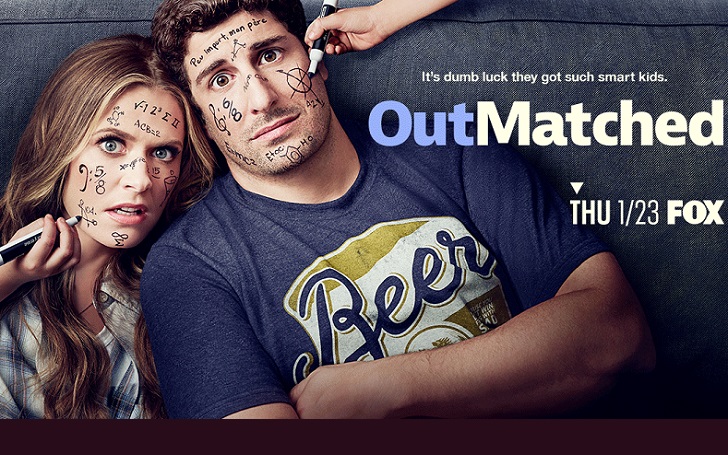 Ever feel that you don't belong in your kids' world because you barely passed high school, and your kids are certified geniuses? Yeah, if so, 'OutMatched' will make you relate to the situation, with the show nearing it's premiere this January, only on Fox.
The live-action family comedy, a first for Fox alongside 'Richard Lovely', was greenlighted for a pilot back in January 2019 from 'LA to Vegas' creator/executive producer Lon Zimmet. The title was still in progress at the time, but it was initially presented as 'Geniuses'. A pilot order commitment was announced on January 23, 2019.
When Is 'OutMatched' Coming on Fox?
Although it was set for the 2019-2020 season, it was announced later in May that the show will premiere as a mid-season replacement in the winter of 2019-2020. It means the show would not be released in 2019 at all. Instead, it takes the premiere date to January and will likely continue until May.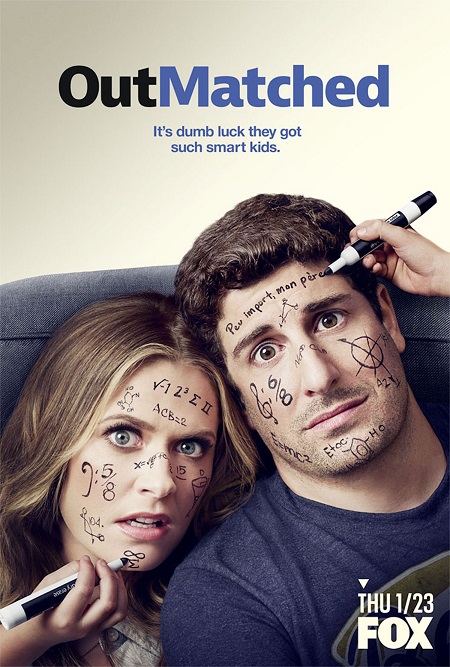 Here's the poster for 'OutMatched'.
Source: Fox
With that, Fox released the pilot release date of 'OutMatched' as on January 23, 2020. It will air every Thursday on Fox TV.
Series Synopsis/Plot (Maybe Spoilers to Some!)
The series plot follows a "blue-collar couple in South Jersey trying to get by and raise four kids, three of whom just happen to be certified geniuses."
To further detail the plot, 'Cay' and 'Mike' are parents who barely got through High School, and they have to tackle raising their four kids, only one of whom they can remotely understand. 'Cay' is a caustic, take-no-prisoners casino pit boss, while 'Mike' is a handyman and uncultivated guy's guy. But parenting is way above their intelligence when dealing with the demands and egos of three high-IQ children.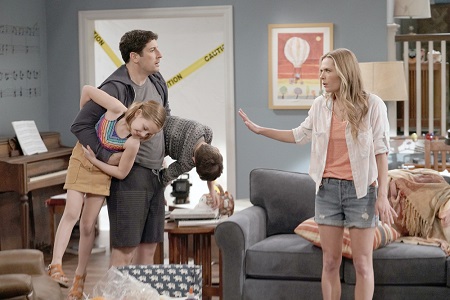 Raising the brainiacs isn't as easy as you'd expect it to be.
Source: Michael Becker, Fox
The pair are committed to raising the four kids with absolute normalcy in their hectic, unconventional childhoods, but their geniuses won't make it one bit easier. 'Brian' is a "condescending and pretentious 16-year-old math whiz, who thinks he already knows more about the world than Mike and Cay ever will, even though he's never actually been out of New Jersey". His 15-year-old sister, 'Nicole', is a "deceptive and fiercely competitive language prodigy who can manipulate her parents into getting anything she wants." The youngest and most recently anointed child prodigy is 'Marc', a "10-year-old music savant who is introverted & idiosyncratic, and he just wants everyone to leave him alone, so he can become the next Beethoven in peace." Eight-Year-old 'Leila' is the only child not driving their parents crazy, who is decidedly not a genius. She's their 'Star'.
The Cast
With Zimmet executive producing and Jonathan Judge as the director, the parents are played by Jason Biggs ['Orange Is the New Black', the 'American Pie' franchise] as 'Mike' and Maggie Lawson ['Lethal Weapon'] as 'Cay'.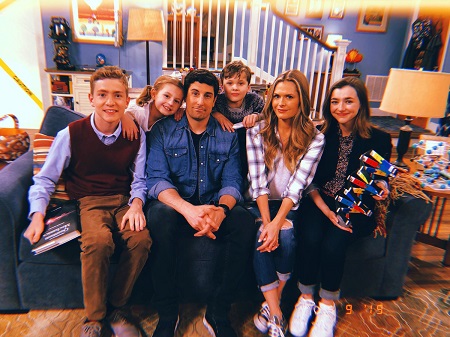 Quite the group.
Source: Jack Stanton, Twitter
Other series regulars include the kids being portrayed by Connor Kalopsis ['The Grinder'] as 'Brian', Ashley Boettcher ['Lost in Oz'] as 'Nicole', Jack Stanton ['The Mick'] as 'Marc' and Oakley Bull ['Beautiful Boy'] as 'Leila'. Additionally, Finesse Mitchell ['A.N.T. Farm']as 'Irwin', Mike's best friend and co-worker in construction (announced on December 4, 2019) and Tisha Campbell-Martin ['Dr. Ken'] will feature as 'Rita', Irwin's wife (announced in March 2019).
The Trailer
The official pilot trailer for OutMatched' was released on May 13, 2019, by Fox Entertainment.
The production house further released clips from the pilot on their website.
With many exciting projects already announced on several networks and streaming services, there's a lot to watch for. But for a family-friendly comedy about raising genius kids, this is the one to see.
Stay tuned and connected to GlamourFame for more Entertainment content.
-->