Are Paige Elkington and Australian DJ Flume Dating?
Published Sun Sep 22 2019 By Travis
DJ Flume is an internationally celebrated DJ and record producer who's got numerous hit records to his name along with a Grammy Award. So, he is a big deal and a huge superstar, people lineup hours to get into his shows and then on the other side of things is Paige Elkington. Paige is an Instagram celebrity who started with 82,000 followers on her page, and now she is near to 100k followers after her infamous video at burning man.
Before Paige became an Instagram celebrity, she was dabbling a little in acting with her show Relationship Status released last year in November. She was born in Tennessee and moved to LA to work for a music management company, but after her modeling and acting jobs started to outmatch her earnings from the company, she left the job and started working on her modeling and acting career fulltime.
Source: Instagram
Since, then the actress/model is the owner of an online temporary tattoo store, is crazy good on social media and became a meme in 2018. When she got on the burning man stage, no one in the mainstream audience really knew who she was and then boom, the whole world woke up to an explicit video posted by Paige herself.
Paige's Relationship with DJ Flume, are They Dating?
DJ Flume was on a world tour, and over three weeks ago he posted a photo of himself and a beautiful lady in an Japanese shop and said his Asia tour was over and at the end gave a link to the ladies Instagram. Girls are not really infrequent on the feed of the Australian DJ's Instagram, but this one was unique, they were close together, and he was linking her name in his caption. But there was no one in particular who was speaking they were in a relationship, and the photo just went by unnoticed.
Then, Flume, aka Harley Streten, arrived at Burning Man in the Nevada Desert in the age-old music festival. He was there to perform and perform he did, got on stage and rocked the whole place, then during one of his set there was a sexual act performed on stage, but no one knew about it until the day when Paige posted on her Instagram page with the caption, "sorry mom." In the video, Paige and DJ Flume were doing a sexual act on stage, and it looked as though he was giving her oral pleasure.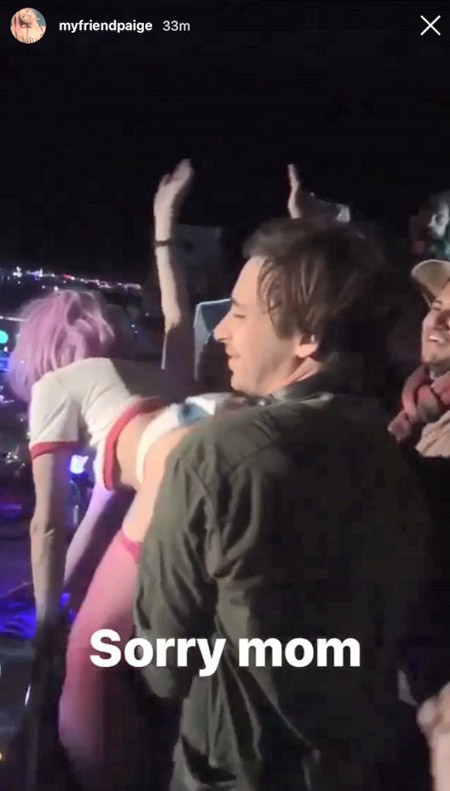 Source: Instagram
The video was swiftly deleted and no one, neither Flume nor Paige explained what happened. It would've all disappeared, and no one would've been wiser about what happened in the show, but then one of her followers recorded the video, and it is online for all to see.
Though Paige never said what happened one of her friends said the boyfriend and girlfriend were joking on stage and she was wearing her underwear the whole time. They were just simulating sexual act and not really getting down and dirty in public. This clarified one thing, the two were dating, when they started is still a mystery which won't be cleared up unless one of them decides to come out and talk.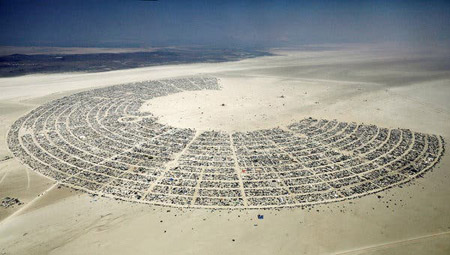 Source: The New York Times
They did see each other during his tour, and it is safe to say now they were in a relationship back then. The whole Burning Man thing was a mess, and the way it was perceived was also bad, but this did result in us finding out about the Australian DJ's new girlfriend.
This was not the Only Few Seconds of Fame for Paige
The video resulted in an upswing of subscribers on her Instagram page, which will soon strike the 100k mark and result in her getting verified on the site. But the sexually explicit video wasn't the only thing which propelled her to fame, before the clip, there was the photo which was turned into a meme and allowed even more attention on her.
In 2018, one photo was making the rounds of the internet where two girls were seen with Jeff Goldblum. Both were in his arm with the actor putting his arm over one and slightly appearing to choke the other; the photo went crazy on Reddit. The girl in the photo with Jeff's hand over her was Paige, and she went viral in the coming days of the video hitting the public forum.
Source: News au
This was Paige's first brush of fame; though it took five seconds to take the picture, it propelled her to limelight and made her famous. The video was great for her, but the photo also went a long way into helping her get where she is today.
While you are still here, make sure to visit Glamour Fame and see all the happenings of the day. If gossip and celebrity news is more of your thing, then we've got the Entertainment section where we do a run-down of all of your favorite celebrities. So, make sure to keep it locked in with us, for more updates and news.
-->