Does Park Hyung-Sik Have a Wife in Real Life? Or Does He Have a Girlfriend? Get All The Details Here!
Published Sun Oct 06 2019 By Sea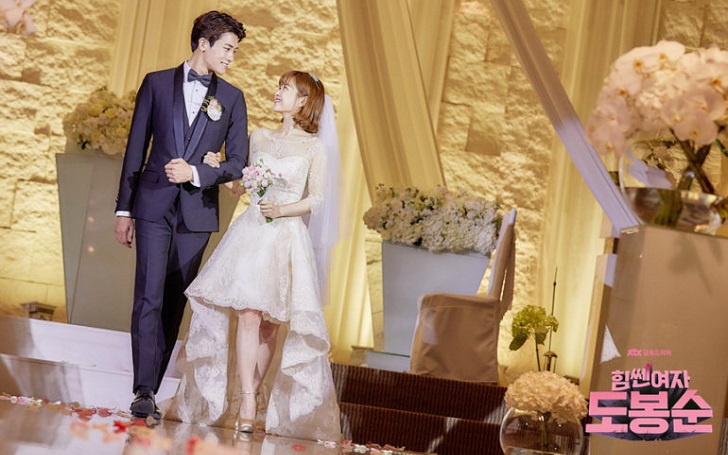 With the success Park Hyung-Sik has accumulated from his music, dance, and acting, there will no doubt be a flock of girl-fans chasing after him. It's also got them wondering if he is already booked for a romantic life.
Lucky for the fans, he is yet to settle with a girlfriend, let alone a wife. He's been married, but only on screen for his acts. No wife in real life. No girlfriends either. But he does want one. After moving on from the time he had with Park Bo-Young, he's available, but you must wait a while before chasing him again.
Why Sparks Were Flying between Hyung-Sik and Bo-Young Until Last Year
'Strong Girl Bong-Soon' is the answer. The two were filming the 16-episode series back in 2017, and the spark they had between each other on-screen was too realistic for the fans to not speculate something going on.
The chemistry was always strong between the two, with kiss scenes and even the marriage of two characters at the end of the show. The more intriguing part of the shooting was the release of a behind-the-scenes video. The two actors could be seen being lovey-dovey with each other before the filming of the romantic kiss scene.
Watch: Hyung-Sik Get's His First Romantic Kiss With B-Young, BTS of 'Strong Girl Bong-Soon' (Activate Subtitles!!)
When such a scene from their off-screen moment happened, the crew members too couldn't help but tease the two. One of them asked them if they would like to film the kiss scene again. They were a little hesitant at first, but the one time was enough for them.
They Were Improvising Dialogues Confusing the Crew
The show was an instant hit among the K-Drama fanatics and topped the ratings for JTBC. Hyung-Sik sat down for an interview to talk about the success and revealed the ecstasy of working with Bo-Young. Even though he was a little uneasy before the start of the filming, Bo-Young made sure he felt comfortable. Plus, Hyung-Sik has been looking forward to acting with her ever since he saw her on 'A Werewolf Boy.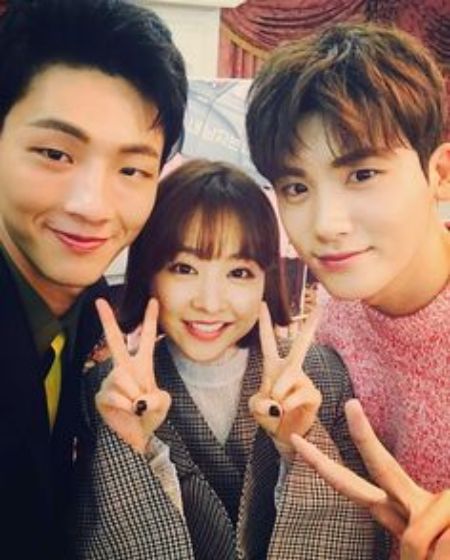 Filming 'Strong Girl Bong-Soon' was fun.
Source Pinterest
When getting too into the script, Hyung-Sik would often change the dialogues, and Bo-Young wouldn't mind. On witnessing the improvised dialogues he used too often, the audio director even thought that the two were dating for real. During a press conference in February 2017, he said that other actors around them were jealous of him getting to be intimate on-screen with a beauty like Bo-Young.
Then, Hyung-Sik Admitted to Being in Love with Bo-Young; She Replied!
Of course, Bo-Young was the deciding factor for Hyung-Sik to accept the role in the drama. But the fire was raging when Hyung-Sik confessed his love for Bo-Young, in real life! But as you read along in his statement, it goes a little sad for him (it may not be the same for the girls, though). As the filming was complete, he was disappointed he wouldn't get to film with her anymore.
Park Bo Young-noona, I really loved you. You were that lovable. You were truly Bong Soon. Because you were the perfect Bong Soon, it was so natural for me to love you. I wanted to love you more, but I'm sad it's over.
During the filming, he revealed that the genuine feelings he had for her made it possible to act with his best performance ever.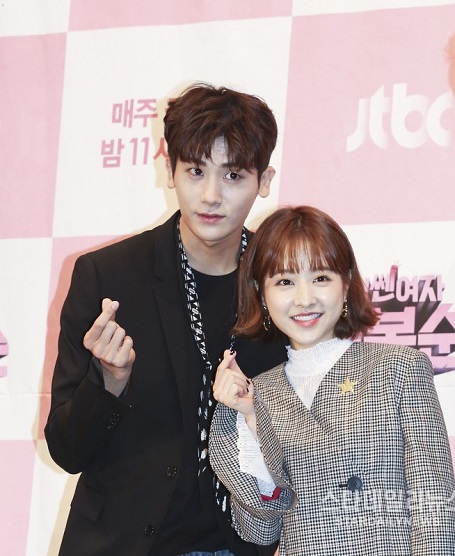 Then there was the confession, but it never materialized.
Source: Soompi
Meanwhile, Bo-Young also "could" have fallen for him for his intense gaze. "Park Hyung Sik has a sweet gaze. If he had just looked at me like that, I would have swooned, but he even looked at the director in the same way."
Unfortunately for the fans who shipped the two, it was never official, and they just moved apart with their own independent projects. There was one exciting part of their relationship, though — Hyung-Sik shared a photo on Instagram of a present he received from the 'Your Wedding' star. Sometime later, he admitted he'd been drinking (moderately, of course) and posting pictures of him looking sad. Fans speculated 'Trouble in Paradise' for their favorite wish-couples, but since there was nothing official between the two, nothing else could've been said.
Hyung-Sik Has an Ideal Type of Girl, and She Sounds Like Bo-Young
In an interview with Section TV, Hyung-Sik was discussing his work with Bo-Young, and how his friends were jealous of him and all. "I worked with many actors who were not far away from me in Hwarang. When they found out I was going to act with Park Bo-young, they were immediately busy talking about it in the chat group."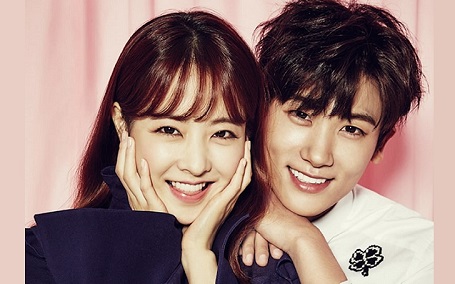 Hyung-Sik's ideal woman was leaning toward his co-star somehow.
Source: Tumblr
Then the conversation shifted to what kind of woman is the ideal one for him. Here is how she should be, "Someone that has her own stance and opinions, passionate with her work, and when I'm with her, she would make me want to hug and dote on her." Of course, every girl would want to be hugged and would definitely be passionate in her works for his sake. Still, he has to look at them.
As soon as he said that, the interviewer asked, "So, Bo-Young is your ideal type of girl?" As he was shocked, he gushed at the idea without being able to say anything. We did know she had that effect on him.
Watch: Hyung-Sik Talks about His Ideal Woman (Activate Subtitles!!)
So, there you go, if you have that quality, you could have a go at him. It might just get him to notice you, and you could make headlines!
A Break from the Spotlight with Military Work
Hyung-Sik has covered every area in the spotlight; on the screen, singing, and modeling. He has one duty left to complete, the compulsory task for every Korean male citizen — the military.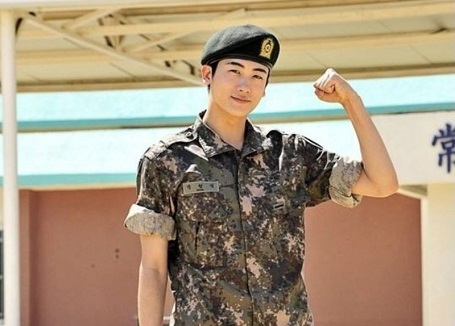 That look got him called the 'Baby Soldier.'
Source: K-Pop on Fire
Experiences are not limited to the 29-year-old. While it is only for entertainment/on-screen ('Real Man'), the Baby Soldier's probably got it in real life as well. He applied to join the capital defense command force earlier this year, according to his agency, 'United Artists Agency.' He completed four weeks of basic training and started serving the Capital Defense Command in June.
"I wanted to serve the position that I'm interested in and good at," he told Hankook Ilbo in May.
Watch: Park Hyung-Sik Enlisting for the Capital Defense Command
Military service for 21-24 months is mandatory for every Korean man within 35 years of age, with a few exemptions. Athletes, for example, are not obligated to do any military activity so long as they win a major gold-medal trophy for the country in their professional career (Olympics or Asian Games). They do have to engage in that sports field for 42 months. The South Korean national soccer team was all pardoned from the military after they won Gold at the 2018 Asian Games.
It's a crude description of the matter, we know. But the star will stay away from the limelight of fame for a while now, which is probably a good break for his decade-long career.
One More Reason He Should Not Be Out and About for a While
As many of us know, Hyung-Sik was a part of the famous K-Pop group, ZE:A, also called 'Children of Empire.' He joined his crew formed by Star Empire Entertainment in 2010 as a vocalist and made his debut on January 7 that year with the song 'Mazeltov.' Of the three subgroups of the band, he was a part of the ZE:A Five in 2013.
Two of the members enlisted (for military) in 2015, and two years later (February 2017), rumors of the band disbanding started spreading out. However, they themselves clarified that they just wanted to go solo for their career. They did promise to come back together when the time came. But with all the members joining different agencies already, it is likely to remain just a distant memory.
The group lasted for 7 whole years.
Source: Star Empire Entertainment
So, with everyone moving on, Hyung-Sik also did, joining the United Artists Agency to focus on acting. Fans are glad that he did because his reputation just skyrocketed since then.
While he really possesses thousands of doting fans, it is probably good for him to take a break from the glamour of it all. While his military mate would be raving about the fact that they work with such a multi-talented personality, the girls would have to wait. Besides, his age is usually the time stars like him fade out. So when he comes back, he can and will return with a bang.
Stay tuned and connected to Glamour Fame for more Entertainment News.
-->