Meet Patrick G. Jackson; Judge Ketanji Brown Jackson's Husband
Published Mon Dec 02 2019 By Sea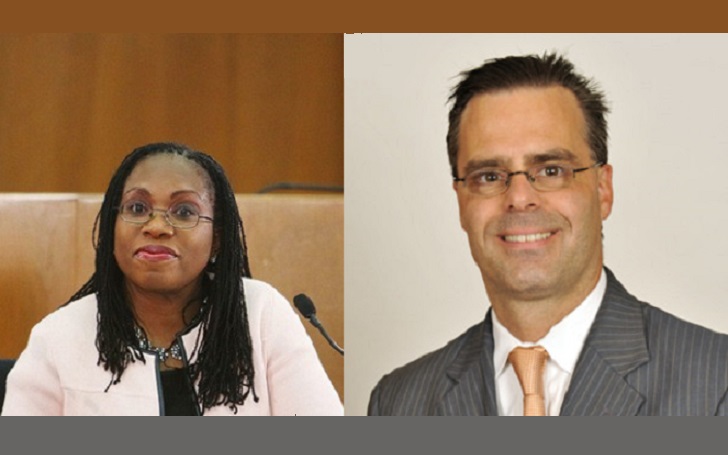 Ketanji Brown Jackson has been a prominent member of the United States District Court for the District of Columbia as the District judge. There's no better judge than putting the bad guys behind bars, especially when ordering such action.
Aside from everything with the law, she has another life too, you know. She's married to Georgetown surgeon, Dr. Patrick Graves Jackson, who is white, by the way.
"Presidents are not kings," says Ketanji Jackson.
Source: Diego M. Radzinschi, ALM
A judge's personal life is no one's business to poke into, but how reputed of a surgeon Patrick is, you need to know.
Ketanji Brown and Patrick Jackson Are Married Since 1996 and Have Two Kids
Ketanji has been extremely lucky, but not too much. She did do more of the hard work to get to where she is now. The judge was appointed by unanimous confirmations without any Republican opposition in the Senate two times. On the other side of her life, she's been very lucky to find such a respected husband. Sure there might've been criticisms over their race, but who would even dare to question their love?
The couple got married in 1998. They have two lovely daughters. You won't find any details of their kids on the internet, that's for sure.
Brown's family is full of talented personalities. Her father is a retired lawyer and, her mother is a retired school principal. Meanwhile, her brother, a former police officer, is now a law student.
Related by Marriage to Former US House Speaker and Congressman Paul Ryan
While the connection to Paul Ryan is a little too personal, Ketanji and Paul are on the opposite side of politics. Nevertheless, he fully condemns her to be highly competent at her job and even recommended her for the bench of the district court in 2012 by testifying on her behalf.
Our politics may differ, but my praise for Ketanji's intellect, for her character, for her integrity is unequivocal. She's an amazing person, and I favorably recommend her consideration.
By relation, Patrick Jackson is the twin brother of Ryan's brother-in-law, William Jackson.
Peter Jackson Gives Health Tips and Information on YouTube by Affiliating with MedStar Georgetown University Hospital
After obtaining his medical degree from Columbia University's College of Physicians and Surgeons in 1995, Dr. Jackson completed his internship, residency and fellowship at the Massachusetts General Hospital. His career in health now extends for over 20 years.
Mick Jagger Had a Serious Heart Problem That Led to Surgery and 'Rolling Stone' Canceled Their Tour. What's He Doing Now?
The Chief General Surgeon is affiliated with MedStar Georgetown University Hospital and is based entirely in Georgetown, Washington, D.C. Any patient looked over by him would state excellent experience. He's that good.
Aside from just performing doing the job in the hospital, he also features in MedStar's health awareness YouTube videos. Yeah, that's real. He rarely comes though.
Watch: You might learn something - Patrick Jackson Talks Pancreatic Cancer
The doctor specializes on such matters, that include the organs within the abdomen. His specialties are pancreatic surgery, surgical oncology and minimally invasive surgery. Of course, the title 'General Surgeon' easily clarifies that, if you're a medical student or know anything about it.
There's one more thing we discovered on the web. The couple sold Bethesda, Maryland, home in 2013 for $1.318 million to the Brady couple, Daniel and Melissa. They bought the house in 2007 for $1.395 million, The Washington Post gathered.
Stay tuned and connected to GlamourFame for more Entertainment updates.
-->