Does Pokimane Have a Boyfriend? Get Details of Her Relationship Status!
Published Mon Oct 14 2019 By Sea
It's something that gets asked around a lot over the internet, and it seems people are never going to get tired of shipping Pokimane with some of her fellow streamers. Anytime they see her cozying up to some male YouTube/Twitch celebrity, there go the memes.
Imane Anys, aka 'Pokimane', is originally a Twitch streamer who is taking over the internet year by year. She has over 3 million followers and thousands of people subscribing with donations every month on Twitch and over 4 million subscribers on each YouTube and Instagram. With the fanbase piling on, the trend of her popularity is something to watch out for.
Poki loves anime characters (duh!!) and video games. She plays Fortnite (which was not what she started with) with several other streamers, and she is always close to those guys. There have been a lot of times that people have paired her with many of them.
Pokimane desperately wants to be a part of an anime.
Source: Pokimane, Instagram
Despite all the rumors, one thing is sure about her romantic life — Pokimane is single until she finds someone who understands how much she cares about her work as well. She confessed all that in a video in June.
Pokimane Was Fed Up with Queries Related to a Boyfriend Since a Long Time Ago
The Twitch Streamer of the Year 2018's meteoric rise to fame might've started only back in 2017, but the fanbase still existed since a long time ago, back when she started out with League of Legends.
Back then, she was still bickered on about her relationship. She tweeted in 2014 about it and might've given fans some nuggets about her preference. What she wrote in one of her replies might shock come as shocking to some, but it's just an indication. And she stressed on it too.
And by the way, it's probably nothing with one of her roommates, Lily Ki (aka LilyPichu). Despite claiming she loves her, she is linked with a fellow YouTuber Albert Chang.
Several YouTubers Were Linked with Her, but She Hit Back Hard, Grossed Out by Speculations Related to HasanAbi
Some people just seem to have a beef with her, so much so that they want her to be in a relationship, no matter what. There were rumors she was dating fellow streamers and gamers like William Hartman (aka Meteos) and William Li (aka Scarra) at some points. Critics and followers even partnered her with her housemate Federico Gaytan (aka Fedmyster).
The 23-year-old is fierce when it comes to responding to such rumors, not that she hates the person being linked to her. When a meme was circled around social media, putting her with Hasan Dogan Piker (aka HasanAbi), she went nuts (in a video) and was seriously grossed out. And quite understandably so, because the editing was kind of disgusting.
Among the many linked were her roommates Hasan and Lily.
Source: Pokimane, Twitter/Yassuo, Twitch
Hasan, too, reacted on Poki's comments on the rumor but without much of a reaction besides "Cool". Back in May, Poki also addressed the rumors after a fellow Twitch streamer InvaderVie accused of her and Hasan of being physical with each other behind the scenes.
"This clip baffled and disappointed me. I know random LSF comments will speculate about my private life, but to see another streamer (and one that I'm acquainted with), make such large assumptions and then proceed to state them as fact on their stream feels really disrespectful and invasive. Thank you to those that didn't take this as gospel, but instead got her to clarify on why she said it (which was just because he was smiling at me). Not cool, Vie," she commented on a Reddit post.
In one of her gaming sessions, when she was asked about her and Ali Kabbani (aka Myth), and she just abrupted to say, "Also, for everyone that's gonna ask forever - listen, if me and Myth are gonna date, then like we're gonna date. We're not gonna tell people that we're gonna date, you know, like... it.. Things like that are just gonna happen, or they don't happen."
People were raving about how cute Poki and Myth looked together.
Source: Pokimane, Instagram
We're pretty sure her tone was just because she was in the middle of playing the game.
"I'm Still Single," Pokimane Reveals Why She Won't Make Her Relationship Public If There Was One
One of the biggest female gaming celebrities, Pokimane, revealed who her celebrity crush is during a "21 Questions" session while playing Fortnite Battle Royale with Myth. Without a second thought, plus a gasp, she told him it's "Michael B. Jordan", and he likes anime too, apparently.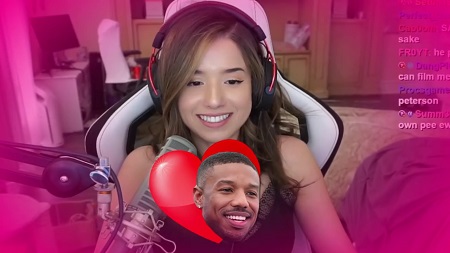 Michael Jordan is ❤️.
Source: Pokimane, YouTube
It doesn't take much to get people on their high horses about shipping Poki with another streamer, and that's what happened when she and Cameron McKay (aka Fitz) started streaming their Minecraft gaming sessions on Twitch. Fitz saw it coming though. He claims they are not taking it seriously anyway.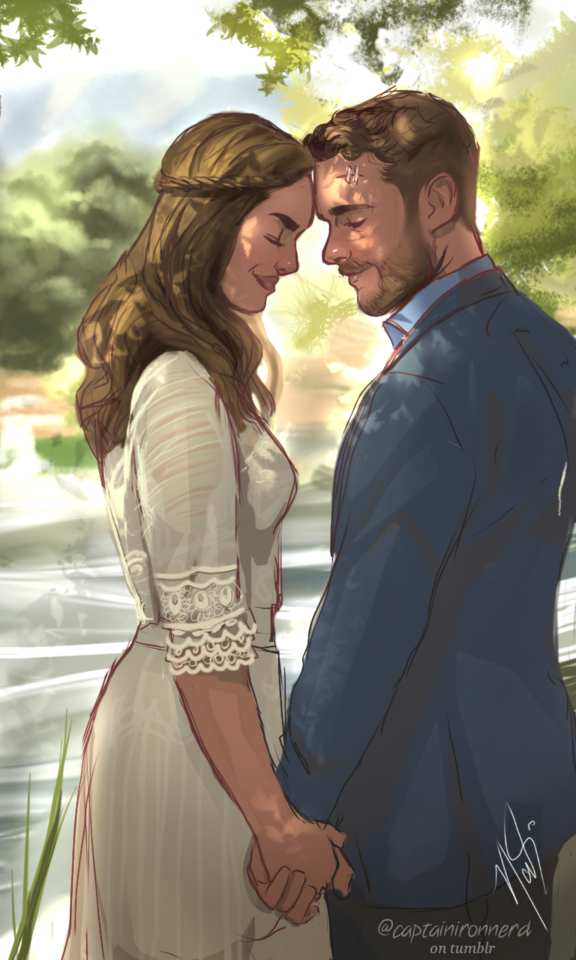 Fanarts and memes have a way of shipping internet celebrities. Fitz was boarded on the ship by the fans.
Source: CaptainIronNerd, Tumblr
Around the same time of the rumors' circulation (that was in June), Pokimane released an "Assumptions" video on YouTube that included a lot of dating comments. And that's when she told her viewers that she's still single. And when she does get into a relationship, she won't give the cake to anyone in public at all.
There's one particular reason the gamer wouldn't want to go public with a relationship once she starts — she'd have to go public about everything. She doesn't want to go through all the moments of publicizing things about the various things in the relationship, like the tough times, the breakups and whatnot.
One exciting bit though, she is secretly hoping for the right person to come along. She believes if someone is right for you, there is no such thing as the right guy at the wrong time. There's a type for her too, someone who understands how much her work means to her, even though she isn't focused on her career that intensely to avoid dating at all. And no, her private life is not hidden for attracting people to her streams. She doesn't like the idea.
Watch: Pokimane - What You Assumed Vs. What Is True About her
While it's not entirely sure when she will get a boyfriend (or a girlfriend?), but she wouldn't want to live alone for the rest of her life. But whether she will make the relationship public is not sure. When she does share it, it'd probably be a wedding announcement. One day, we hope, one day.
Aside from everything, Fortnite is, like literally, dead, and with it being the major source for Twitch users to stream about, there's no telling what the users like her would do next. Of course, it is not the only game in the world, but what the next fad would be is still too early to tell. For Pokimane and many others, she still has her YouTube and Instagram platforms to promote her posts, but without the game, it can be expected to be a major downfall for her gaming followers.
GlamourFame is the place to go for more of the Entertainment articles about your favorite celebrities.
-->