Does Ruby Rose Have a Husband? Get Details of her Dating History!
Published Sun Sep 29 2019 By Sea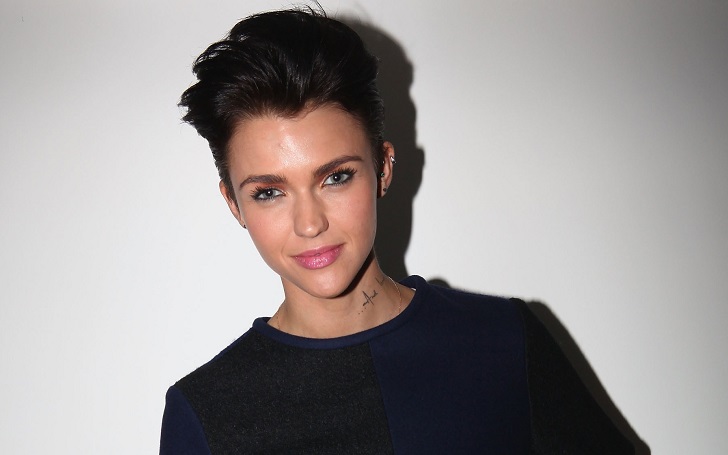 We'll just get it straight out in the open. It is an irrelevant question to ask if the bold Ruby Rose has a husband. Because according to her, she is somewhere in the middle of a boy and a girl. In fact, she was engaged to female fashion designers for almost two years!
We all know Ruby as that bold boyish girl with like over a century of individual tattoos and who shows her gender fluidity quite flawlessly. Her stunts aren't all that bad either.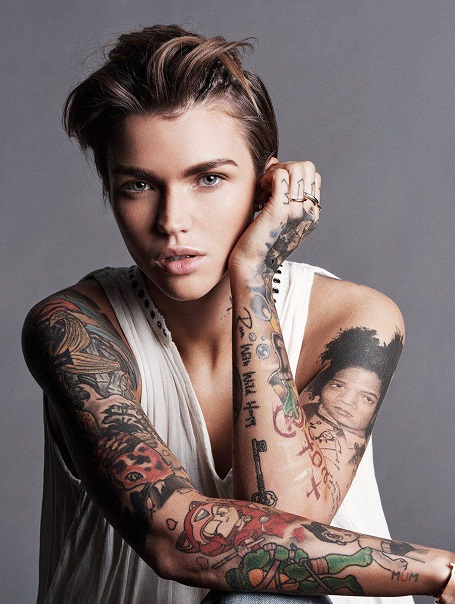 Each of those inks have meanings behind them.
Source: Pinterest
With a career that skyrocketed in the blink of an eye, it wasn't all that easy for her at the beginning. Born in an extremely below-average income family and struggling to grow up as a normal child, she started acting with a low-budget flick 'Suite for Fleur', in around 2008. It made the adequate first impression to land a role on 'Orange Is the New Black'.
After many small-screen credits and numerous positive reviews for her in Australia, 'The Resident Evil: The Final Chapter' actress (born Ruby Rose Langenheim) then just exploded on Hollywood. Then came 'xXx: Return of Xander Cage', 'John Wick: Chapter Two' and 'Pitch Perfect 3' cementing her as an action/thriller star. And immediately after, she made her way into DC Comics. You know, the 'Batwoman' that appeared in one of the episodes of 'Supergirl'? Now she is ready to star as a lead character in her own new series, 'Batwoman' on The CW.
Ruby Saved Money in the Past so That She Could Become a Boy
Katia Langenheim, Ruby's mother, stole a television and pawned it so that she could get some money for the plane tickets to her sister's house in Queensland. Ruby was one year old, and she wanted to take her away from the domestic abuse she was receiving from Ruby's father. At school, she was bullied for being a different kid, which almost led to an attempted suicide when she was 12. Fortunately (for us as well), she realized she is not the only one that goes through such hurdles and that she should fight herself for a better life. So that same year, she came out as a lesbian.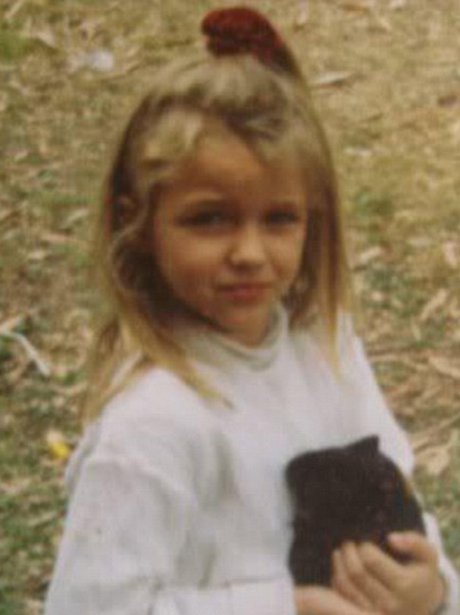 From way back...
Source: Twitter
The strength she showed growing up has been rewarding as well. She addressed the bullies when receiving her Favorite Female Personality award in 2009, and she even got 'Sorry' letters from her past classmates. She forgave them thinking they didn't do it out of hate; it's just the way it is with the world.
Since she was five or six, she wanted to be a boy growing up since she was convinced she was one. She shortened her hair, wore boy clothes and all that. Her mother was supportive of her, by the way. She even considered transitioning, so she started saving some money for a cosmetic surgery that would cost $20,000 back then. She used ACE bandages and prayed to God she would never grow in her chest area.
Ruby's mother was the most supportive of all.
Source: Scott Barbour, Getty Images/AsiaPac
Sure it was nice for her to be how she felt, but people around her didn't easily accept that. After numerous bullying, she went back to being a little feminine in her teens. Again, after being called a "very pretty girl", she shaved her head. The bullying circled back again as boys started lashing at her for acting like a boy. Then she went on to shows on MTV as more of a girl to shut them up, and boy did she show them. She started out a model as supported by her mother.
Once, a person approached her while at a Yum Cha restaurant and said they were wondering if she was a "handsome boy or a beautiful girl". That was more like a compliment as they conceded to her mother's reply that she is the latter one. (Of course, people might confuse her as Justin Bieber sometimes because of the way she dresses up and the tattoos you see on her.)
At about 15, when she started embracing the gender she biologically is, she learned how to accept it all and gave up the idea of a gender affirmation surgery. She told The Edit she is happy with that decision and even wants to have a baby in the future. Turning out a little like P!nk's music video of the song 'F**king Perfect'.
2014's 'Break Free' Explains Her Gender Fluidity
'Break Free' is the one short music video everyone should see to actually know her. She wrote and produced it herself, meaning the whole story is kind of hers. The transformation she goes from the beautiful maiden to a punk/rock man is just what she did many times, and she said it tells her story however you look at it, from the end or the beginning.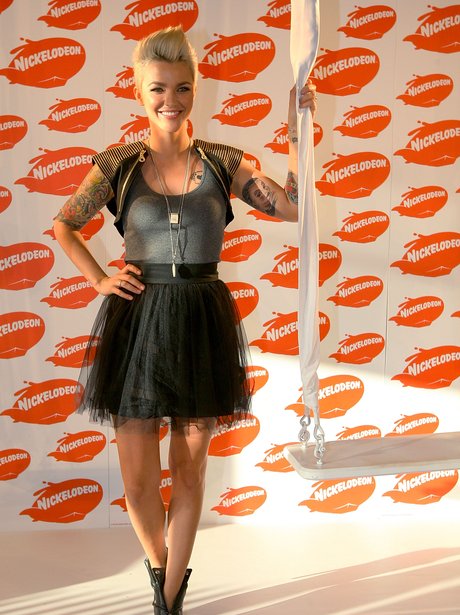 Dramatic toggles in personality.
Source: Getty Images
The song explores the gender roles and "the identity that deviates from the status quo." On July 22, 2014, a week after releasing the video, she revealed that she was gender fluid (which will have people scratching their heads). It means a she could feel like a boy one day and a girl on the next, much like the feeling she grew up with all this time.
I am very gender fluid and feel more like I wake up everyday sort of gender neutral.
The video went viral and her fan following just tripled in number. She only made it make her few followers on Facebook aware of her identity, but it surprisingly took the social media by storm.
Catherine McNeil, a Relationship That Went from Friends to Fiancées to Friends
In 2002, the 'Orange Is the New Black' star met the neophyte fashion designer, Catherine McNeil when they joined the 'Girlfriend' model search in 2002. Of course, the two vied for the first place which Catherine ultimately won.
For seven odd years, they remained great friends and later decided to take the relationship a step further. They revealed in January 2010 that they were engaged after celebrating a secret party in Melbourne. Their friends tweeted of the announcement, but they were later taken down. Of course, the rare photos of the two together showed they were more than just friends at the time.
Ruby and Catherine were engaged for six months.
Source: Ruby Rose, Instagram
As much as they enjoyed each other's company, they had to break it off in July that year. According to the friend-sources, distance was apparently the reason. Ruby had to stay in LA in pursuit of her career in music and media, while Catherine had to travel the world with her fashion line; they just didn't have the adequate amount of time to enjoy together.
Despite the split, they intended to remain friends for as long as they can, and it is evident from their multiple times together how fond of each other they still are. They spend any time they get together and wish each other on birthdays.
Engaged to a Rich and Famous Author's Granddaughter, Phoebe Dahl, for About Two Years
In March 2014, after keeping the relationship just limited to romance on social media and teasing the fans of their engagement, the model turned actress posted a photo on Instagram to announce she was engaged to Phoebe Dahl. A photo of a bed with two "I do" pictures hanging over it was the last tease before posting another photo a few days later. Catherine was mentioned in the photo of Ruby and Phoebe this time. She captioned the second photo, "The beautiful @catmcneil celebrating my engagement with me."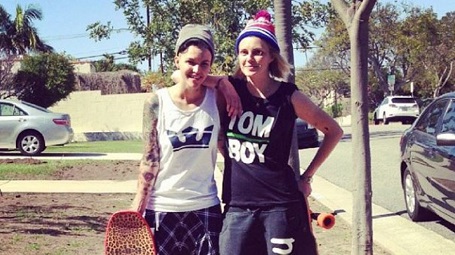 Phoebe Dahl was her next long-term fiancée for almost two years.
Source: Ruby Rose, Instagram
As you can imagine, Phoebe is related to the famous children author, Roald Dahl as his granddaughter. She is an LA-based fashion designer as well, designing the ethical street-wear for her clothing range 'Faircloth Lane' in collaboration with Ruby.
It was going pretty smooth for the two during the moment of their engagement which ended in December 2015. The reason was presumed to be because of both their hectic schedules. They still cared for each other as they released statements via Twitter. "I will forever treasure our time together. I'm a better person because of all we shared," wrote Ruby. Meanwhile, Phoebe tweeted, "[Rose], you have brought me to my best and I will always love you. I can't wait to see what the future brings for us."
Jessica Origliasso - The Love That Came Back Calling and Left a Scar
This one did not go well for Ruby. She first dated 'The Veronica' musician, Jessica Origliasso, in 2008. It was a very complicated relationship after they reconciled again in October 2016. They were filming the band's music video which Ruby wrote, directed and starred in.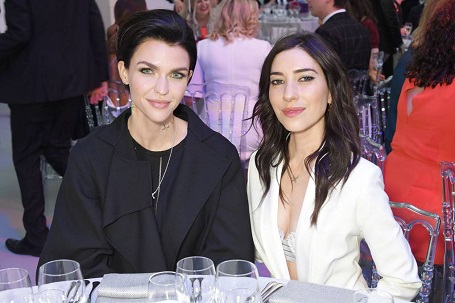 Two years of relationship but ended badly.
Source: Getty Images
They announced their split in April 2018, and it was not good. Following the separation, they publicly slammed each other. There were even accusations of Ruby harassing Jessica. Her sister, Lisa Origliasso, also accused her of being the reason for the friction between the two sisters.
In November 2018, Ruby commented on a photo of Jessica and her new partner, Kai Carlton, in order to wish her well for the new chapter. Jessica simply fired back at her, asking her to leave her alone (she'd already unfollowed Ruby on Instagram). Guess that's partly why Ruby hates social media and suggested P!nk to turn the Instagram comments off as well.
The Rumors That Might've Been True
There was apparently a love triangle in 2008 between Ruby; a little known model, Lyndsey Anne McMillan; and former Australia's Next Top Model contestant, Lola Van Vorst. It was reported that Lyndsey dumped Lola in order to be with Ruby.
Lyndsey Anne dumped Lola Van to be with Ruby.
Source: Instagram
Another fashion related individual to join the list of Ruby's Fiancées is fashion publicist, Lia-Belle King, who she was reported to have been engaged to in 2011. Lia-Belle was a writer for InStyle as well. They were only seen with matching rings, but it is unknown if they ever went forward in their relationship. Lia-Belle moved on with her life, leaving behind everything with Ruby behind, in order to become a sexologist.
In 2012, she was spotted with another DJ, Lauren Abedini AKA KITTENS. They were reported to have dated for a brief moment that year. She was also linked to the singer Halsey in December 2015, after the relationship with Phoebe ended. They were seen spending a lot of time together and even exchanged flirty tweets.
Harley Gusman was next on the list, and they were seen stepping out at Katsuya in Hollywood in June 2016. However, that one ended shortly. Ruby dumped her in August of that year after she endangered her friend, Courtney Africa McLellan's life when on a jet ski, according to a birthday tribute by Ruby.
She sent a heartfelt message to her long-time singer friend, Demi Lovato, back in July 2018 for getting back stronger following her rehabilitation. They were even suspected of having flirted each other via tweets, but there a doubt if they ever had a thing.
Check Her Out in the New Thriller Series, 'Batwoman' on The CW
'Batwoman' begins on The CW from October 6 and she is the lead character in the DC Comics series. She recently revealed she underwent a serious neck surgery, a couple of months ago, because of herniated two discs that almost left her paralyzed, with a graphic video on Instagram.
Despite the risk though, the operation was a success, and she is back to providing the viewers with more stunts, with the promise of last years announcement for her role still intact. She will be rebellious, fierce and a superhero in the saga developed by Caroline Dries and Greg Berlanti.
Stay tuned and connected for more Entertainment News on GlamourFame.
-->