Sasha Obama Sizzles in Black Gown during her High School Prom; Who was her Prom Date?
Published Sun May 26 2019 By Jessica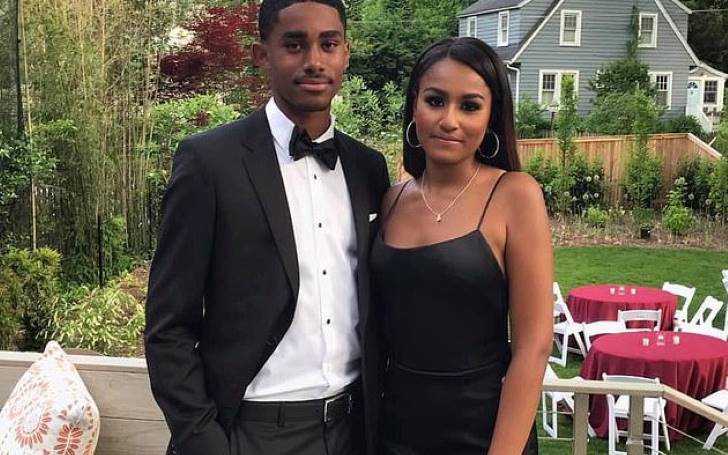 Sasha Obama glams up in a black sizzling thigh slit gown for her high school prom.
They grew up so fast in a blink of our eyes. And we're talking of none other than the daughters of former US President Barack Obama.
Whilst the president' eldest daughter; Malia Obama is a college student at Harvard, the youngest daughter, Sasha Obama is soon about to graduate high school.
Related: Barack Obama Channels His Inner Santa Claus During Visit to Children's Hospital
The seventeen years old' recent prom pictures have gone viral on the internet. Although the pictures already got deleted on social media by the owner who originally first shared them, people made sure to take a screenshot of them.
Sasha Obama pictured with prom date Chris Milton.
SOURCE: Facebook
Speaking of the pictures, Sasha looked super stunning in a black long thigh slit dress as she posed alongside her handsome prom date and sister Malia.
For the special day, rather than opting for a princess or a fancy look like most of the teenagers do, Sasha kept everything simple yet elegant.
The foot long black body con dress with straps featured a long slit on one side of the thigh that flaunted her long leg.
Barack Obama daughter Sasha Obama alongside prom date Chris Milton.
SOURCE: Facebook
Adding glamour to the simple look, the daughter of former president accessorized the prom look with a simple diamond pendant necklace and big hoop earrings.
Keeping her middle-parted long black straight hair free, Obama went for a simple makeover look for her beautiful face. Her stylist opted for a smokey eye makeover to highlight her eyes part.
To complete the sizzling prom look, Sasha stepped into a pair of black sandal heels.
Also see: Michelle Obama's Secret Behind Flawless Skin Is Only $44 Beauty Product
In case you're wondering how you can get a similar Sasha Obama' classy prom look, we're here to help you out.
Sasha Obama pictured with prom date Chris Milton, Milton's lil brother and sister Malia Obama.
SOURCE: Facebook
You can easily steal the look by buying a black body con dress which is easily available everywhere to your nearest shopping stores.
However, if you can't get to find the one with a high slit, rely on scissors and get yourself on the work to get the cutting which is easy peasy than you would think.
Meet Sasha Obama Prom Date
Sasha Obama's 2019 prom date Chris Milton.
SOURCE: Facebook
Meanwhile, the internet is making noise about Sasha's prom date.
So, who is the mysterious lucky guy that had the gut to ask the daughter of President to a prom date?
The young boy who as well attends the Sidwell Friends School, a prestigious school in Washington DC has been identified as Christopher Milton also known as Chris, as per a news outlet.
A family portrait of Sasha Obama prom date Chris Milton's family.
SOURCE: Facebook
Milton who looked dapper in a black and white tuxedo with a sweet bow tie is originally from Middleton Ohio.
Chris' brother Travis Milton was the one who shared the glimpses frmo the date on social media, writing: "CONGRATS to Chris and Sasha Obama 2019 Sidwell Prom. Hanging out with the First Family….. PRICELESS!!"
Don't miss: Barack Obama Paid Tribute To Iconic Director John Singleton
Travis, however, later removed the posts.
Sasha Obama's prom date Chris Milton's mother and brother poses with Michelle Obama.
SOURCE: Facebook
The Miltons including Chris little brother and her mother were also pictured alongside Sasha's mother, former First Lady Michelle Obama at the gathering.
Sasha is graduating high school next month in June and is reportedly taking a year gap like sister Malia before she officially attends the University of Michigan enrolling as one of the students from the class of 2021.
-->