Saturday Night Live Star Pete Davidson Appeared On The Catwalk In Alexander Wang's Spring 2020 Fashion Show
Published Mon Jun 03 2019 By Alice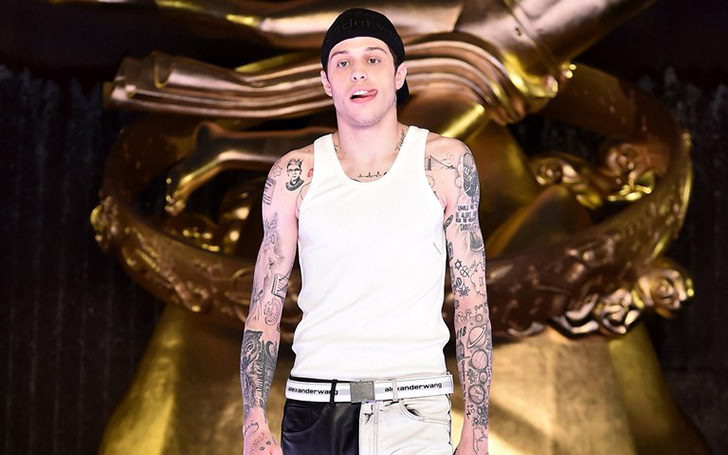 Pete Davidson was present at the ice-skating rink at Rockefeller Center, not to film Saturday Night Live but rather to make a surprise modeling debut.
Saturday Night Live alum Pete Davidson is turning heads as he's moved into fashion modeling.
The fan-favorite comedian made his surprise modeling debut in Alexander Wang's spring 2020 fashion show in New York on Friday.
The fan-favorite 'Saturday Night Live' comedian Pete Davidson is turning heads as he's moved into fashion modeling.
SOURCE: Teen Vogue
The comedian hit the runway for the American fashion designer at Rockefeller Centre in New York City.
The crowd audibly cheered the actor as he walked the runway in a backward-facing black baseball hat, white tank top (showing off those ever-increasing tattoo sleeves), a pair of two-toned pants, an Alexander Wang logo belt, and black trainers.
Recommended: Tommy Hilfiger and Zendaya Set To Debut First Collaboration at Paris Fashion Week
Not everyone could make such an outfit look casual, but the 25-year-old shuffled onto the runway with natural model-like apathy, hunching his shoulders and jamming his hands in his front pockets as he walked.
Watch: Pet Davidson hit the runway in Alexander Wang's Spring 2020 Fashion Show
At one point Davidson bit his lip, which only made everyone swoon harder including fashion industry professionals and members of the public.
SNL comedian was definitely in good company at the show as the several A list models including, runway veterans Kendall Jenner, Binx Walton, and Kaia Gerber joined him.
Pete's surprising appearance in Wang's show sparked some discussion on Twitter over the weekend.
-->